Good morning and welcome to episode 684 of 'Talking Bull'. In this video/podcast we cover the main headlines and what to expect from the day ahead. 
We take a technical look at key markets that are likely to be impacted by today's events. Also, we participate in a 'Gun to the head' challenge where each of us calls a live trade. These will expire at 9pm tonight and we will keep track of the progress over time.
We hope you enjoy it!
For a selection of free educational content, join our Discord server at – https://discord.gg/Db4UWVFvF6
Show notes:
Joe was onside 0.40R on DAX. Steve was up 1.31R pn Copper. Taf and Jamie were stopped out on S&P500 and Gold.
We have included an illustration based on a £1000 account. This will follow the combined return of our morning trades by risking 1% of the trading capital per trade. The 1% risk is a variable monetary amount and will rise and fall based on the success of the calls.
We are currently up 161.85% collectively since we began recording Talking Bull on the 30th October 2019.
News
ECB opts for 75 basis-point rate hike
The ECB increased interest rates by 75 basis points to 1.25% at the latest policy meeting which was in line with consensus forecasts; although a minority of investment banks had expected a 50 basis-point hike. This was the largest rate hike sanction by the central bank since its inception.
The inflation forecasts were increased with staff projections that it will average 8.1% this year before a decline to 5.5% in 2023 and 2.3% in 2024.
The GDP growth forecast for 2022 was revised down to 3.1% with growth in the following two years of 0.9% and 1.9% respectively.
Central bank warns over inflation
According to the ECB, price pressures have continued to strengthen and broaden across the economy while inflation is liable to climb further in the short term.
Powell sticks to the script
Fed Chair Powell stated that labour-market demand is still very, very strong and that it is important that inflation expectations remain well-anchored. He added that it is his view that we need to act forthrightly and strongly on inflation while history warns against the premature loosening of policy.
He added that he thinks policy action will be able to put growth below trend and get the labour market back in balance.
Markets expect 75 basis-point hike this month
Following Powell's comments, there was a further net shift in expectations with markets putting the chances of a 75 basis-point rate hike at this month's meeting at just over 80%.
Japanese verbal intervention stepped up
Japanese officials stepped-up the rate of verbal intervention on Friday with Bank of Japan Governor Kuroda stating that there had been discussions with Prime Minister Kishida.
The rhetoric triggered sharp losses for USD/JPY to lows near 142.50 and also helped trigger a wider dollar retreat.
Hawkish SNB rhetoric
Swiss National Bank Chair Jordan stated that the bank must ensure price stability over the medium term. He added that the Swiss franc rise tend to help rather than hurt while there was no decision yet on the September policy decision.
Data Today
13.30: Canada employment report
Key events over the next week
September 13th: US consumer prices
September 14th: UK consumer prices
September 15th: Bank of England monetary policy decision
Gun to head challenge – Update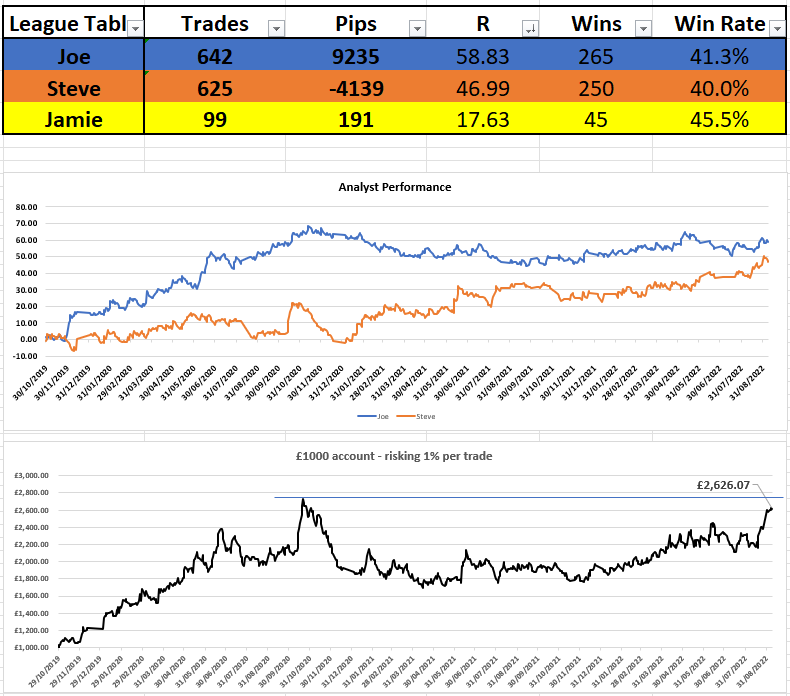 Today's trade idea
Have a great week everyone.
Get award-winning FCA regulated signals and levels on over 30 markets, as well as education resources so you never trade alone.