Good morning and welcome to episode 530 of 'Talking Bull'. In this video/podcast we cover the main headlines and what to expect from the day ahead. 
We take a technical look at key markets that are likely to be impacted by today's events. Also, we participate in a 'Gun to the head' challenge where each of us calls a live trade. These will expire at 9pm tonight and we will keep track of the progress over time.
We hope you enjoy it!
Show notes:
Joe was stopped out of GBPUSD yesterday.
We have included an illustration based on a £1000 account. This will follow the combined return of our morning trades by risking 1% of the trading capital per trade. The 1% risk is a variable monetary amount and will rise and fall based on the success of the calls.
We are currently up 89.62% collectively since we began recording Talking Bull on the 30th October 2019.
News
Unilever said it won't raise its 50 billion-pound ($68 billion) offer for GlaxoSmithKline's consumer products division, killing prospects for a deal after the U.K. drugmaker rejected its approaches. The decision to walk away comes after a plunge in Unilever's share price as investors questioned the rationale for a transaction that would have added brands such as Advil painkiller and Sensodyne toothpaste to its range of food, personal-care and cleaning labels.
President Joe Biden said he thinks Vladimir Putin doesn't want a full-blown war but will "move in" on Ukraine after amassing 100,000 troops on its border, part of an extraordinarily blunt assessment of Russian intentions and the West's likely response. While the president said the U.S. and its European allies are united on making sure Russia faces "severe economic consequences," Biden acknowledged what his top aides have so far said only in private: that NATO allies are divided about what to do if Russia takes action against Ukraine that falls short of an invasion.
Treasury Secretary Janet Yellen said she is confident the omicron variant of the coronavirus won't derail the U.S. economic recovery. Yellen credited high vaccination rates in the U.S. and emergency spending by cities and states made possible by the Biden administration's American Rescue Plan for preventing a more serious impact from the variant. Separately, Biden said it's the Federal Reserve's job to rein in the fastest pace of inflation in decades, and supported the central bank's plans to scale back monetary stimulus.
France's daily Covid infections topped 430,000 for the second day in a row, leading the government to extend a remote work mandate to contain the spread of the virus in the country. Elsewhere, Hong Kong plans to halt in-person secondary school classes starting on Monday as it works to contain twin Covid outbreaks caused by the omicron and delta variants as China ramps up its testing regime after linking at least two omicron cases at opposite ends of the country to international parcels.
A better session in Asia overnight came despite the fresh losses in US markets yesterday. The Nasdaq Composite moved into correction territory for the first time in a year, while the Dow has returned to 35,000. But in Hong Kong, Japan, South Korea and China stock indices were able to rise following a cut in interest rates by the People's Bank of China. Japanese exports rose in December as well, providing another sorely-needed positive datapoint. While US futures have risen overnight, the overall downtrend remains in place, although with the Dow and Nasdaq 100 at their respective 200-day moving averages some will hope that a bounce is getting nearer.
Data Today
1.30pm – US initial jobless claims (w/e 15 January): claims to rise to 232K. Markets to watch: USD crosses
3pm – US existing home sales (December): sales to rise 0.4% MoM. Markets to watch: USD crosses
4pm – US EIA crude oil inventories (w/e 14 January): stockpiles fell by 4.5 million barrels in the preceding week. Markets to watch: Brent, WTI
11.30pm – Japan CPI (December): prices to rise 0.7% YoY. Markets to watch: JPY crosses
Gun to head challenge – Update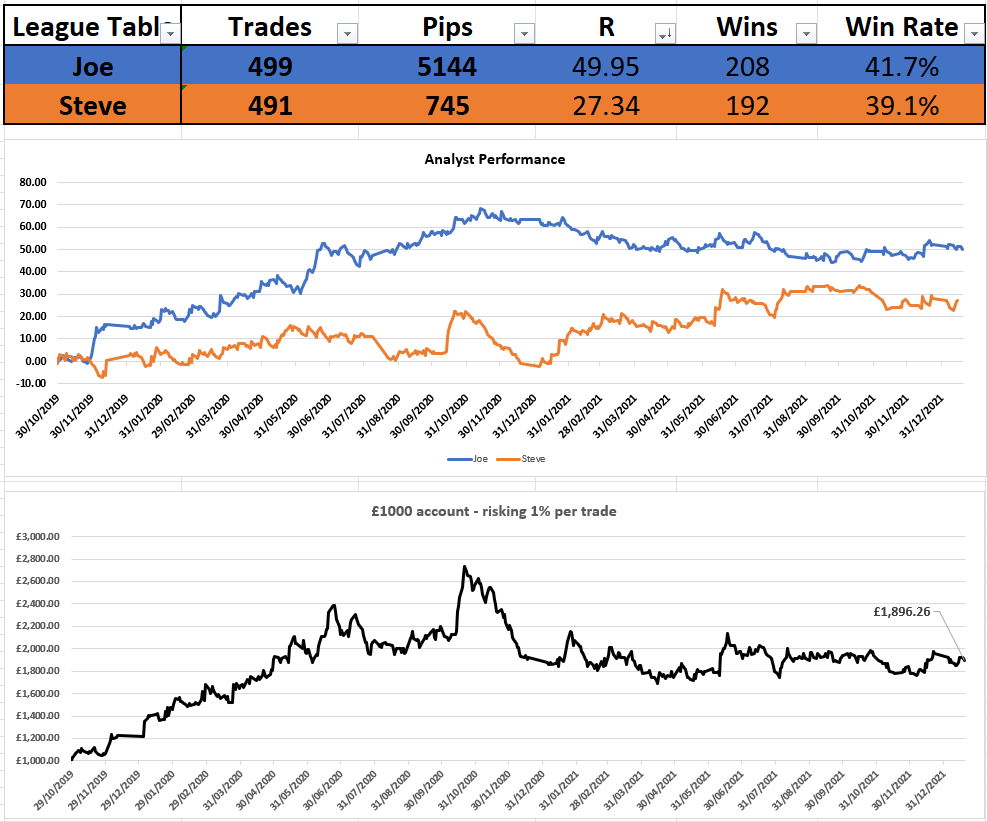 Today's trade idea

Have a great week everyone.
Get award-winning FCA regulated signals and levels on over 30 markets, as well as education resources so you never trade alone.