Good morning and welcome to episode 711 of 'Talking Bull'. In this video/podcast we cover the main headlines and what to expect from the day ahead. 
We take a technical look at key markets that are likely to be impacted by today's events. Also, we participate in a 'Gun to the head' challenge where each of us calls a live trade. These will expire at 9pm tonight and we will keep track of the progress over time.
We hope you enjoy it!
For a selection of free educational content, join our Discord server at – https://discord.gg/Db4UWVFvF6
Show notes:
Joe and Steve were stopped on DAX and NASDAQ. Taf hit target on Silver for a 2.24R win.
We have included an illustration based on a £1000 account. This will follow the combined return of our morning trades by risking 1% of the trading capital per trade. The 1% risk is a variable monetary amount and will rise and fall based on the success of the calls.
We are currently up 162.68% collectively since we began recording Talking Bull on the 30th October 2019.
News
US Philly Fed stays in negative territory
The US Philly Fed manufacturing index edged higher to -8.7 for October from -9.9 previously, but was weaker than consensus forecasts and four of the last five reading have been in contraction territory.
The new orders and unfilled orders components remained in deep contraction territory for the month while shipments were in positive territory. There were stronger employment indices for the month while the prices paid and prices received components posted stronger gains on the month.
Companies were notably less optimistic on the month while inflation pressures are expected to moderate.
US yields continue to increase
Although the US data was mixed, there was sharp selling in US Treasuries with the 10-year yield increasing to above 4.15% amid expectations that the Federal Reserve would have to be even more aggressive in tightening monetary policy.
The 10-year yield increased further to a fresh 14-year high above 4.25% in Asian trading on Friday.
Mixed Japanese messages
The Japanese Finance Minister stated that currency speculators would be dealt with strictly, but the Bank of Japan again increased more aggressively in the bond market to cap yields.
USD/JPY breaks 150.00
The dollar overall maintained a strong tone, especially with higher US yields and the USD/JPY posted further gains to a fresh 32-year high around 150.40.
UK PM Truss resigns 
Just after the New Yok open on Thursday Prime Minister Truss announced that she was resigning as Conservative Party leader as it was impossible to carry out her economic policies.
The aim to have a new leader installed within a week and potentially on Monday if there is only one candidate who secures the high nomination bar of 100 MPs.
BoE looks to curb rate expectations
Bank of England Deputy Governor Broadbent stated that there is clear justification for a tighter monetary policy. He did, however, express serious doubts over the extent of market pricing and it remains to be seen whether interest rates have to rise as much as priced in. He also warned that market pricing would imply a pretty material hit to demand and GDP could decline 5%.
Following the comments, there was a further shift in market pricing with markets pricing in an 85% chance of a 75 basis-point rate hike compared with expectations of a 100 basis-point hike last week.
UK retail sales slide
UK retail sales declined 1.4% for September compared with expectations of a 0.5% decline and after a 1.7% slide the previous month.
The latest consumer confidence data was slightly better than expected with a recovery from record lows, but the government borrowing data was worse than expected.
Data Today
13.30: Canada retail sales
Key events over the next week
October 24th: Global flash PMI data
October 26th: Bank of Canada policy decision
October 27th: ECB policy decision
Gun to head challenge – Update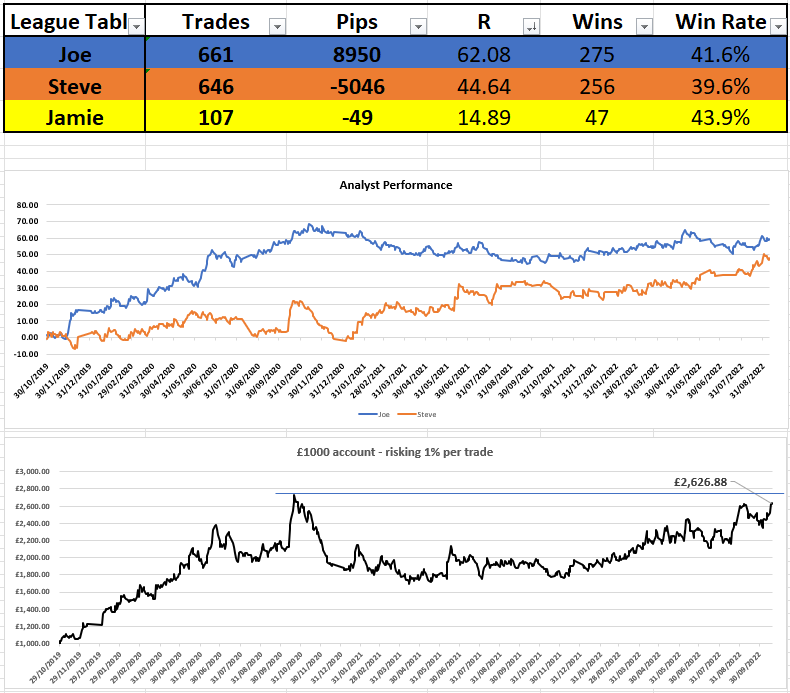 Today's trade idea

Have a great week everyone.
Get award-winning FCA regulated signals and levels on over 30 markets, as well as education resources so you never trade alone.