Good morning and welcome to episode 419 of 'Talking Bull'. In this video/podcast we cover the main headlines and what to expect from the day ahead. 
We take a technical look at key markets that are likely to be impacted by today's events. Also, we participate in a 'Gun to the head' challenge where each of us calls a live trade. These will expire at 9pm tonight and we will keep track of the progress over time.
We hope you enjoy it!
Join us on Telegram for more content – https://t.me/SCFree
Show notes:
Joe made 1.86R on AUDJPY, while Steve was stopped on FTSE.
We have included an illustration based on a £1000 account. This will follow the combined return of our morning trades by risking 1% of the trading capital per trade. The 1% risk is a variable monetary amount and will rise and fall based on the success of the calls.
We are currently up 102.98% collectively since we began recording Talking Bull on the 30th October 2019.
News
While almost all restrictions imposed to curb the spread of coronavirus were lifted in England today, sharply rising levels of Covid-19 mean the country is nowhere near returning to normal. Many major employers will go on limiting the number of workers who can enter their offices. Others, like Goldman Sachs and JPMorgan, will keep masks mandatory in their buildings. A high risk of brushing past an infected person is also keeping Londoners reticent to take the tube and line up for coffee: A record 520,194 people in England were "pinged" by the National Health Service Covid-19 app and advised to self-isolate in the week ending July 7.
Crude oil prices fell after OPEC and its allies struck a deal to inject more oil into the recovering global economy, overcoming an internal split that threatened the cartel's control of the market. An unusually public dispute that tested the group's unity was resolved in a classic compromise — with Saudi Arabia meeting the United Arab Emirates halfway in its demand for a more generous output limit. The deal, agreed at a hastily convened Sunday meeting ahead of a long Islamic holiday, allows for monthly supply hikes of 400,000 barrels a day.
With almost 200 dead, scores missing and flood warnings now sounding in Germany's southern and eastern states of Bavaria and Saxony, the country's weather disaster has shifted the dynamic of its upcoming elections. The center right bloc's lead over the Greens narrowed to 10 percentage points according to a Bild poll published on Sunday, leaving Armin Laschet's campaign to succeed Angela Merkel at 28% support. In spring, the Greens, who have centered their campaign on climate change, briefly overtook the dominant conservatives in polls.
U.K. homeowners gained more than 21,000 pounds of wealth on average over the last six months after a buying frenzy triggered by a temporary tax cut and rising consumer confidence. Property portal Rightmove said asking prices for property rose 0.7% in July — the biggest increase for the time of year since 2007. Demand is expected to remain strong despite the phasing out of the stamp-duty holiday, and a shortage of properties for sale is now acute, Rightmove warned.
European stocks are set to join declines in Asia, where concerns resurfaced over Covid-19 outbreaks and inflation. Today has been dubbed "Freedom Day" in England, where the last of pandemic restrictions will be lifted even as coronavirus cases continue to increase. In terms of events, Sweden's Assa Abloy and Indutrade, Switzerland's SGS and Belgium's Barco are among earnings releases in Europe. In the U.S., it's the turn of IBM and industrial real estate developer Prologis. U.S. Treasury Secretary Janet Yellen will convene a working group to discuss "stablecoins."
Dollar bears are becoming an endangered species, at least in the futures market. Aggregate net short positions versus major peers shrunk to under $2 billion last week, the lowest since March 2020, according to data from the Commodity Futures Trading Commission. Bearish bets totaled close to $31 billion in January. The Bloomberg Dollar Spot Index has climbed almost 3% from its late-May low as investors rushed to cover their short bets after the Federal Reserve's hawkish pivot in June. A large part of the recent reduction of bearish wagers has come at the expense of bullish ones on the euro. Net long speculative positions in the common currency have basically halved in a month, the same data show.
A largely downbeat session overnight saw weakness across Japan, Hong Kong and Australia, with the Chinese CSI 300 providing the one area of positive growth. That comes despite Biden's imposition of fresh sanctions in relation to Chinese actions in Hong Kong. The pound is relatively steady as the UK removes most of its Covid restrictions, but we will likely see sentiment impacted by the trajectory of cases, hospitalisations and deaths.
Notable economic events are few and far between today, with traders instead looking ahead to the likes of Thursday's ECB meeting and Friday PMI releases for the real action.
Data Today
None
Gun to head challenge – Update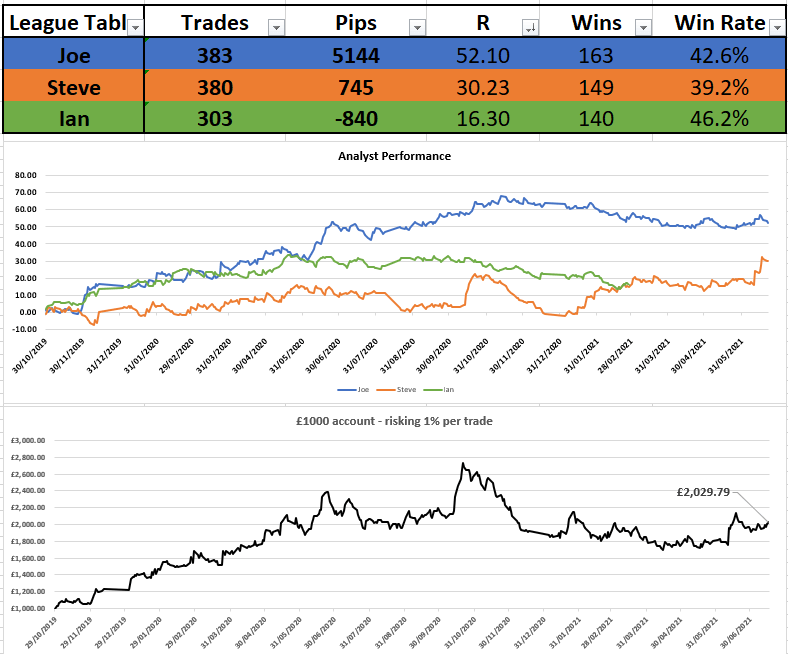 Today's trade idea

Have a great week everyone.
Get award-winning FCA regulated signals and levels on over 30 markets, as well as education resources so you never trade alone.