French President Emmanuel Macron announced a new four-week national lockdown
Posted: 1st April 2021
Good morning and welcome to episode 344 of 'Talking Bull'. In this video/podcast we cover the main headlines and what to expect from the day ahead. 
We take a technical look at key markets that are likely to be impacted by today's events. Also, we participate in a 'Gun to the head' challenge where each of us calls a live trade. These will expire at 9pm tonight and we will keep track of the progress over time.
We hope you enjoy it!
Join us on Telegram for more content – https://t.me/SCFree
Show notes:
Steve was stopped out on Bitcoin, while Joe made 1.30R on AUDUSD.
We have included an illustration based on a £1000 account. This will follow the combined return of our morning trades by risking 1% of the trading capital per trade. The 1% risk is a variable monetary amount and will rise and fall based on the success of the calls.
We are currently up 85.23% collectively since we began recording Talking Bull on the 30th October 2019.
News
French President Emmanuel Macron announced a new four-week national lockdown, shutting down schools and businesses as the country seeks to contain a third wave of Covid-19 cases. Travel in between regions will be restricted, further impacting companies that hoped to benefit from school holidays in coming weeks. Macron said he aims to reopen the economy in stages starting in mid May.
In today's meeting, OPEC and its allies including Russia are expected to keep oil output curbs in place for at least another month. Still there's room for surprises, two anonymous delegates told Bloomberg, including a possibility that a production hike will be considered. Crude oil futures have retreated from highs reached in early March, as resurgent virus cases in major economies cast doubt on a quick recovery for demand.
A manufacturing error at a plant involved in Covid-19 vaccine production affected 15 million doses worth of an ingredient for Johnson & Johnson's vaccine, according to two people familiar with the matter, though the company downplayed the situation and said it met its most recent vaccine delivery target.
Deutsche Bank sold about $4 billion of holdings seized in the implosion of Archegos Capital Management in a private deal last Friday, helping it emerge unscathed from a scramble that may cost some rivals billions of dollars. The German bank executed the direct sale after Archegos defaulted on margin loans used to build up highly leveraged bets on stocks, people with knowledge of the matter said.
A positive session overnight has seen widespread gains throughout the Asian region, with traders reacting positively to the latest spending plans out of the US. Joe Biden's proposed $2 trillion package included $174 billion set aside for electric vehicles, sparking a 5% surge in Tesla shares.
The proposal also laid out funding for trains, roads, green energy, and semi-conductors, providing the basis for further upside in commodities should the package pass through congress.
Predictably, there are doubts over whether this will garner any support from the Republicans. Elsewhere, substantial improvements to the latest Tankan manufacturing index out of Japan lifted the stocks in the region, with the reading of 5 highlighting that the sector is finally improving after five-consecutive quarters of deteriorating or flatlining conditions.
Looking ahead, a host of final PMI readings out of Europe and the US could garner some attention if we see any notable revisions. However, with the US jobs report due tomorrow, todays jobless claims data will be one area of note to watch out for.
Also keep an eye on the energy markets, with OPEC meeting to find agreement on whether to raise production or not.
Data Today
1.30pm – US initial jobless claims (w/e 27 March): claims to fall to 625K. Markets to watch: US indices, US crosses
3pm – US ISM mfg PMI (March): index to rise to 61.2 from 60.8. Markets to watch: USD crosses
Gun to head trade ideas – Update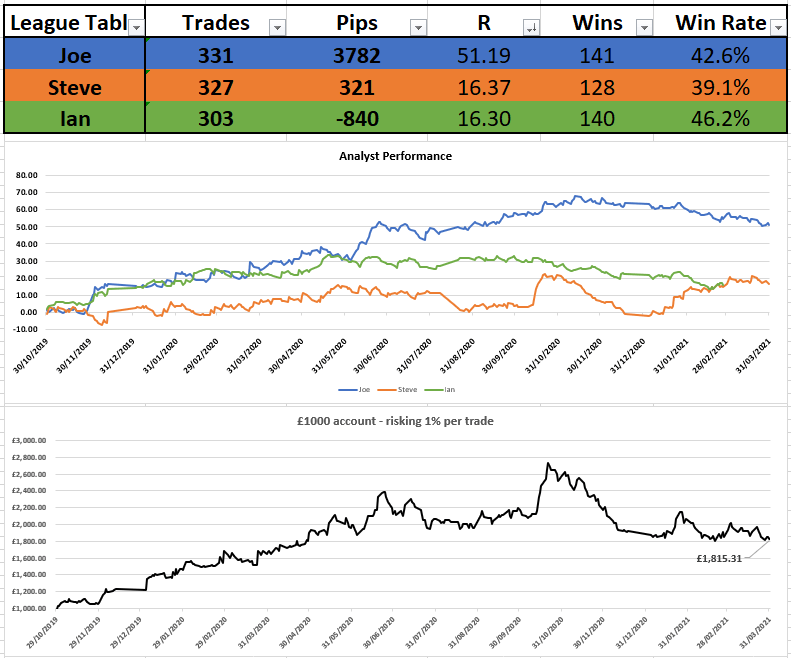 Today's trade idea

Have a great week everyone.
Get award-winning FCA regulated signals and levels on over 30 markets, as well as education resources so you never trade alone.