Good morning and welcome to episode 652 of 'Talking Bull'. In this video/podcast we cover the main headlines and what to expect from the day ahead. 
We take a technical look at key markets that are likely to be impacted by today's events. Also, we participate in a 'Gun to the head' challenge where each of us calls a live trade. These will expire at 9pm tonight and we will keep track of the progress over time.
We hope you enjoy it!
For a selection of free educational content, join our Discord server at – https://discord.gg/Db4UWVFvF6
Show notes:
Joe was offside 0.83R on NZDUSD.
We have included an illustration based on a £1000 account. This will follow the combined return of our morning trades by risking 1% of the trading capital per trade. The 1% risk is a variable monetary amount and will rise and fall based on the success of the calls.
We are currently up 120.29% collectively since we began recording Talking Bull on the 30th October 2019.
News
ECB hikes rates 50 basis points
The ECB increased interest rates by 50 basis points to 0.50% at the latest policy meeting compared with expectations of a 25 basis-point rate hike. The deposit rate was also increased to 0.0%, moving the rate out of negative territory for the first time since 2014.
The ECB commented that the front-loading of hikes will allow the bank to make a transition to meeting-by-meeting rate decisions. It added that a further normalisation of rates will be appropriate at upcoming meetings.
The ECB also launched its Transmission Protection Instrument (TPI) which is aimed at countering unwarranted and disorderly market dynamics. President Lagarde stated that countries must comply with EU debt rules to access the TPI tool.
Italy facing new elections
Italian political developments undermined the single currency. Italian Prime Minister Draghi announced his resignation with reports that new elections are likely to be held on September 18th as the governing coalition fractured.
Euro unable to hold gains
The Euro spiked higher after ECB policy decision, but failed to hold its best levels. There were further doubts whether the ECB would be able to tighten substantially over the medium term and there were further reservations over gas supplies amid the high degree of uncertainty surrounding supplies from Russia.
US Philly Fed index dips
The Philadelphia Fed manufacturing survey dipped further to -12.1 for July from -3.3 previously and well below consensus forecasts of 1.0. Although shipments increased at a faster rate, there was a sharp decline in new and unfilled orders.
There was a slower net increase in employment for the month and there was a significant easing of inflation pressures with the prices paid index dipping to the lowest level since January 2021 and the prices received reading declined to 30.3 from 49.2 previously.
Companies were less optimistic over the outlook with the 6-month outlook reading at the lowest level since 1979.
US yields decline
US yields declined after the US data with the 10-year yield declining to just below 2.90% and the 2-year yield close to 3.10%.
Global PMI data in focus
The latest PMI business confidence data for the Euro area, UK and US will be released on Friday. The data will be important in assessing the global outlook and the relative performance among major economies.
UK retail sales edges lower
UK retail sales declined 0.1% for June and slightly stronger than expectations of a 0.3% decline while core sales increased slightly on the month.
The GfK consumer confidence index held at a record low for July.
Data Today
08.30: Germany PMI data (flash release)
09.30: UK PMI data (flash release)
14.45: US PMI data (flash release)
Key events over the next week
July 27th: Australia consumer prices
July 27th: Federal Reserve policy decision
Gun to head challenge – Update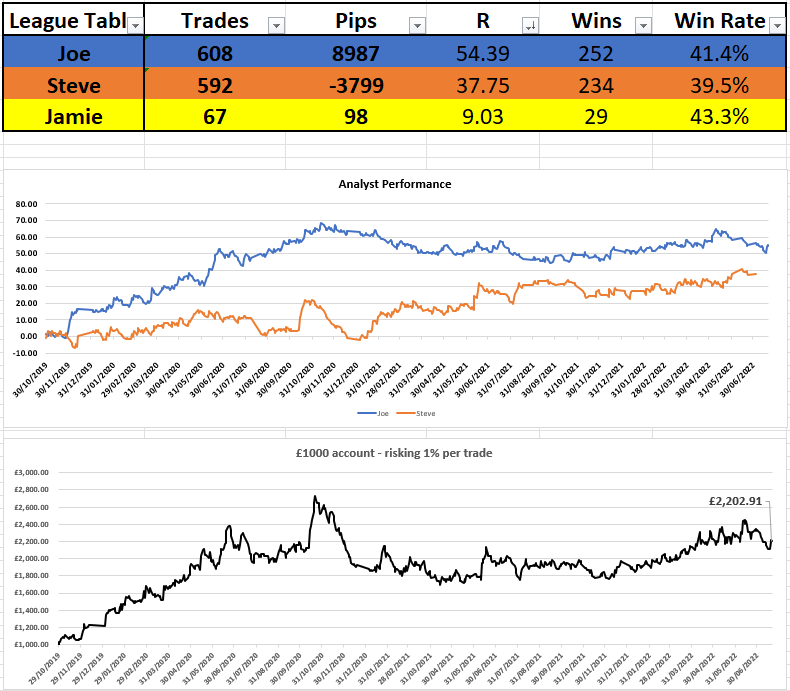 Today's trade idea

Have a great week everyone.
Get award-winning FCA regulated signals and levels on over 30 markets, as well as education resources so you never trade alone.