Good morning and welcome to episode 710 of 'Talking Bull'. In this video/podcast we cover the main headlines and what to expect from the day ahead. 
We take a technical look at key markets that are likely to be impacted by today's events. Also, we participate in a 'Gun to the head' challenge where each of us calls a live trade. These will expire at 9pm tonight and we will keep track of the progress over time.
We hope you enjoy it!
For a selection of free educational content, join our Discord server at – https://discord.gg/Db4UWVFvF6
Show notes:
Joe was onside 0.95R on Gold. Steve was stopped out on DAX.
We have included an illustration based on a £1000 account. This will follow the combined return of our morning trades by risking 1% of the trading capital per trade. The 1% risk is a variable monetary amount and will rise and fall based on the success of the calls.
We are currently up 162.88% collectively since we began recording Talking Bull on the 30th October 2019.
News
Mixed US housing data
US housing starts declined to an annual rate of 1.44mn for September from a revised 1.57mn and below consensus forecasts of 1.48mn, but building permits edged higher to 1.56mn from 1.54mn which was slightly above market expectations of 1.53mn.
US yields surge to 14-year highs
Although the US data was mixed, there was sharp selling in US Treasuries with the 10-year yield increasing to a fresh 14-year high above 4.10% amid expectations that the Federal Reserve would have to be even more aggressive in tightening monetary policy.
The 10-year yield increased further to 4.15% on Thursday.
USD/JPY challenges 150.00
The dollar overall maintained a strong tone and USD/JPY challenged the 150.00 level, but with some reluctance to push the US currency above this level given the persistent intervention threat.
UK political chaos continues 
UK Home Secretary Braverman resigned on Wednesday. Although officially it was due a break of the ministerial code, there was also very strong criticism of government policy and an open call for Prime Minister Truss to resign.
The government overall remained in total chaos and close to collapse.
Canadian inflation edges lower
The headline Canadian CPI inflation rate edged lower to 6.9% for September from 7.0% previously, but slightly above consensus forecasts of 6.8%.
The core rate edged higher to 6.0% from 5.8% while Bank of Canada core rates were little changed.
Marginal Australian employment gain
Australia reported an employment increase of just below 1,000 for September compared with expectations of a 25,000 increase while the unemployment rate held at 3.5%.
Data Today
13.30: US Philly Fed index
13.30: US jobless claims
Key events over the next week
October 24th: Global flash PMI data
October 26th: Bank of Canada policy decision
October 27th: ECB policy decision
October 28th: Bank of Japan policy decision
Gun to head challenge – Update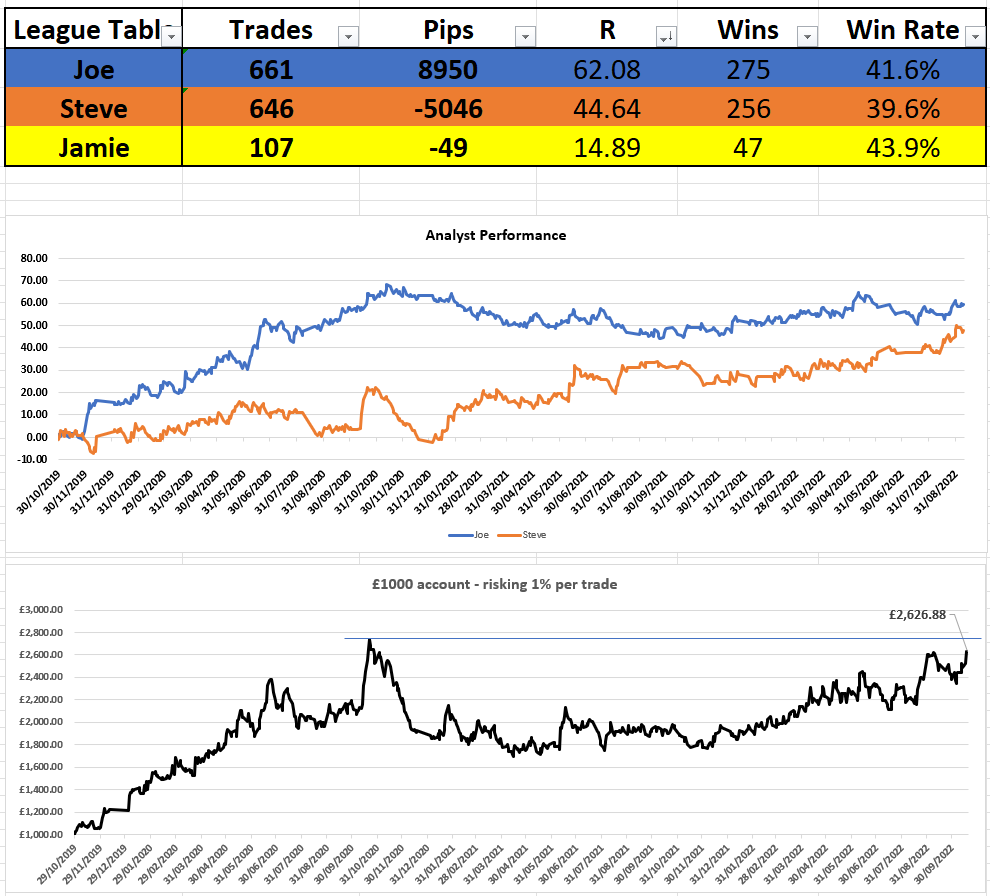 Today's trade idea

Have a great week everyone.
Get award-winning FCA regulated signals and levels on over 30 markets, as well as education resources so you never trade alone.