Funding Circle IPO
Funding Circle has announced plans for an IPO and it hopes to raise around £300mln by becoming the first peer-to-peer lending platform to list on the London Stock Exchange.
Background
Here is the description of Funding Circle according to Wikipedia…
Funding Circle is a peer-to-peer lending marketplace that allows investors to lend money directly to small and medium-sized businesses. Funding Circle was the first website to use the process of peer-to-peer lending for business funding in the UK, and now operates in the UK, US, Germany, and the Netherlands. As of June 2018, Funding Circle has facilitated over £5 billion in loans to small and medium-sized firms.
Valuation
The company is expected to be valued at around £1.5bn when is lists in October and will be looking to use the proceeds it raises to strengthen its balance sheet. This will also help the business to take advantage of opportunities in existing and new geographies, while improving brand awareness through marketing.
Funding Circle is backed by Danish billionaire Anders Holch Povlsen and he has agreed to buy 10% of the share capital through his investment vehicle, if the valuation does not exceed £1.65bn.
The company reported a loss of £35.3mln in the last financial year. The company is yet to make a profit, but the directors believe now is an appropriate time to bring the group to the public market having put robust foundations for growth in place.
Financial Performance to date
Funding Circle is seeing big gains in revenues, but also in losses.
In the year ending 31st December 2017, the firm posted revenues of £94.5m, compared to the £50.9 million a year previous. This represents growth of 85.6%. In the first 6 months of 2018, the company posted £63.0m in revenues, up from £40.9m in the first half of 2017, an increase of 54%. But losses have also increased, from £19.2m in the first half of 2017 to £27.0m this year, which is a 40% increase.
The large marketing campaign that ran on various media outlets, including several prime-time television adverts accounts for a large part of the losses made in the previous period.
Growth Potential
Funding Circle currently operates in the UK, US, Germany and the Netherlands. Its projected annualised investor returns across all 4 markets range between 4.6 – 7.6 percent, with returns higher in the US and Netherlands. The higher returns naturally come at higher levels of risk. Funding Circle experienced initial growing pains in continental Europe after expansion into Germany, the Netherlands and Spain. The company restructured is European operations in 2017 and made the decision to stop lending in Spain.
The registration document says, "The strategy of Funding Circle is to continue expanding geographically in a disciplined and phased manner, either through acquisitions or organically." The difficulties of its initial expansion plans will hopefully mean the company uphold their statement in the registration document and do indeed "continue expanding geographically in a disciplined and phased manner".
In the medium term, Funding Circle is targeting 40 per cent revenue growth, with a longer-term target of adjusted EBITDA margins of 35 per cent of more.
How have Funding Circles Peers performed?
Fintech companies have previously come to market with high hopes and equally high valuations. Will Funding Circle be served up with a dose of reality when it lists in London next month?
Twitter founder Jack Dorsey set up Square Inc, a mobile payment platform, whose stock soared by 242% in a year. On the flip side there is LendingClub Corp and On Deck Capital Inc, which are both trading well below their IPO prices.
Expectations of expansion can often be dealt a blow but the reality of regulated finance.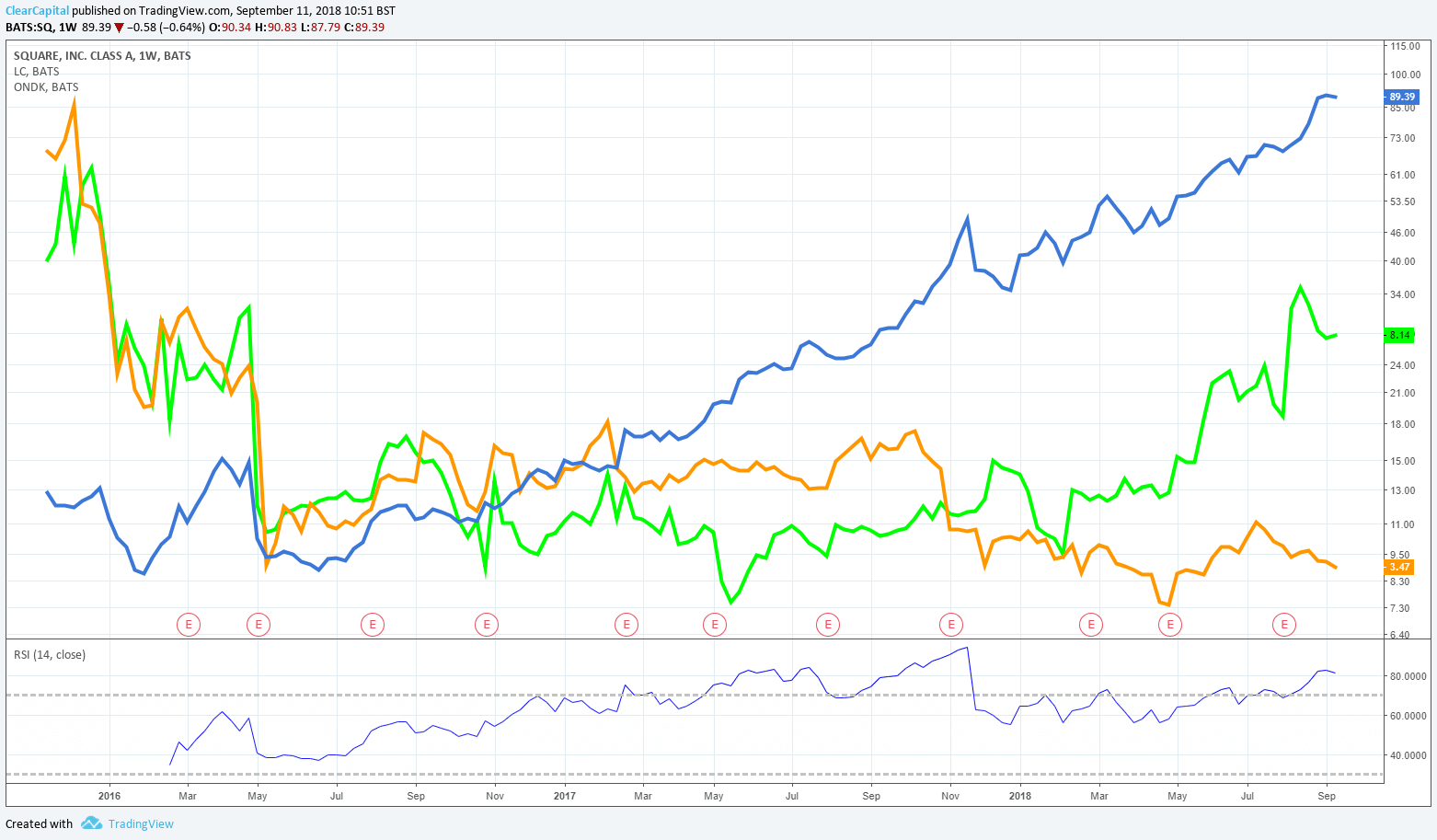 Square: Blue – On Deck: Green – Lending Club: Yellow
Funding Circle is trading at 17 times trailing revenue, which looks huge compared to LendingClub's 1.3x, OnDeck.s 1.7x and Square is at 13x.
LendingClub and On Deck's adjusted revenue growth slowed from triple-digit rates in 2013 to the mid-teens by 2017. So its clear the maintaining pre-IPO growth rates is going to be a difficult task.
Conclusion
Throughout the registration document, Funding Circle boasts about the benefits of high rates of repeat business. In the UK for instance a growing percentage of its loan funding comes from existing investors. 85% in 2017 and the first half of 2018, which is up from 68% in 2015.
There are plenty of known risks in the marketplace lending industry, not least the fact that platforms like Funding Circle haven't experienced a proper downturn before. The platform is well supported by a range of institutional investors and assets managers, which is encouraging. Funding Circle has good technology and a solid history of revenue growth, which will no doubt attract new investors.
The additional investment will shore up the balance sheet, but will investor appetite carry the shares higher in the short to medium term? We will see in October.