Good morning and welcome to episode 768 of 'Talking Bull'. Here are the latest headlines today, US Philly Fed recovers slightly, Fed sticks to the script, Hawkish ECB talk, SNB's Jordan backs further tightening, Dollar unable to hold gains, BoE's Bailey also stays hawkish, & Further demand for gold.
We take a technical look at key markets that are likely to be impacted by today's events. Also, we participate in a 'Gun to the head' challenge where each of us calls a live trade. These will expire at 9pm tonight and we will keep track of the progress over time.
We hope you enjoy it!
For a selection of free educational content, join our Discord server at – https://discord.gg/Db4UWVFvF6
Show notes:
Joe was made 0.26R on EURCHF.
We have included an illustration based on a £1000 account. This will follow the combined return of our morning trades by risking 1% of the trading capital per trade. The 1% risk is a variable monetary amount and will rise and fall based on the success of the calls.
We are currently up 217.64% collectively since we began recording Talking Bull on the 30th October 2019.
News
US Philly Fed recovers slightly
The Philadelphia Fed manufacturing index remained in contraction territory for January with a reading of -8.9, but this was above December's figure of -13.7 and slightly stronger than consensus forecasts of -11.0.
There was net growth in shipments, but new orders contracted at a faster pace on the month. There was a net increase in employment while inflation evidence was mixed as costs increased at a notably slower rate, but prices received increased at a faster pace.
Companies were slightly more optimistic over the outlook, but still notably cautious while pricing pressures are forecast to ease.
Fed sticks to the script
Fed Vice-Chair Brainard stated that it will take some time and resolve to get inflation down to the 2% target. She added that the slowing in rate hikes allows the Fed to assess more data as it moves policy to sufficiently restrictive levels. She added that there are tentative signs of a slowdown in wages.
The rhetoric overall was little changed, but with a slight hint that sentiment was starting to shift with a greater emphasis on downside risks.
Hawkish ECB talk
ECB Council Member Knot stated that the ECB s planning to hike rates by 50 basis points multiple times and won't stop after a single hike with no sign that underlying inflation is abating.
Bank President Lagarde stated that inflation is way too high and that the bank will stay the course with rate hikes.
Minutes from December's meeting stated that a large number of policymakers had initially expressed a preference for a 75 basis-point rate hike. A broad majority eventually backed the decision to raise rates by 50 basis points, but with the promise of a hawkish statement and a further rate hikes.
SNB's Jordan backs further tightening
National Bank Chair Jordan warned that inflation is broader with worsening dynamics and that some further tightening was probably still needed.
Dollar unable to hold gains
The dollar posted net gains in European trading on Thursday, especially with weaker equities, but it failed to hold peak levels.
The yen also lost ground on Friday as equities attempted to regain ground and risk appetite stabilised.
BoE's Bailey also stays hawkish
Bank of England Governor Bailey stated that the bank is not endorsing a 4.50% peak in interest rates, but the market expectations were out of line in November and that was not the case in December.
But weak UK data
The GfK consumer confidence index dipped to -45 for January from -42 and close to record lows. Retail sales volumes also declined 1.0% for December  compared wth expectations of a small increase.
Further demand for gold
Gold posted further net gains on Thursday with further reports that China was buying metals.
Data Today
15.00: US existing home sales
Key events over the next week
January 24th: Global PMI data
January 25th: Canada interest rate decision
Gun to head challenge – Update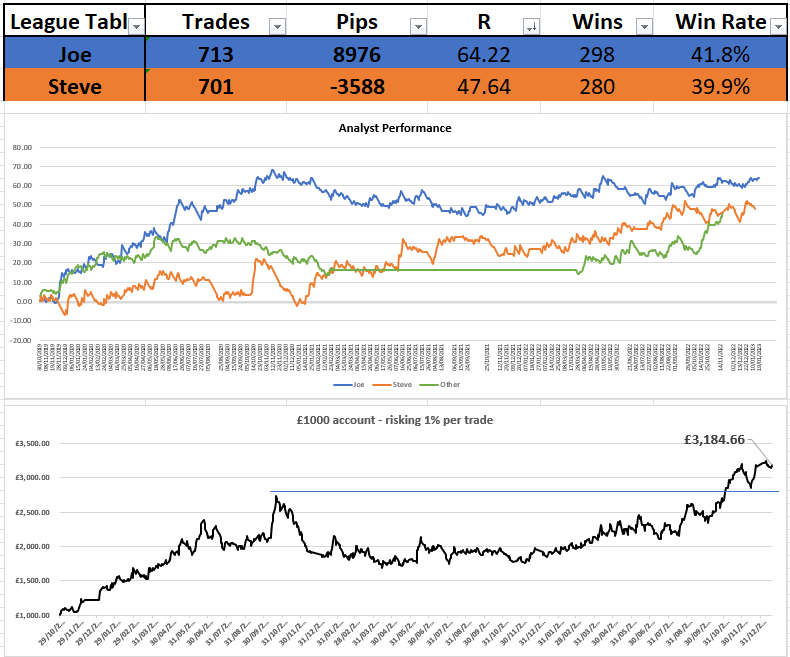 Today's trade idea
Have a great week everyone.
Get award-winning FCA regulated signals and levels on over 30 markets, as well as education resources so you never trade alone.