Choppy trading in oil ahead of Thursday's OPEC meeting
Posted: 3rd March 2021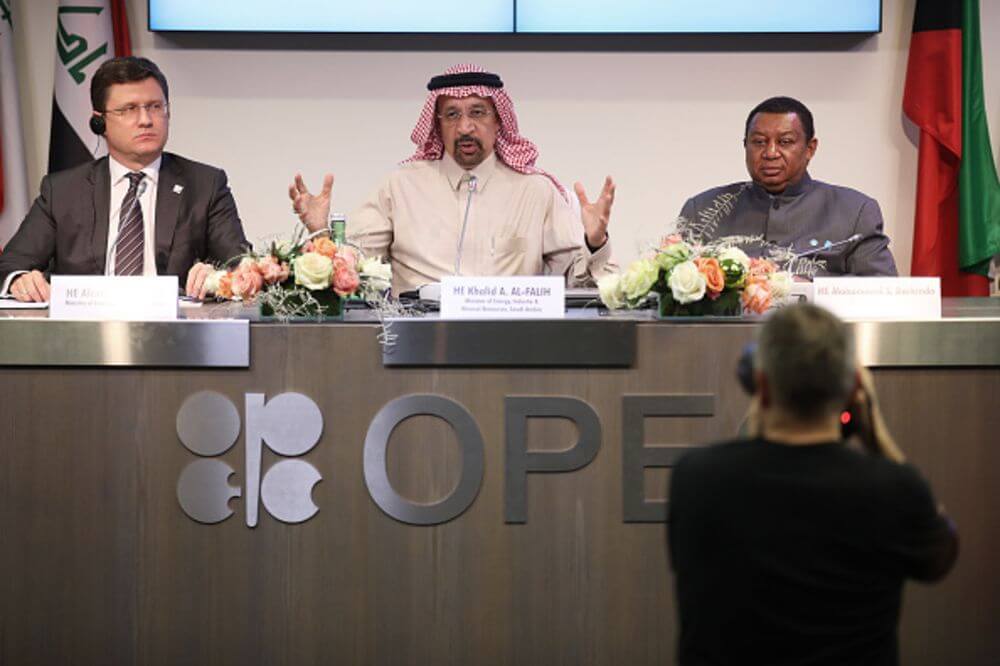 Trade ideas & Daily market report March 3rd 2021
Market highlights.
Global bond markets were relatively stable on Tuesday as dovish Fed comments offered reassurance and curbed selling in Treasuries.
Wall Street equities retreated after sharp gains the previous day amid valuation reservations.
Overall risk appetite was steady with Asian equities posting notable gains in late trading.
The dollar posted early gains on Tuesday, but then weakened sharply amid weaker as reflation trades gained fresh support.
EUR/USD found support just below 1.2000 and posted net gains to near 1.2100.
GBP/USD rallied firmly from lows near 1.3850, and edged towards 1.4000 despite pre-budget uncertainty.
Commodity currencies reversed early losses to post significant gains as the US dollar faded.
There was choppy trading in oil ahead of Thursday's OPEC meeting with little net change.
Precious metals rallied on US dollar weakness, although the advance was tentative.
Scandinavian currencies posted net gains on global recovery hopes.
Bitcoin advanced towards $50,000 amid easier financial conditions.
EUR/USD
German retail sales data was much weaker than expected with a 4.5% slide for January to give an annual decline of 8.7%, reinforcing concerns over near-term spending trends. The latest unemployment data was also weaker than consensus forecasts with an increase of 9,000 for February following a 37,000 decline the previous month. Germany did announce a very limited easing of coronavirus restrictions from next week. The headline Euro-zone inflation rate was unchanged at 0.9% for the February and in line with expectations. The core rate declined to 1.1% from 1.4% and below consensus forecasts of 1.4% with little net impact.
EUR/USD dipped to below the 1.2000 level, but there was support below this level and the break was recovered quickly with the Euro recovering ground
The dollar overall continued to lose ground in early New York with significant gains in commodity currencies. There was also evidence of strong dollar selling into the London fix and EUR/USD moved above 1.2050 as the dollar lost ground on the major crosses.
Fed Governor Brainard stated that the central bank would remain patient on monetary policy and was focussed on realised progress towards inflation and employment goals. She reiterated that monetary accommodation should not be removed when unemployment declines to near estimates of a neutral rate and she would be concerned if there was a disorderly increase in bond yields. There was no overt move to push back against higher yields and the dollar attempted to stabilise.
San Francisco Fed President Daly stated that any inflation spike will be short lived with a full job-market recovery to take at least a year or two after the US is fully vaccinated. Dovish Fed rhetoric undermined the US currency with EUR/USD peaking around 1.2090 and the dollar was unable to recover ground on Wednesday as reflation trades dominated.
USD/JPY
USD/JPY was unable to make a challenge on the 107.00 level in early Europe on Tuesday and gradually lost ground amid wider losses.
The US New York PMI index retreated to 35.5 for February from 51.2 the previous month. There was, however, an increase in the IBD consumer confidence index to 55.4 from 51.9 previously, maintaining expectations of firmer consumer spending. US bond yields overall were also marginally lower on the day which sapped dollar support as markets continued to monitor risk trends.  The yen, however, was unable to secure sustained support, especially with a renewed move back into reflation trades. In this environment, USD/JPY settled around 106.70 as the Japanese currency lost ground on the crosses.
China's Caixin PMI services index edged lower to 51.5 from 52.0 previously and in line with consensus forecasts, although overall business confidence held firm. Wall Street futures posted net gains in the Asian session which curbed potential yen demand and USD/JPY edged higher to the 106.85 area with EUR/JPY above 129.0.
Sterling
Latest data indicated that German exports to the UK declined 30% in January compared with January 2020 with a notable impact from Brexit. It will take many months for distortions surrounding trade data to unwind. The Nationwide reported a faster rate of growth in UK house prices, but there was little market reaction.
GBP/USD lost ground in early Europe and retreated to 2-week lows, but there was support above 1.3850 and the pair gradually recovered ground as the US currency lost traction with overall Sterling sentiment holding firm.
The UK currency was underpinned by a more stable tone surrounding risk appetite and demand for reflation trades. There was, however, an underlying lack of momentum amid speculation that pressure to boost Sterling weightings had been completed. There was also an element of caution ahead of Wednesday's UK budget.
As the dollar lost ground, GBP/USD pushed to highs around 1.3975 at the European close while EUR/GBP eventually settled unchanged just below 0.8650. Overnight reports indicated that the furlough scheme would be extended further than expected until the end of September which had some impact in dampening confidence in the potential UK recovery. GBP/USD retreated slightly to below 1.3950 with EUR/GBP posting a limited advance to near 0.8670, although with pound buying on dips as equities posted gains.
Swiss franc
The Swiss franc held steady in early Europe on Tuesday, but gradually lost ground amid more stable risk conditions and fresh selling pressure on low-yield assets with Swiss rates at -0.75%. EUR/CHF strengthened to highs just above 1.1050 despite expectations of a dovish ECB stance.
USD/CHF did post four-month highs, but was unable to make a serious challenge on the 0.9200 level and retreated to just below 0.9150 amid wider losses.
EUR/CHF held just above 1.1050 on Wednesday with USD/CHF close to 0.9150 as overall risk conditions held steady.
AUD/USD + USD/CAD
The Australian dollar continued to lose ground in early Europe on Tuesday with AUD/USD lows just below 0.7740.
There was, however, a sharp reversal later in the day as the US dollar lost ground and commodity trades moved back into demand. In this environment, AUD/USD strengthened to highs above 0.7830.
Australian GDP data was stronger than expected with a 3.1% fourth-quarter increase after a revised 3.4% increase the previous quarter and above consensus forecasts of 2.5%.
AUD/USD was unable to gain further traction and settled around 0.7820.
Canadian GDP increased 0.1% for December, below expectations of 0.3%, but fourth-quarter annualised growth was 9.6% compared with consensus forecasts of 7.5%.
The Canadian dollar gradually gained ground amid the weaker US currency with USD/CAD lows at the 1.2600 level.
There was a limited correction on Wednesday with USD/CAD at 1.2630.
NOK+ SEK
Firmer risk conditions underpinned Scandinavian currencies during Tuesday.
The Norwegian krone briefly dipped lower in early Europe on Tuesday as the Euro retreated, but the currency gradually regained ground with EUR/NOK weakening to lows below 10.25.
Volatility declined on Wednesday with the krone holding firm as EUR/NOK retreated to near 10.22 while USD/NOK dipped to around 8.45
Swedish krona trading was also notably contained, with EUR/SEK settling around 10.13. The krona held a firm tone on Wednesday with EUR/SEK just above 10.12 and USD/SEK around 8.38.
The Swedish PMI services index strengthened to 62.7 for February from 59.3 previously.
Equities
Euro-zone equities opened higher, although there was an element of caution following losses in Asia.
Bourses also failed to gain traction despite gains across the commodity complex and steady risk conditions.
The German DAX index gained 0.2%, but there was only a marginal advance for the Eurostoxx 50 index as the Spanish bourse posted losses.
Major UK stocks were underpinned by renewed demand for commodities. On domestic grounds there was an element of caution ahead of Wednesday's budget statement and FTSE 100 gains were held to 0.4%.
Wall Street sentiment held firm amid expectations of very supportive fiscal and monetary policies. There was, however, an element of caution over valuations which curbed the potential for further buying. The S&P 500 index declined 0.8%, but futures posted gains on Wednesday.
Asian equities posted net gains with Japan's Nikkei 225 index closing 0.5% higher while the Australian ASX index advanced 0.8%.
There was late buying in the session and China's Shanghai index recovered to post a gain of 1.95% after losses on Tuesday while Hong Kong's Hang Seng index was 2.4% higher in late trading.
Commodities
Oil prices were held in relatively tight ranges on Tuesday. A weaker dollar and stable risk conditions provided support and crude recovered from an early retreat to 1-week lows, but there was caution ahead the OPEC meeting with WTI settling around $61.0 p/b at the European close.
API data recorded a large crude build of 7.4mn barrels, although there was a record draw in gasoline as the Texas disruption continued to have a big impact.
WTI dipped lower and consolidated around $60.0 p/b in choppy trading with Brent around $63.1 p/b.
Precious metals drew support from a weaker US dollar during the day and there was also relief that bond yields had broadly stabilised.
Gold overall rallied to highs just above $1,735 per ounce.
Silver also posted gains with highs above $26.70 per ounce after the European close.
Gold edged lower to near $1,730 per ounce on Wednesday as narrow ranges prevailed with silver just above $26.60 per ounce.
Cryptocurrencies
Cryptocurrencies attempted to move higher after the New York open, but bitcoin hit selling interest on approach to $50,000.
Although equity markets held firm and the US dollar lost ground, bitcoin dipped to near $47,500 after the European close.
Overall sentiment held firm in Asia with expectations of supportive global monetary policies continuing to provide net support.
Bitcoin traded around $49,500 towards the Asian close.
Ether was unable to regain the $1,600 level during Tuesday and retreated to below $1,500 ahead of the Wall Street close before a recovery to $1,560.
Calendar
Major events for the day ahead: (times in GMT)
12.30: UK budget statement
13.15: US ADP employment data
15.00: US ISM index services
15.30: US EIA crude oil inventories