Market Report – Violence in Washington dominated later in the day, although risk appetite held firm
Posted: 7th January 2021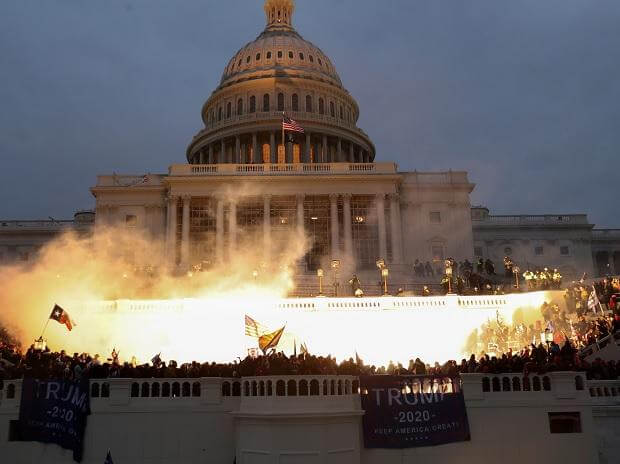 Trade ideas & Daily market report January 7th 2021
Market highlights.
Risk appetite held strong for much of Wednesday on vaccine optimism and expectations of increased US fiscal stimulus.
Violence in Washington dominated later in the day, although risk appetite held firm.
Wall Street posted gains, but retreated from its best levels while there were strong equity gains in Europe.
ADP data recorded a decline in US employment for December, reinforcing near-term reservations over the outlook.
Although the dollar recovered late in the US session, it remained vulnerable to trade just above 32-month lows.
EUR/USD settled below 32-month highs but above 1.2300.
Sterling was unable to make headway amid domestic coronavirus fears. Global recovery hopes and equity gains provided some protection.
Commodity currencies pared gains while US dollar weakness still provided net support.
Oil prices were boosted by a sharp inventory draw to post 10-month highs.
Precious metals retreated sharply from best levels as the dollar attempted to recover.
Bitcoin posted another record high as demand for cryptocurrencies remained very strong.
EUR/USD
The final reading for the Euro-zone PMI services-sector index was revised down significantly to 46.4 from the flash reading of 47.3 with the Italian index notably weaker than expected and signalling significant contraction. German consumer prices increased 0.5% for December with the year-on-year rate unchanged at -0.3%.
The US currency remained under pressure ahead of the New York open amid assumptions that US real interest rates would remain negative and inflation would move higher. The dollar index declined to the lowest level since March 2018 with EUR/USD peaking at 32-month highs at 1.2350.
US ADP data recorded a decline in private-sector payrolls of 123,000 for December following a revised increase of 304,000 the previous month and much lower than market expectations of a 90,000 gain as large companies cut jobs. The dollar regained some ground after the Wall Street open with some expectations that the US currency would be supported by stronger growth if there was a further increase in fiscal spending and EUR/USD edged back to the 1.2300 area.
Minutes from December's Federal Reserve minutes illustrated divergence between the short and long-term outlook. There were near-term concerns over the outlook, although there was little enthusiasm for increasing bond purchases and a number of participants noted that there would be scope to taper purchases once substantial progress had been made in attaining Fed goals. The dollar briefly edged higher, but failed to hold the gains with EUR/USD settling around 1.2325 as Washington political drama escalated and dominated market sentiment. The US currency secured only an element of protection with EUR/USD above 1.2300 on Thursday.
USD/JPY
In the Georgia Senate run-offs, Democrat candidate Warnock was projected to be the winner in early Europe. Just ahead of the New York open, fellow Democrat Ossoff also claimed victory against Republican incumbent Perdue. The dollar initially weakened sharply on the results with assumptions that there would be a Democrat-controlled Senate which would lead to a sustained boost to fiscal policy. Inflation expectations moved higher with higher bond yields.
Higher US yields did stem dollar selling and there was a sharp reversal after the New York open with USD/JPY at 103.30 from 8-month lows at 102.60.
The special joint session of Congress was quickly overshadowed by pro-Trump protests in Washington and tensions escalated rapidly as protesters entered the Senate building and forced an evacuation. Wall Street retreated, especially with reports that two major Chinese companies Alibaba and Tencent could be added to the banned list for US investors. The overall market impact of protests was measured with the Senate resuming debate on certifying Biden's victory and net gains for equity futures.
Japanese cash earnings declined 2.2% in the year to November, the weakest figure for over five years which will increase fears over the spending outlook.
The dollar was able to draw some protection from higher yields and USD/JPY traded around 103.25.
Sterling
The final reading for the UK PMI services-sector index was revised lower to 49.4 from the flash reading of 49.9. There were further concerns over the near-term outlook, although overall business confidence strengthened to the highest level for over six years with companies expecting a rebound during 2021.
Bank of England Governor Bailey stated that markets had broadly been expected the Brexit trade deal that was secured. Bailey made no comments on monetary policy, but there was further speculation that the central bank could adopt negative interest rates, especially with further near-term damage to the economy.
GBP/USD strengthened to highs at 1.3680, but reversed sharply in US trading with a slide back below 1.3550 while EUR/GBP posted one-week highs around 0.9080. The latest data recorded a record increase in new daily infections of over 62,000 with over 1,000 deaths reported for the day and there were further reports over the potential for major pressure on the health service.
GBP/USD did find support against the vulnerable dollar and regained 1.3600 in choppy trading as risk appetite held a firm overall tone. The UK currency faded again on Thursday with GBP/USD trading just below 1.3600 with EUR/GBP around 0.9065.
Swiss franc
The US currency remained under pressure in early Europe on Wednesday with fresh 6-year lows just below 0.8760. The Swiss franc gradually lost ground as market confidence in a 2021 global economic rebound was boosted by the Democrat victory in the Georgia Senate run-offs. EUR/CHF advanced to the 1.0830 area while USD/CHF moved back above 0.8800 after posting fresh 6-year lows near 0.8750.
There was limited reaction to political protests in Washington as equity markets maintained a robust tone and USD/CHF traded just below 0.8800 on Thursday.
AUD/USD + USD/CAD
The Australian dollar continued to post gains ahead of Wednesday's New York open with AUD/USD strengthening to highs at 0.7820 as the US dollar remained under pressure.
There was a correction as the US currency rebounded, although AUD/USD losses were held to around 0.7790.
The Australian trade surplus was slightly lower than expected with AUD/USD holding just below 0.7800 as the US currency attempted to stabilise in global markets.
The Canadian dollar maintained a firm overall tone with US currency weakness pushing USD/CAD to lows at 1.2630.
Although the US currency recovered ground, stronger oil prices provided a late boost to the Canadian dollar with the USD/CAD recovery held to around 1.2675 and there was little net change on Thursday as oil prices maintained a firm tone.
NOK+ SEK
The Norwegian krone continued to draw support from optimism over the global economy with fresh gains in oil prices also providing support and EUR/NOK retreated to 10-month lows near 10.35.
Oil prices held a firm tone on Thursday which limited scope for a krone correction. EUR/NOK traded just above 10.35 with USD/NOK just above 8.40 and close to 26-month lows.
Although there was choppy trading, there was little net Swedish krona change on the day with EUR/SEK settling around 10.06.
The Swedish PMI services index retreated to 56.6 for December from 58.6 with USD/SEK around 8.17.
Equities
Euro-zone equities posted solid gains on Wednesday with optimism over a 2021 global recovery boosted by expectations that Senate control for the US Democrats would lead to further US fiscal stimulus.
The German DAX index posted a 1.75% gain with a sharp 3.2% gain for the Spanish IBEX index.
Major UK stocks posted strong gains on Wednesday with the advance fuelled by strong gains in the banking and energy sectors. Expectations of a global recovery helped offset near-term fears over the domestic economy and the FTSE 100 index posted a 3.5% gain to 10-month highs.
Wall Street stocks were boosted by expectations of stronger fiscal stimulus and the market was notably resilient despite the Washington protests. The S&P 500 index gained 0.55%, although there were losses in the tech sector on concerns over tighter regulation.
US futures held firm in Asia on Thursday which helped underpin regional sentiment.
Japan's Nikkei 225 index gained 1.6% amid relief over a slight dollar recovery while the Australian ASX index gained 1.6% on global recovery hopes.
China's Shanghai index posted a 0.7% gain to post a 13-year high while Hong Kong's Hang Seng index traded 0.2% lower in late trading.
Commodities
Underlying crude sentiment remain strong on Wednesday with further support from Saudi Arabia's announcement of voluntary production cuts announced on Tuesday.
EIA data recorded a sharp draw in crude oil inventories of 8.0mn barrels for the latest week compared with consensus forecasts of around 2.0mn. There was a notable build in gasoline stocks, but crude spiked higher on release.
WTI strengthened and posted fresh 10-month highs above the $51.0 p/b level on Thursday with Brent also posting 10-month highs around $54.80 p/b.
Precious metals initially posted strong gains following the Georgia election results with increased expectations of global reflation policies.
With the dollar dipping sharply, gold pushed to 8-week highs near $1,960 per ounce and silver peaked just below $28.0 per ounce.
There was, however, a sharp reversal after the New York open with gold sliding to near $1,900 before stabilising while silver slid below $27.0 per ounce.
Underlying demand held firm with gold at $1,925 per ounce on Thursday with silver around $27.20 per ounce.
Cryptocurrencies
Cryptocurrencies corrected lower in early Europe, but overall selling pressure remained limited with bitcoin finding support above $34,000.
There was further underlying support from expectations of a very loose Federal Reserve monetary policy and very strong global liquidity growth.
In this environment, net buying of cryptocurrencies continued with bitcoin posting fresh record highs above $36,000.
There were further gains in Asia on Thursday with bitcoin posting fresh record highs near $37,800 before a marginal correction.
Ether also posted net gains to fresh 3-year highs at the $1,225 area with strong buying support on dips.
Calendar
Major events for the day ahead: (times in GMT)
09.30: UK PMI index construction
10.00: Euro-zone consumer prices
13.30: US jobless claims
15.00: US ISM index services
Get award-winning FCA regulated signals and levels on over 30 markets, as well as education resources so you never trade alone.