Trade ideas – Phase-one US-China trade deal signed
Posted: 16th January 2020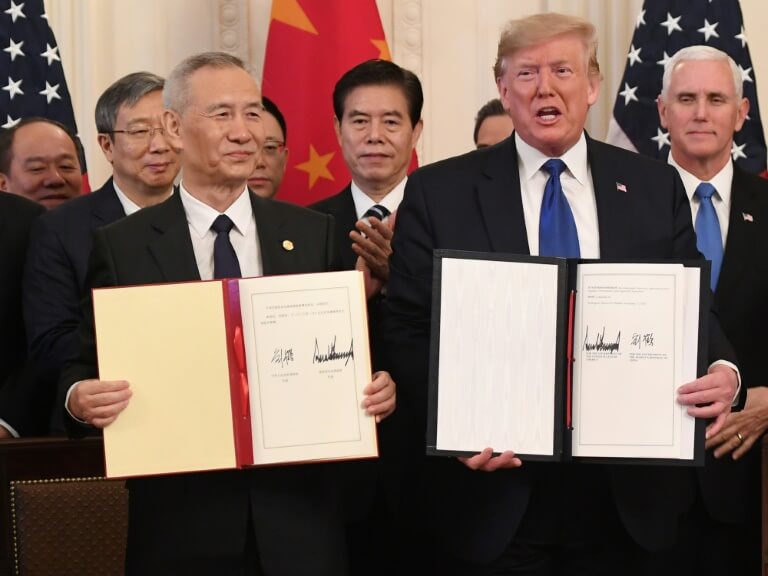 Trade ideas & Daily market report January 16th 2020
Market highlights
Risk appetite held firm on Wednesday as positive trade rhetoric after the phase-one US-China trade deal signing helped underpin sentiment.
Global equities posted fresh record highs, although with a limited correction in Asia on Thursday amid doubts over deal implementation.
The dollar drifted lower during the day amid a net shift into other major assets and expectations of accommodative Fed policy with EUR/USD edging higher.
After sliding following lower than expected CPI inflation data Sterling staged a tentative recovery on economic recovery hopes.
Commodity currencies secured only limited gains given that existing US-China tariffs will stay in place for now.
Oil prices were hurt by another large build in product inventories, but trade hopes triggered a recovery.
Precious metals secured only limited gains as global risk sentiment remained firm.
EUR/USD
Euro-zone industrial production data had little impact while ECB member Holzmann stated that the bank's inflation review will start next week. The Euro made headway in early US trading with some reports of buying by a sovereign wealth fund.
US producer prices increased 0.1% for December, slightly below consensus forecasts with a 1.3% annual increase from 1.1% previously. Core prices were slightly below market expectations with a 1.1% annual increase from 1.3%.
The January New York Empire manufacturing index strengthened to 4.8 from 3.3 and slightly above expectations. New orders increased at a faster pace while employment indices were little changed. There was a notable pick-up in monthly price indices which suggested increased inflationary pressures while companies were slightly less optimistic over the outlook.
Philadelphia Fed President Harker stated that the Fed could implement some form of forward guidance by allowing inflation to rise above 2% which was a slightly more dovish slant on potential policy with strong resistance to any rate increase. Volatility remained low, but EUR/USD secured net gains to the 1.1160 area late in Europe as the dollar faded slightly.
The Federal Reserve's Beige Book reported that economic activity continued to expand modestly, although manufacturing was essentially flat in most districts. There was little change in inflation, although some districts reported a slightly faster pace of price increases. Reaction was muted with EUR/USD drifting close to 1.1150 on Thursday amid a soft dollar.
USD/JPY
There was some positive US-china rhetoric ahead of the official signing with Treasury Secretary Mnuchin stating that there will be additional tariff rollbacks in the second phase of trade negotiations. Chinese Vice-Premier Liu also commented that the two sides will work together after the signing. The dollar was unable to make headway and USD/JPY remained just below 110.00 as the US currency overall drifted lower, especially as Treasuries made tentative gains.
President Trump stated that negotiations on the second phase would start as soon as the first phase kicks in and he will agree to the removal of all tariffs if the second phase is completed. The rhetoric helped underpin global risk appetite.
Japan's monthly Tankan manufacturing index remained at -6 in the latest survey, but optimism over the outlook increased and there was a strong rebound in core machinery orders. Asian equity markets opened higher with the global index at a record high, although there was a retreat later in the session and USD/JPY was held just below 110.00 in early Europe.
Sterling
Bank of England Monetary Policy Committee member Saunders stated that it will probably be appropriate to maintain an expansionary monetary policy and possibly cut interest rates further. Risk management considerations also favoured a relatively prompt and aggressive response to downside risks and a rate cut now would not be described as precautionary.
UK consumer prices were unchanged for December with the year-on-year rate declining to a 3-year low of 1.3% from 1.5% compared with market expectations of an unchanged rate of 1.5%. The core inflation rate also declined to 1.4% from 1.7% and below consensus forecasts of 1.7%. The lower than expected inflation data reinforced expectations that the Bank of England would cut interest rates to help support the economy and Sterling dipped lower once again.
GBP/USD did find support below 1.3000 and recovered ground to around 1.3040 as the dollar lost traction and global trade hopes also provided significant protection. Sterling held steady on Thursday with EUR/GBP around 0.8550.
Swiss franc
The Swiss franc maintained a strong tone during Wednesday as it continued to gain support from expectations that intervention would be blocked. The currency continued to resist losses despite gains in equities and again out-performed the Japanese yen. Resignation of the Russian government provided some net franc support.
EUR/CHF remained close to 32-month lows around 1.0750 despite a firm overall tone while USD/CHF dipped to 15-month lows near 0.9630. The franc continued to resist selling despite upbeat trade rhetoric with the Euro only marginally higher on Thursday.
AUD/USD + USD/CAD
Positive US-China trade rhetoric helped underpin the commodity complex. The Australian dollar edged lower ahead of Wednesday's New York open with AUD/USD lows around 0.6880 before a gradual recovery to just above 0.6900 as the US dollar lost ground.
Australian home loans data beat market expectations, although there was little market impact with AUD/USD continuing to trade just above 0.6900 after hitting selling interest near 0.6920.
The Canadian dollar also advanced in New Yok trading with USDCAD retreating to around 1.3040 despite the vulnerable tone in oil prices.
There was little net change on Thursday with USD/CAD marginally stronger after finding support near 1.3030.
NOK+ SEK
The Swedish consumer prices inflation rate remained at 1.8% for December and in line with consensus forecasts while the underlying inflation rate held steady at 1.7% and also met market expectations.
After gains into the data, the krona dipped lower with EUR/SEK advancing to highs above 10.55 before a corrective retreat with little change on Thursday as USD/SEK traded around 9.47.
The Norwegian krone was held in relatively tight ranges with EUR/NOK resistance on approach to 9.90. Hopes for a stronger global economy were significant in cushioning the krone during the day.
Tight ranges prevailed on Thursday with EUR/NOK near 9.88 and USD/NOK at 8.86.
Equities
Euro-zone equities edged lower on Wednesday with favourable trade developments seen as priced in while pressure for a correction after recent gains was also important.
The German DAX index declined 0.2% and most bourses registered slight losses, although the Italian FTSE MIB index declined 0.7%.
Major UK stocks were able to secure limited gains with the inflation data seen as bolstering the case for a cut in interest rates and the FTSE 100 index gained 0.25%.
Wall Street stocks were underpinned by positive trade rhetoric during the day and expectations of supportive Federal Reserve policies. The S&P 500 index advanced 0.2% to a fresh record high.
US futures made slight gains on Thursday and Asian equities opened higher, although there was a retreat later in the session.
Japan's Nikkei 225 index closed 0.05% higher as the dollar stalled while the Australian ASX index posted a 0.65% advance to a fresh record high as financials and tech stocks continued to advance.
After opening higher, China's Shanghai index posted a 0.5% loss amid some doubts over trade-deal implementation while Hong Kong's Hang Seng index secured marginal gains in late trading.
Commodities
Oil prices secured limited gains ahead of the New York open, although underlying sentiment remained fragile amid over-supply concerns.
EIA data recorded a decline in crude inventories of 2.5mn barrels for the latest week compared with consensus forecasts of a 0.5mn draw. Gasoline and distillate, however, both recorded very substantial builds for the second successive week and US production also increased.
Crude dipped after the data as products data undermined confidence. WTI dipped to lows below $57.50 p/b before a recovery to near $58.0 p/b.
China has pledged to increase its US energy-related purchases by $18.5bn in the first year and $33.9bn in the second which helped underpin sentiment.
WTI edged higher to $58.20 p/b on Thursday with Brent around $64.40 p/b.
Precious metals drew support from a slightly weaker dollar against European currencies, especially with expectations that global central banks would maintain interest rates at very low levels.
Gold gains were still limited to around $1,555 as firm risk appetite curbed buying interest. Gold traded just above $1,550 on Thursday with silver around $17.90 per ounce as global demand hopes provided some support.
Cryptocurrencies
Cryptocurrencies held firm in early European trading on Wednesday with bitcoin pushing above $8,700 as global liquidity hopes provided net support.
Overall sentiment held firm, but bitcoin was unable to post fresh 2-month highs and secured a limited net correction at the New York close.
Coins were able to make headway even with firm global risk conditions. Volatility remained subdued with bitcoin close to $8,700 in early Europe.
Ether was also unable to break to new 8-week highs and settled around $165 with a further limited retreat to near $160 on Thursday.
Calendar
Major events for the day ahead: (times in GMT)
12.30: ECB meeting minutes
13.30: US retail sales
13.30: US Philly Fed survey
02.00 (Fri): China industrial production
Do you want access to trade ideas, signals, education and more all for free? Sign up and deposit with one of our preferred brokers