Market Report – Treasury Secretary Nominee Yellen confirmed the smartest thing to do right now is to act big
Posted: 20th January 2021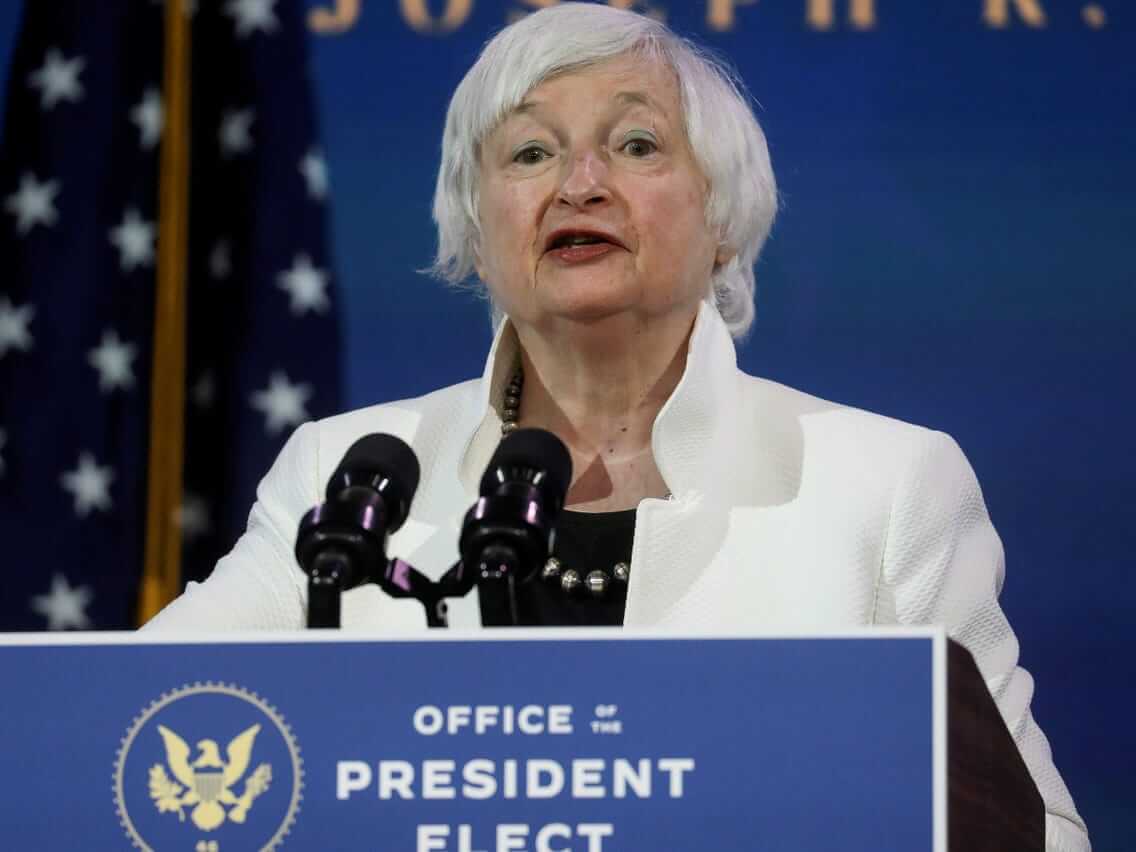 Trade ideas & Daily market report January 20th 2021
Market highlights.
Risk appetite has held steady amid expectations of pro-growth global polices.
Wall Street equities posted gains as Treasury Secretary Yellen reiterated the case for strong fiscal support.
Currency markets struggled for traction, but the dollar edged lower overall amid expectations of sustained negative US real interest rates.
EUR/USD posted measured net gains to the 1.2150 area as near-term euro-zone coronavirus reservations curbed support to some extent.
Sterling maintained a solid tone amid hopes for a recovery in the global economy with GBP/USD above 1.3650.
Despite an intra-day retreat, commodity currencies eventually posted net gains on a weaker US dollar and solid risk conditions.
Oil prices were underpinned by medium-term demand hopes and a weaker US dollar.
Precious metals edged higher amid negative real interest rates and the US currency retreat.
Ether posted a record high before a limited correction.
EUR/USD
The German ZEW economic sentiment index strengthened to 61.8 for January from 55.0 the previous month and above consensus forecasts of 60.0. The current conditions index recorded only a marginal recovery to -66.4 from -66.5, although slightly stronger than market expectations. The Euro-zone ZEW index strengthened to 58.3 from 54.4 the previous month. The Euro was hampered to some extent by reports that the ECB would pursue a yield-control policy.
The Euro continued to make limited headway ahead of the New York open, primarily under the impact of a weaker US dollar. EUR/USD moved above the 1.2100 level to highs around 1.2145 with expectations that the US would pursue aggressive monetary and fiscal policies.
German Chancellor Merkel reached a deal with state leaders to extend the national lockdown measures until February 14th which was in line with market expectations
The Euro was unable to make further headway in New York trading, but the dollar also failed to secure a significant recovery and EUR/USD held above the 1.2100 level.
There were strong expectations of reflationary policies by the US Biden Administration, especially with strong expectations of further fiscal support. US inflation expectations increased to the highest level since October 2018 which implied a further erosion of real yields and contributed to a weaker US dollar.
The Italian government survived a Senate confidence vote which capped domestic bond yields, but there were further near-term concerns over euro-zone coronavirus developments. Dollar weakness dominated on Wednesday with EUR/USD edging just above 1.2150 as commodity currencies posted net gains.
USD/JPY
US equity futures held gains into the New York open, although markets were unable to extend gains and USD/JPY was held below the 104.00 level.
In prepared comments, Treasury Secretary Nominee Yellen confirmed the smartest thing to do right now is to act big in support measures for the economy, especially with interest rates at historic lows. Yellen also noted that she and Biden had appreciation for the national debt burden. As far as currencies are concerned, she commented that she wanted market-set exchange rate and would not seek a weaker US dollar and reiterated opposition to competitive devaluations by other countries. The rhetoric overall confirmed market expectations that there would be no opposition to a weaker US currency provided the retreat was orderly. Unease over near-term coronavirus developments also continued with the US death toll passing 400,000 as vaccination delay fears had a slight impact in curbing risk appetite.
The Bank of Japan is not expected to make any significant changes at the latest policy decision due for announcement on Thursday.
US equity futures were little changed on Wednesday with USD/JPY around 103.80 as the yen resisted significant net losses despite gains in global equities.
Sterling
Sterling was confined to relatively narrow ranges on Tuesday as global developments tended to dominate. The UK currency was protected by underlying optimism over vaccine developments, but there were also concerns over the near-term outlook, especially with expectations that the UK lockdown would be extended.
The UK also reported a record high number of coronavirus deaths of just over 1,600 for the day, but markets drew some solace from the decline in new cases.
GBP/USD strengthened above 1.2600 and held above this level into the European close while EUR/GBP settled just below 0.8900 from highs close to 0.8920. Sterling was supported by expectations of global reflation would help underpin the UK economy.
Bank of England chief economist Haldane stated that the bounce back from the covid pandemic may be sharper than that for the financial crisis and also commented that the UK does not need higher inflation that would cause borrowing costs to increase. Sterling nudged higher following the relatively optimistic comments, although reaction was limited given that negative rate speculation has faded.
The headline CPI inflation rate edged higher to 0.6% from 0.3% with the core rate at 1.4% from 1.1% and above expectations of 1.3%. GBP/USD edged above 1.3650 amid a weaker dollar with EUR/GBP just below 0.8900.
Swiss franc
The Swiss franc held firm in early Europe on Tuesday, although it gradually lost traction during the day as global risk appetite held firm. The Swiss currency was also undermined to some extent by expectations of global reflation, but low global yields discouraged potential franc selling.
EUR/CHF edged higher to the 1.0780 area while USD/CHF dipped to lows around 0.8865 before stabilising. The Swiss currency lost some ground on Wednesday amid expectations of a global recovery with EUR/CHF around 1.0790, although USD/CHF was held below the 0.8900 level.
AUD/USD + USD/CAD
The Australian dollar held a firm tone ahead of Tuesday's New York open, but AUD/USD was unable to extend gains beyond 0.7725 and gradually drifted lower during the day even though the US dollar remained weaker on the day.
The latest data recorded a sharp decline in the Westpac consumer confidence index.
The US dollar retreat dominated on Wednesday with AUD/USD strengthening to 0.7740 as overall risk appetite held firm.
Canadian manufacturing sales declined 0.6% for November after a 0.2% gain the previous month.
The Canadian dollar was supported by a weaker US currency with higher oil prices also providing net support and the currency out-performed the Australian dollar with USD/CAD retreating to lows around 1.2715.
Oil prices posted gains on Wednesday with USD/CAD dipping to just below 1.2700 ahead of the Bank of Canada policy decision later in the day with some speculation that the bank could signal a small rate cut.
NOK+ SEK
Global reflation hopes helped underpin Scandinavian currencies over the past 24 hours.
The Norwegian krone was held in relatively tight ranges during Tuesday, but edged higher as crude posted net gains. There were also expectations of relatively hawkish Norges Bank rhetoric at the Thursday policy meeting and EUR/NOK edged below 10.35.
There was little change on Wednesday with EUR/NOK edging lower to 10.33 with USD/NOK dipping towards 8.50.
The Swedish krona posted net gains at the European open, but EUR/SEK found support below the 10.10 level and settled around 10.12 with USD/SEK around 10.33 with Riksbank rhetoric monitored closely.
Equities
Euro-zone equities edged lower on Tuesday with a slightly more defensive tone amid fears that there would be no scope to ease lockdown measures in the short term. There were rallied in commodities late in the session which provided some relief.
The German DAX index declined 0.25% with a larger 0.65% decline for the Spanish IBEX index.
Major UK stocks were held in narrow ranges with a paring of initial losses as oil prices edged into positive territory. Global recovery hopes provided an element of support with the FTSE 100 index declining 0.1%.
US equities were underpinned by expectations of further strong macro-economic support for the economy and reflation prospects. Despite near-term coronavirus concerns, the S&P 500 index posted a 0.8% gain with futures slightly higher on Wednesday.
Asian equities were mixed with slight net gains amid optimism over a global recovery.
Japan's Nikkei 225 index declined 0.4% amid a weaker US dollar while the Australian ASX index gained 0.4%.
Chain's Shanghai index gained 0.45% with Hong Kong's Hang Seng index 0.8% higher in late trading.
Commodities
Oil prices gained some support from a weaker US dollar on Tuesday and there were also some hopes of improved demand conditions under a Biden Presidency amid a stronger fiscal stimulus.
Despite near-term demand reservations, crude secured net gains with WTI testing the $53.0 p/b level. Overall sentiment held firm on Wednesday with WTI near $53.50 p/b while Brent advanced to $56.30 p/b.
Precious metals also gained an element of support from the subdued US dollar and expectations of negative real yields over the medium term, although gains were still notably limited as stronger risk conditions limited potential defensive support.
Gold settled to near $1,840 per ounce and gradually gained some traction in Asia on Wednesday as the US dollar lost ground. Gold strengthened to near $1,855 per ounce with silver advancing to near $25.50 per ounce.
Cryptocurrencies
Cryptocurrencies secured further headway in early Europe on Tuesday with some net support from the weaker US dollar.
Bitcoin initially strengthened to around $37,500, although it under-performed substantially against Ether.
Bitcoin peaked close to $38,000 before a retreat to near $36,000 in choppy trading.
Bitcoin posted net losses in Asia on Wednesday despite a generally weaker US dollar and solid tone surrounding risk appetite with better value seen in other coins.
Ether continued to surge in early Europe on Tuesday and surged to record highs at $1,440 before a significant correction to $1,350. Overall sentiment held firm to trade above $1,350 on Wednesday.
Calendar
Major events for the day ahead: (times in GMT)
13.30: Canada consumer prices
15.00: Bank of Canada policy decision
17.00: Bank of England Governor Bailey speech
00.30 (Thurs): Australia employment report
03.00 (approx.): Bank of Japan policy decision
Get award-winning FCA regulated signals and levels on over 30 markets, as well as education resources so you never trade alone.