Market Report – US-China tensions a significant factor in undermining risk appetite.
Posted: 24th July 2020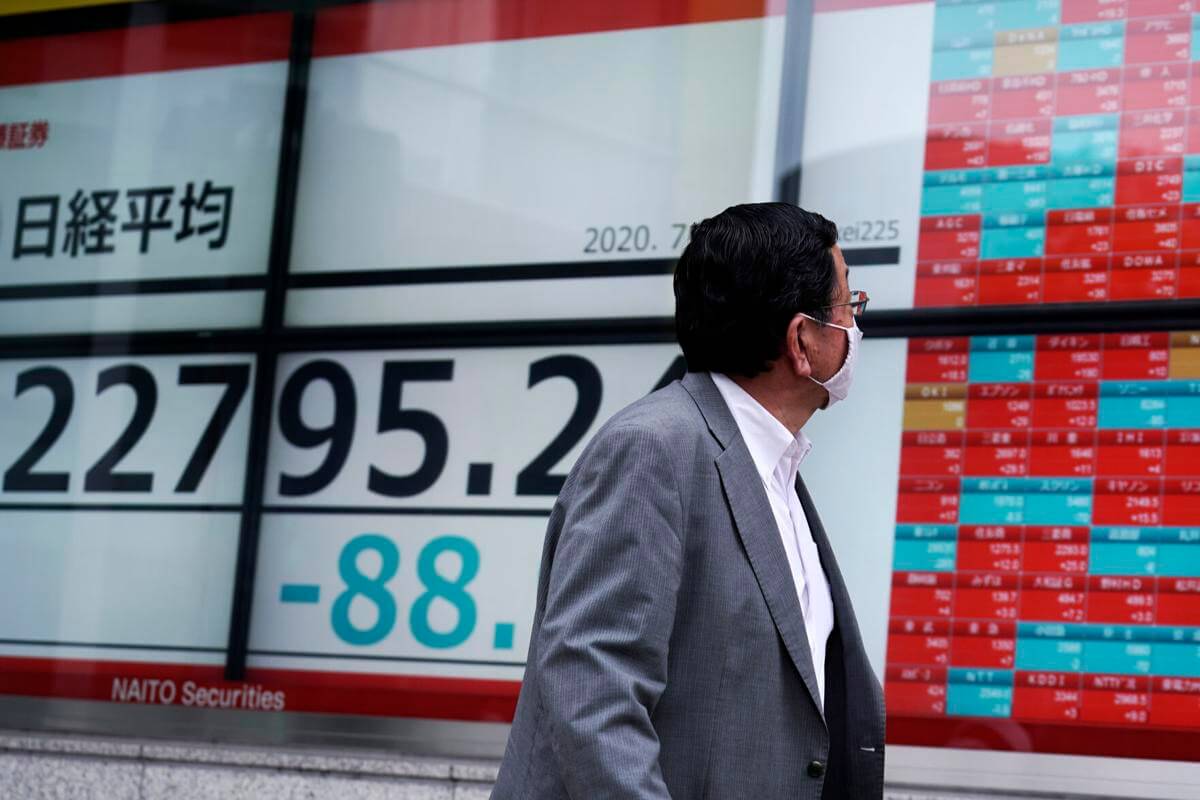 Trade ideas & Daily market report July 24th 2020
Market highlights.
Risk appetite was cautious on Thursday amid US coronavirus reservations. US-China tensions were also a significant factor in undermining risk appetite.
US equity markets moved sharply lower with a Nasdaq decline of close to 2.4%.
Asian equity markets also lost ground as China tensions remained a significant factor.
The dollar struggled to gain support despite the more defensive risk tone and dipped to 21-month lows on a trade-weighted index before a slight recovery.
EUR/USD strengthened to 18-month highs above 1.1600 before correcting slightly.
Sterling was resilient despite a lack of positive rhetoric over UK/EU trade talks with a stronger than expected retail sales print.
The yen and Swiss franc gained support from underlying risk concerns.
Commodity currencies surrendered gains as equity markets retreated and coronavirus unease increased.
Oil prices were undermined by the more fragile conditions and coronavirus concerns, but did demonstrate resilience.
Precious metals maintained a strong tone with gold at fresh 8-year highs before a slight correction.
EUR/USD
The Euro was unable to make headway ahead of the New York open with pressure for a correction after recent gains. The US dollar was also able to an element of support and EUR/USD dipped to just below 1.1550 as commodity currencies faltered.
US initial jobless claims increased to 1.42mn in the latest week from 1.31mn the previous month and above consensus forecasts of 1.30mn. Continuing claims, however, declined to 16.2mn from 17.3mn previously. When including Federal assistance, the latest data for the week ending July 4th recorded a decline in the total number of people receiving benefits to 31.8mn from 32.0mn the previous week. Fiscal policy was also a significant focus with further Republican bickering within the Senate over the next stimulus plan and little chance that legislation will be in place before the end of July when some unemployment benefits are due to expire.
Euro-zone consumer confidence edged lower to -15.0 for July from -14.7 previously and below consensus forecasts of -12.0 which will create some uncertainty over the outlook for consumer spending. The latest PMI business confidence data will be released on Friday which will be important for sentiment.
Overall risk appetite was weaker in New York, but the dollar struggled to gain significant support despite the decline in equities. EUR/USD strengthened to 18-month highs around 1.1625 before a limited correction. The US currency gained only slight protection from the weaker risk tone with EUR/USD above 1.1600 on Friday.
USD/JPY
The yen was able to hold steady into the New York open with narrow ranges prevailing as USD/JPY consolidated around the 107.10 area. As risk appetite dipped in US trading, the Japanese currency secured renewed support with USD/JPY retreating to around 106.80 as the yen regained some support.
Markets remained uneasy over US coronavirus developments with the US reporting over 1,100 deaths for the third successive day and a daily increase in cases of over 70,000. Treasury Secretary Mnuchin stated that the dollar is the world's global currency and we're going to protect it by keeping the currency stable, but there was no significant recovery after the comments as underlying dollar confidence remained weak.
There were further concerns over US-China relations with tensions increasing further following comments from Secretary of State Pompeo that China is a threat to the economy and liberty. China also confirmed that the US consulate in Chengdu would be ordered to close. Risk appetite was more vulnerable in Asian trading with the Chinese market close to 3% lower and USD/JPY dipped to 1-month lows below 106.50 with EUR/JPY around 123.50 as Tokyo markets remained closed for a holiday.
Sterling
The CBI industrial orders index recovered to -46 for July from -58 previously, although this was below consensus forecasts of -37. Overall orders in the past three months declined at the fastest pace since October 1980, but companies expect order flows to improve over the next three months and the decline in export orders has slowed. Bank of England external member Haskel stated that he was concerned about the economy getting stuck and recovering only slowly with a further risk of undershooting the inflation target. The recovery path will also depend on unemployment trends and he also warned that re-opening too quickly won't help the economy.
Following the latest round of EU/UK trade negotiations, EU Chief Negotiator Barnier repeated his criticism of the UK government, again claiming that it was unwilling to engage on key issues. He also stated that there no progress had been made on key issues such as fishing and state aid, although there had been some progress in other areas. Barnier added that the UK stance made a trade agreement at this point unlikely, but a deal was still possible and talks will continue.
Sterling reacted relatively calmly to the comments given no significant expectations of a breakthrough GBP/USD traded above 1.2700 with EUR/GBP edging lower to 0.9110 from 0.9120 despite the dip in risk appetite. UK retail sales increased 13.9% for June, above consensus forecasts of 8.0% with the year-on-year decline held to 1.6% and core sales increased 13.5% for a 1.7% annual increase, although there was only a limited Sterling reaction with GBP/USD close to 1.2750.
Swiss franc
The Euro briefly made headway against the franc during Thursday, but was unable to sustain the gains and EUR/CHF weakened to lows around 1.0720 before finding some support while USD/CHF dipped to fresh 4-month lows below 0.9250.
The Swiss franc gained an element of support from the dip in global risk appetite in US trading with on-going demand for gold also a significant positive factor, especially with all major currencies suffering from a lack of support. The franc held firm on Friday as equity markets declined again with USD/CHF around 0.9240.
AUD/USD + USD/CAD
The Australian dollar dipped ahead of the New York open with AUD/USD retreating to below 0.7100. Although there was a recovery as the US currency was subjected to renewed selling, a slide in risk appetite was pivotal later in the day with AUD/USD back at 0.7100 from 0.7160 highs.
The Australian PMI data recorded a further advance for July with the services index at 58.5. There were, however, further concerns over domestic coronavirus developments with the weaker risk tone also a negative factor for the currency. Overall, AUD/USD retreated to the 0.7080 area.
The Canadian dollar maintained a strong tone with USD/CAD sliding to the 1.3350 area before a reversal and move to 1.3400 as equities came under pressure and oil prices lost ground.
Risk appetite was weaker on Friday with USD/CAD around 1.3420.
NOK+ SEK
The Norwegian krone lost ground on Thursday as markets reacted to the more defensive risk tone and a dip in oil prices.
EUR/NOK strengthened to highs above 10.70 amid the more fragile risk environment. EUR/NOK traded around 10.71 on Friday amid the fragile risk tone with USD/NOK around 9.23.
Swedish unemployment increased to 9.8% in June from 9.0%, although the impact was limited given a lack of confidence in the data quality.
The Swedish krona retreated, although selling pressure was limited with EUR/SEK around 10.28 and little change on Friday with USD/SEK around 8.85.
Equities
Euro-zone equities were held in tight ranges on Thursday as positive data on earnings was offset by reservations over the outlook after disappointing US and European data releases and fears over a fresh increase in coronavirus cases.
The German DAX index was unchanged on the day with marginal losses for the French and Spanish bourses.
Major UK stocks were also held in tight ranges with underlying concerns over global coronavirus developments and a weaker risk tone also significant features and the FTSE 100 index secured a slight advance.
US equities were on the defensive during Thursday amid reservations over labour-market data and risk of a fresh economic setback. The technology sector was also undermined by an investigation into Apple. The S&P 500 index declined 1.2% with a 2.3% dip for the Nsadaq index and futures were lower on Friday.
Asian markets were firmly on the defensive with a 1.15% decline for the Australian ASX index as global vulnerability added to domestic coronavirus reservations.
China's Shanghai index traded 3.6% lower in late trading amid tensions with the US with a 2.3% retreat for Hong Kong's Hang Seng index. Tokyo markets were again closed for a holiday.
Commodities
Oil prices were subjected to choppy trading during Thursday with losses into the US open. There were underlying reservations over demand conditions, but a weak dollar provided some underlying support.
Brief gains in New York were reversed as equity markets were subjected to significant selling pressure. Overall, WTI dipped to the $41.0 p/b area.
Crude was able to resist further losses on Friday with WTI just above $41.0 p/b and Brent around $43.40 p/b.
Demand for precious metals remained strong on Thursday with gold advancing to fresh 8-year highs just below the $1,900 level and close to record highs. Buying interest was again fuelled by a lack of confidence in the dollar and negative real interest rates.
Silver held firm, but failed to hold the $23.0 per ounce level with pressure for a correction after strong gains.
Gold held firm just below $1,890 per ounce on Friday with silver retreating to near $22.50.
Cryptocurrencies
Cryptocurrencies edged lower ahead of Thursday's New York open, but there was bitcoin support just below the $9,500 level and there were renewed gains in New York trading.
Overall, there was a push to highs near $9,700 before a correction to just below $9,600.
Cryptocurrencies gained an element of support from a weaker US dollar and further gains in gold.
Bitcoin retreated slightly to $9,550 on Friday amid the more defensive tone in risk appetite.
After the sharp overnight gains, Ether initially consolidated just above $260. There was, however, a fresh surge to $280 in New York trading.
Calendar
Major events for the day ahead: (times in BST)
09.00: Euro-zone PMI index (flash reading)
09.30: UK PMI index (flash reading)
14.45: US PMI index (flash reading)
Get award-winning FCA regulated signals and levels on over 30 markets, as well as education resources so you never trade alone.