Market Report – Fresh US downturn amid the high level of coronavirus cases
Posted: 27th July 2020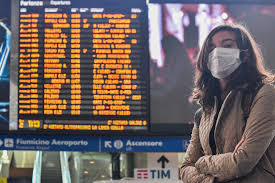 Trade ideas & Daily market report July 27th 2020
Market highlights.
Risk appetite was fragile on Friday amid unease over US-China relations and the risk of a fresh US downturn amid the high level of coronavirus cases.
US equity markets moved lower on Friday, although futures stabilised on Monday with marginal net gains in Asia.
Many assets classes contended with opposing influences of a weaker dollar and fragile risk conditions.
The dollar remained under pressure amid a lack of confidence in US fundamentals with the dollar index sliding to 22-month lows on Monday.
EUR/USD posted 22-month highs near 1.1725 before a slight correction.
Sterling was resilient despite trade concerns with GBP/USD making net gains to 4-month highs above 1.2800.
Commodity currencies were hampered by weaker risk conditions, but there were net gains as US dollar losses dominated.
Oil prices secured net gains on US currency weakness, but with selling interest on rallies.
Precious metals maintained strong demand with gold hitting a record high above $1,930 per ounce while silver posted 6-year highs.
Dollar weakness boosted bitcoin with 8-week highs above $10,000.
EUR/USD
According to flash data, the German manufacturing PMI index strengthened to a 19-month high of 50.0 for July from 45.2 previously while the services-sector index advanced to a 30-month high of 56.7 from 47.3 as economic re-opening provided net support. The Euro-zone manufacturing index also posted a 19-month high of 51.1 from 47.4 while the services-sector index posted a 25-month high of 55.1 from 48.3. Orders also posted a net advance, although export orders were disappointing.
The US PMI manufacturing index strengthened to 51.3 from 49.8 previously, although this was slightly below consensus forecasts. The services-sector index advanced to 29.6 from 47.9, although this was below the 50.0 threshold and also below market expectations.
New home sales increased to an annual rate of 776,000 from 682,000 previously and above market expectations. The PMI data overall, however, maintained expectations that the Euro-zone recovery was stronger than in the US which provided underlying Euro support. The single currency was little changed into the New York open with no significant retreat and there were further gains in New York as the US currency came under renewed pressure with a net EUR/USD advance to near 1.1640.
CFTC data recorded a further increase in long non-commercial Euro positions to 125,000 contracts from 111,000 the previous week and the highest level since April 2018, maintaining the risk of a short-term correction if there is a shift in confidence and there were some concerns over the Italian fiscal situation.
Dollar sentiment, however, remain firmly negative on Monday with the US currency index at fresh 22-month lows as EUR/USD moved above 1.1700 to the highest level since September 2018. There was a peak near 1.1725 before a limited correction with underlying volatility liable to increase amid low trading volumes.
USD/JPY
Global equities were firmly on the defensive during Friday amid unease over US-China tensions and concerns over the US profile amid congressional deadlock.
Fiscal policy will continue to be watched closely as wrangling over the next support package continued over the weekend with details of the Republican package set to be released on Monday. There will be proposals for a second round of stimulus checks to support demand, but there will be attempts to introduce means testing and some disruption is inevitable. There will be fears over the long-term budget trends which will tend to sap US currency support.
The dollar was unable to make any headway with an absence of defensive support again a significant feature. Overall yield support was also lacking which sapped US currency support. The dollar moved lower again following the US data releases and USD/JPY dipped to below the 106.00 level for the first time since the middle of March.
Japanese markets re-opened on Monday and the Bank of Japan maintained a cautious stance over the outlook. Asian equities were resilient and the US reported a slowdown in the number of new coronavirus cases. The dollar, however, remained under pressure with fresh 4-month USD/JPY lows near 105.50.
Sterling
The July UK PMI manufacturing index strengthened to a 16-month high of 53.6 from 50.1 and above consensus forecasts of 52.0. The services-sector index strengthened to a 5-year high of 56.6 from 47.1 as the services-sector was gradually re-opened. The data overall maintained expectations of recover, but there were further concerns over labour-market trends with significant job losses reported, especially within services, maintaining recent evidence of labour-market vulnerability.
There was further underlying uncertainty over trade policy with mixed briefings after the latest round of talks. There was increased speculation that there would be a bare-bones agreement with negotiations continuing into next year. Sterling edged higher following the PMI data, although overall confidence in the outlook remained fragile.
EUR/GBP stabilised around 0.9100 while US dollar weakness helped propel GBP/USD to highs just below 1.2800. US weakness dominated on Monday with GBP/USD at 4-month highs above 1.2800 and a peak near 1.2850 while EUR/GBP edged higher to 0.9125.
Swiss franc
The Euro was able to hold steady on Friday, but was unable to make significant headway despite the firm overall tone and settled around the 1.0720 area. The dollar came under further selling pressure and USD/CHF dipped to fresh 4-month lows near 0.9220.
There was further solid demand for precious metals which underpinned the Swiss currency, especially with a more cautious tone surrounding global risk appetite.
EUR/CHF edged higher to 1.0740 on Monday amid wider strength, but the franc drew some further support from precious metals as gold strengthened to record highs. In this environment, USD/CHF declined to fresh 4-month lows around 0.9170 as Swiss selling remained very limited.
AUD/USD + USD/CAD
During Friday, the Australian dollar was caught between the influences of a weaker US dollar and fragile risk appetite. There was a significant element of caution given US-China tensions with AUD/USD settling just below 0.7100.
Domestic coronavirus concerns persisted on Monday, but regional equity markets were resilient. Reserve Bank deputy Governor Kent stated that the bank was not overly concerned about the Australian dollar's level.
With The US dollar under pressure, AUD/USD strengthened to near 0.7145 before correcting slightly.
The Canadian dollar advanced at times, but failed to sustain the advance and USD/CAD rallied back above the 1.3400 level.
US currency weakness dominated on Monday with the gold advance also providing limited Canadian dollar support with USD/CAD around 1.3380.
NOK+ SEK
The Norwegian krone was held in tight ranges with underlying confidence over the outlook offset by fragile risk appetite.
EUR/NOK consolidated close to 10.68 and retreated to near 10.65 on Monday as oil prices edged higher while USD/NOK dipped to near 9.08 before a limited correction.
The Swedish krona lost ground during Friday with a limited correction after recent solid gains and EUR/SEK traded around 10.29 on Monday with USD/SEK sliding to 22-month lows just below 8.80.
Equities
Euro-zone equities were unable to take advantage of the stronger than expected economic data amid the more fragile risk tone, lower US equities and unease over geo-political tensions.
The German DAX index declined 2.0% with Spanish losses held to 1.2%.
Major UK stocks also failed to draw support from the stronger than expected UK data releases as global risk conditions tended to dominate and the FTSE 100 index declined 1.4%.
US equities retreated on Friday amid concerns over US-China trade tensions and unease over bickering surrounding fiscal policy. The S&P 500 index declined 0.6%, although futures edged higher on Monday.
Asian markets were unsettled by US-China tensions and caution prevailed, although Chinese data provided some relief with a stronger release for industrial profits.
After being closed on Thursday and Friday, Japan's Nikkei 225 index declined 0.25% the dollar lost ground, although there was an element of resilience while the Australian ASX index gained 0.3% as the precious metals sector made gains.
China's Shanghai index traded marginally higher in late trading with Hong Kong's Hang Seng index 0.25% lower.
Commodities
Although oil prices gained an element of support from a weaker dollar, this was offset by weaker risk appetite and unease over global demand conditions.
WTI drifted around the $41.0 p/b level into the European close.
Baker Hughes data recorded a marginal increase in the US rig count to 181 from 180, the first increase for over four months.
WTI traded just above $41.00 p/b on Monday as the dollar lost ground with Brent around $43.50 p/b.
Overall demand for precious metals remain strong on Friday, especially with a weak dollar and further decline in US real yields.
Gold pushed to fresh 8-year highs above $1,900 before correcting slightly. Silver also consolidated below 4-year highs.
Gold secured further sharp gains on Monday as the dollar continued to lose ground with record highs above $1,940 before a slight correction to near $1,930. Silver also posted strong gains to 6-year highs near $24.50 per ounce.
Cryptocurrencies
Cryptocurrencies gradually gained ground during Friday as dollar vulnerability provided underlying support.
Bitcoin advanced to highs around $9,650 before stalling late in US trading.
CFTC data recorded a renewed increase in bitcoin short positions for the week.
The underlying trend continued for the first half of the weekend with bitcoin creeping higher
There was, however, a jump higher edged on Sunday with bitcoin spiking to above $10,000 for the first time since early June. There was initial selling interest above $10,000, but bitcoin secured a further strong advance on Monday with fresh 2-month highs above $10,250 as the US dollar continued to lose ground.
Ether posted stronger gains and advanced to 12-month highs near $320 before fading slightly and then posted fresh 12-month highs at $330 on Monday before a slight correction.
Calendar
Major events for the day ahead: (times in BST)
09.00: German IFO index
13.30: US durable goods orders
Get award-winning FCA regulated signals and levels on over 30 markets, as well as education resources so you never trade alone.