Market Report – Fauci stated he was cautiously optimistic that a vaccine will be available by late autumn.
Posted: 29th July 2020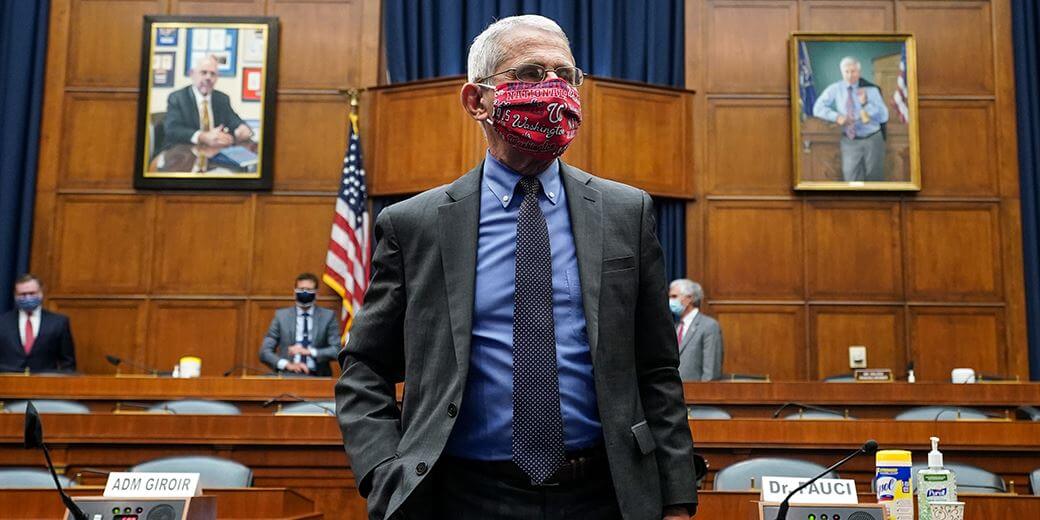 Daily market report July 29th 2020
Market highlights.
The dollar was able to secure a limited correction from 2-year lows on Tuesday after heavy selling during the previous few days, although sentiment remained weak.
There was an element of position adjustment ahead of the Fed statement.
The Euro also retreated to near 1.1700 amid some reservations over Euro-zone coronavirus developments before regaining ground.
The Swiss franc regained ground after Monday's losses while a USD/JPY dip to 105.0 triggered some a warning from Japan.
US equities moved lower amid uncertainty over fiscal policy and earnings concerns.
Asian equity markets were mixed amid underlying uncertainty.
Sterling secured net gains despite a lack of confidence in fundamentals with GBP/USD above 1.2900.
Commodity currencies were mixed as the US currency pared losses with solid overall support.
Despite an API draw, oil prices drifted amid reservations over demand conditions.
Precious metals were subjected to high volatility during the day with strong buying on dips and gold close to record highs.
EUR/USD
There were some concerns over the Euro-zone coronavirus developments as German officials expressed unease over the latest infection developments, especially with other spikes in parts of France and Spain. The Euro was also vulnerable to a correction after strong gains over the previous few sessions.
US consumer confidence declined to 92.6 for July from 98.3 previously and below consensus forecasts of 94.6. There was a net improvement in the present conditions component, but expectations declined very sharply on the month. There was evidence of weaker confidence in states hit by the large number of coronavirus cases, but overall confidence in the labour market improved which will provide an element of relief over underlying trends.
The Richmond Fed manufacturing index strengthened to 10 for July from 0 the previous month with limited net increase in new and unfilled orders. There was, however, a further decline in employment and capital spending was weak while upward pressure on prices eased significantly.
Overall confidence in the US outlook remained fragile which hampered the US dollar. There were also expectations that the Fed would maintain a dovish stance at Wednesday's policy meeting and potentially signal a move towards yield curve control at the September meeting. There was, however, limited short covering ahead of the statement.
EUR/USD corrected lower to the 1.1700 area as the dollar recovered some ground before settling around 1.1725 at the European close. There was little EUR/USD change around 1.1725 on Wednesday ahead of the Fed decision with markets monitoring comments on inflation targets.
USD/JPY
US White House medical adviser Fauci stated that he was cautiously optimistic that a vaccine will be available by late autumn. The number of US deaths from coronavirus moved back above 1,000 for the latest 24-hour period, although the number of new infections slowed and the overall death rate has slowed to some extent.
Markets continued to monitor progress towards a fresh fiscal stimulus bill amid further wrangling in the Senate both within the Republican Party and with the Democrats. There was further disagreement over the level of support for the unemployed with liability protection also a key area of disagreement.
Overall, USD/JPY dipped to lows just below 105.00 before recovering slightly with declines in US equities limiting US currency support.
There were further concerns over US-China tensions, especially with reports that Hong Kong elections due in September, could be delayed.
There were comments from Japan's Ministry of Finance that currency stability was important and that the market was being watched as a matter of urgency. Verbal intervention is likely to be stepped up if the yen continues to strengthen. Fitch confirmed Japan's credit rating at A, but lowered the outlook to negative. Asian equity markets were mixed and the dollar was unable to secure any recovery on Wednesday as USD/JPY traded close to the 105.00 level.
Sterling
The CBI retail sales index strengthened sharply to 4 for July from -37 and well above consensus forecasts of -27. Retailers were, however, uneasy over the prospects for August with a reading of -5 and there was a further decline in orders which will maintain underlying concerns over the outlook, especially in the non-essential sector.
The NIESR forecast a GDP contraction of 10.1% for 2020 before growth of 6.1% next year and expected unemployment to be near 10% by year-end. In this context it called for further labour-market support measures and criticised the move to end the furlough scheme at the end of October.
There were still underlying concerns surrounding trade negotiations with the EU, especially as little progress is likely in the next two weeks as the holiday season dominates. Sterling was able to make significant headway during the day despite fragile underlying sentiment. GBP/USD advanced to fresh 4-month highs near 1.2950 while EUR/GBP weakened to around 0.9060.
Month-end positioning will be a factor over remainder of this week with the UK currency edging lower on Wednesday as EUR/GBP strengthened to 0.9080.
Swiss franc
After sharp losses the previous day, the Swiss franc recovered ground on Tuesday. Underlying market conditions were little changed with markets again struggling to find a reason for the sharp moves. Strong demand for precious metals continued to provide new Swiss support, especially with a firm yen.
EUR/CHF retreated to lows just below 1.0750 while USD/CHF was unable to hold the 0.9200 level and retreated to near 5-year lows around 0.9175. The franc retreated only marginally on Wednesday with USD/CHF held around 0.9175 as expectations of very dovish global policies continued to underpin the Swiss currency.
AUD/USD + USD/CAD
The Australian dollar was able to secure limited net gains during Tuesday as risk appetite held steady and the US dollar remained out of favour. Overall, AUD/USD secured slight gains to the 0.7160 area, but retreated from highs around 0.7175 as the US currency recovered slightly.
Australian consumer prices declined 1.9% for the second quarter, close to consensus forecasts of a 2.0% decline, while underlying prices declined 0.1% compared with expectations of a 0.1% increase.
The overall impact was limited with AUD/USD around 0.7170 as overall volatility eased on a temporary basis.
The Canadian dollar was hampered by a slight retreat in oil prices while the dollar recovered marginally and USD/CAD rallied to 1.3360 from 1.3330 lows.
The pair was slightly higher on Wednesday and close to 1.3380 as oil prices edged lower.
NOK+ SEK
Scandinavian currency support was limited by fresh global growth reservations.
The Norwegian krone was held in narrow ranges during the day as markets waited for fresh incentives. Overall, EUR/NOK settled below 10.70 at around 10.68 with little change on Wednesday as USD/NOK edged just below 9.10.
Swedish retail sales increased 1.0% for June with a year-on-year increase of 3.5% from a revised 2.7% previously.
Overall, the krona was held in tight ranges with EUR/SEK around 10.28. The krona traded marginally lower on Wednesday with USD/SEK around 8.76.
Equities
Euro-zone equities were unable to gain significant traction on Tuesday as markets fretted over European and global coronavirus developments. There were also reservations over the underlying earnings outlook.
The German DAX index closed marginally lower with a 0.2% decline for the French CAC index, but the Spanish bourse rebounded with a 1.1% gain.
Major UK stocks were hampered by further GBP/USD gains during the day with markets tending to favour defensive equities during the day. The FTSE 100 index secured a 0.4% gain amid volatility in commodities.
US equities lost ground as weaker consumer confidence, disappointing earnings and fiscal policy uncertainty triggered fresh reservations over the outlook. The S&P 500 index declined 0.6% and futures edged lower on Wednesday.
Asian equity markets were again mixed amid an important element of caution.
Japan's Nikkei 225 index declined 1.2% as the yen gained ground while the Australian ASX index closed 0.2% lower.
China's Shanghai index was 1.7% higher in late trading amid hopes for further support measures with a 0.2% gain for Hong Kong's Hang Seng index.
Commodities
Oil prices were hampered by uncertainty over the US fiscal stimulus plans and there was no further benefit from currency trends as the dollar attempted to stabilise.
There was also evidence that the market was less tight as demand conditions remained subdued.
The API reported an inventory draw of 6.8mn barrels compared with expectations of a build, although gasoline stocks increased. Overall, WTI edged lower to trade just below $41.0 p/b in early Europe on Wednesday with Brent around $43.60 p/b.
There was volatile trading in precious metals during Tuesday. There was still strong underlying demand for precious metals given the vulnerable dollar and very low level of real yields.
There was, however, also strong pressure for a correction after strong gains. Silver was also subjected to choppy trading during the day.
After dipping sharply to lows below $1,910 per ounce, gold rallied strongly to above $1,950 while silver settled above $24.0 per ounce.
Gold traded just above $1,950 on Wednesday with silver around $24.30 per ounce.
Cryptocurrencies
Cryptocurrencies moved lower ahead of Tuesday's New York open with a significant correction from sharp gains while a limited dollar correction and dip in gold also undermined support.
Bitcoin dipped to just below $10,600 before securing fresh buying interest and a move back above $11,000 as gold secured fresh support.
Volatility eased in Asia with bitcoin just below the $11,000 level.
Ether dipped to lows below $310 before a fresh advance to $320 amid wider gains in cryptocurrencies and settled just below this level on Wednesday.
Calendar
Major events for the day ahead: (times in BST)
15.30: US EIA crude inventories
19.00: US Federal Reserve policy statement
19.30: US Fed Chair Powell press conference
Get award-winning FCA regulated signals and levels on over 30 markets, as well as education resources so you never trade alone.