Good morning and welcome to episode 729 of 'Talking Bull'. In this video/podcast we cover the main headlines and what to expect from the day ahead. 
We take a technical look at key markets that are likely to be impacted by today's events. Also, we participate in a 'Gun to the head' challenge where each of us calls a live trade. These will expire at 9pm tonight and we will keep track of the progress over time.
We hope you enjoy it!
For a selection of free educational content, join our Discord server at – https://discord.gg/Db4UWVFvF6
Show notes:
Taf hit target on Oil for a 2.96R win. Steve was onside 0.16R on Bitcoin, Joe was stopped on GBPJPY.
We have included an illustration based on a £1000 account. This will follow the combined return of our morning trades by risking 1% of the trading capital per trade. The 1% risk is a variable monetary amount and will rise and fall based on the success of the calls.
We are currently up 204.50% collectively since we began recording Talking Bull on the 30th October 2019.
News
Geo-political tensions spark high volatility
There was high volatility surrounding the US data release on Tuesday and another round of sharp moves after the European close.
A missile landed in Poland close to the Ukraine border and killed two people. There was speculation that the missile had been fired by Russia which sparked an immediate slide in risk appetite amid fears that there would be a NATO response and conflict escalation.
There was a high degree of uncertainty, but intelligence reports suggested that it had not been fired from Russia and risk appetite recovered on Wednesday.
Dollar recovers from 3-month lows
The dollar posted sharp losses against all major currencies in early US trading on Tuesday with EUR/USD jumping to 4-month highs, but the US currency recovered ground quickly in very choppy trading.
Geo-political fears after the missile news were significant in providing fresh dollar support.
German economic sentiment improves
The German ZEW economic sentiment index recovered strongly to -38.7 for November from -59.7 the previous month and stronger than consensus forecasts of -52.0.
The current conditions index also recorded a more modest improvement to -64.5 from -72.2 and above expectations of -68.4.
US producer price inflation moderates
US producer prices increased 0.2% for October, below consensus forecasts of 0.4% with the year-on-year rate declining to 8.0% from 8.4%.
Core prices were unchanged on the month with the year-on-year increase slowing to 6.7% from 7.1% and below expectations of 7.2%.
The data sparked fresh optimism that inflation pressures were peaking.
Mixed New York manufacturing data
The New York Empire manufacturing index rebounded to 4.5 for November from -9.1 the previous month and well above expectations of -5.0.  Shipments also increased on the month, but there was a dip in new orders into contraction territory while unfilled orders also declined.
Employment increased on the month and there was a net strengthening of price pressures compared with the previous release.
Fed's Bostic focussed on services inflation
Atlanta Fed President Bostic stated that the full impact of monetary policy won't be felt for months and that the central bank must look to economic signals other than inflation as guideposts.
He added that there are glimmers of hope on goods inflation, but services-sector inflation needs to slow as well and he sees upward pressure on wages. He still considered that further rate hikes will be needed.
Hawkish SNB rhetoric continues
Swiss National Bank Chair Jordan again stated that monetary policy needed to be tightened further, reinforcing expectations that there would be a further rate hike in December.
UK inflation jumps to fresh 40-year high
The headline UK CPI inflation rate increased sharply to 11.1% from 10.1% and above expectations of 10.7% as higher energy prices had an important impact. The core rate was unchanged at 6.5% and marginally above expectations of 6.4%.
The data reinforced recession fears with a further squeeze on spending.
Data Today
13.30: US retail sales
13.30: Canada consumer prices
14.15: Bank of England Treasury Committee hearings
15.30: US EIA crude inventories
00.30 (Thurs): Australia employment report
Key events over the next week
November 17th: UK Autumn Statement
November 23rd: Global PMI flash data
Gun to head challenge – Update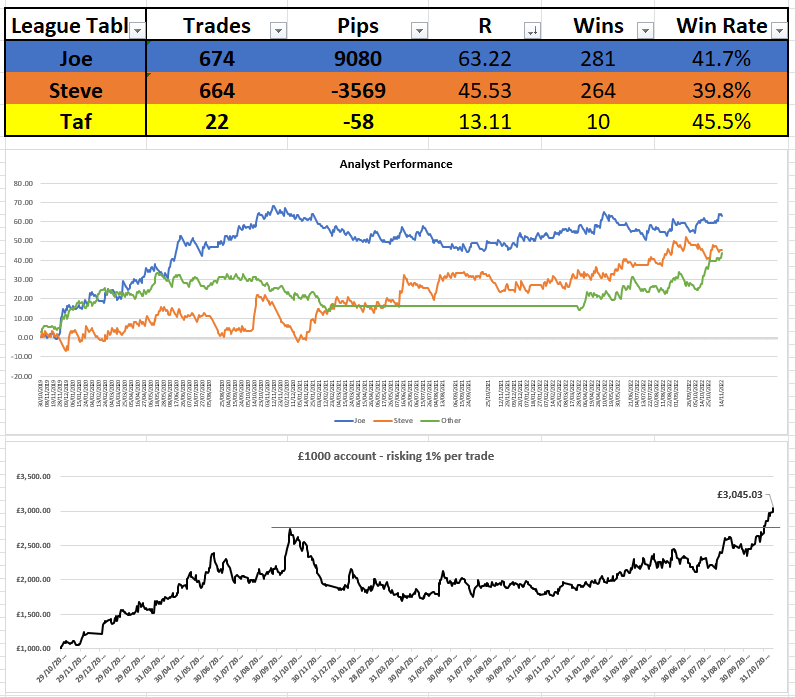 Today's trade idea

Have a great week everyone.
Get award-winning FCA regulated signals and levels on over 30 markets, as well as education resources so you never trade alone.