Good morning and welcome to episode 389 of 'Talking Bull'. In this video/podcast we cover the main headlines and what to expect from the day ahead. 
We take a technical look at key markets that are likely to be impacted by today's events. Also, we participate in a 'Gun to the head' challenge where each of us calls a live trade. These will expire at 9pm tonight and we will keep track of the progress over time.
We hope you enjoy it!
Join us on Telegram for more content – https://t.me/SCFree
Show notes:
Joe made 1R on USDCAD. Steve was stopped out on Gold.
We have included an illustration based on a £1000 account. This will follow the combined return of our morning trades by risking 1% of the trading capital per trade. The 1% risk is a variable monetary amount and will rise and fall based on the success of the calls.
We are currently up 78.90% collectively since we began recording Talking Bull on the 30th October 2019.
News
Global policy makers are said to be crafting the international tax plan agreed over the weekend to ensure that Amazon is included despite its profit margins not meeting the proposed threshold. The report marks one of the first extra details on the pact, designed to turn the tide on the power held by global tech companies. The deal has created a tougher task for President Joe Biden and his proposed changes to U.S. tax law given the discrepancy between the levels put forward. And the new global regime is unlikely to result in tech companies shifting base, as markets like Ireland still offer more corporate perks than some wealthier countries.
The approval from U.S. regulators for the Alzheimer's treatment made by U.S. group Biogen is a landmark moment for the health care sector, a decision which could significantly alter the face of treatment for the brain condition and which follows years of failures. The news sent Biogen shares soaring and lifted other biotechs working on treatments for Alzheimer's, with investors viewing the approval as a potential shift in U.S. regulators' stance on other new medicines.
The European Union is said to be ready to consider tougher retaliatory measures against the U.K. should post-Brexit obligations regarding Northern Ireland not be implemented. The two sides are due to hold talks on Wednesday aimed at finding solutions to prevent any further unrest in Northern Ireland. Over the weekend, Brexit minister David Frost said the current situation over Northern Ireland is "unsustainable" and urged the EU to show a "common-sense" approach.
European stock futures are indicating a slight drop at the open after Asian stocks erased earlier gains, with investors awaiting more clarity on the outlook for inflation and central bank stimulus. The World Trade Organization will meet to discuss expanding the production of Covid vaccine facilities. The European earnings day is relatively slow, topped by British American Tobacco, while German industrial production data and euro-area GDP leading the economic agenda. Meanwhile, oil is slipping further from recent highs and Bitcoin is facing a renewed selloff.
Global equity markets remain mixed as they struggle with a lighter macro calendar, following on from a weaker close in the US yesterday as some of the post-NFP excitement wore off. Small losses for the Nikkei and Hang Seng were balanced by gains for the ASX 200. Another quieter day lies ahead, although European markets do have the German ZEW index and then US investors will watch the monthly trade balance figures.
Data Today
10am – German ZEW index (June): index to fall to 75. Markets to watch: EUR crosses
1.30pm – US trade balance (April): deficit to narrow to $72.9 billion. Markets to watch: USD crosses
Gun to head challenege – Update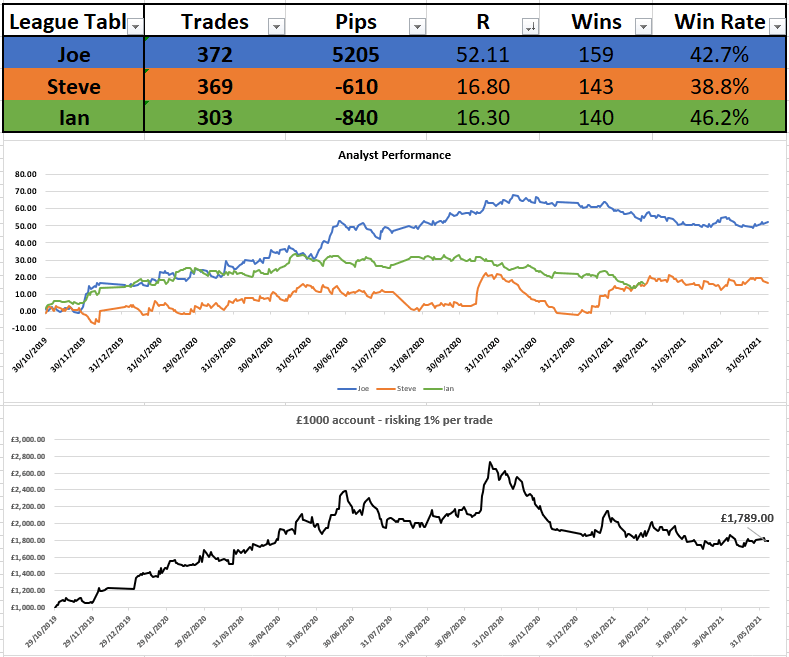 Today's trade idea

Have a great week everyone.
Get award-winning FCA regulated signals and levels on over 30 markets, as well as education resources so you never trade alone.