Good morning and welcome to episode 769 of 'Talking Bull'. Here are the latest headlines today, Hawkish ECB rhetoric, Slight hint from Fed's Waller, Fed in silent period, Equities strengthen, Dollar loses ground, Decline in yen shorts, SNB's Jordan backs further tightening & Chinese markets closed.

We take a technical look at key markets that are likely to be impacted by today's events. Also, we participate in a 'Gun to the head' challenge where each of us calls a live trade. These will expire at 9pm tonight and we will keep track of the progress over time.
We hope you enjoy it!
For a selection of free educational content, join our Discord server at – https://discord.gg/Db4UWVFvF6
Show notes:
Joe was stopped out on NZDUSD.
We have included an illustration based on a £1000 account. This will follow the combined return of our morning trades by risking 1% of the trading capital per trade. The 1% risk is a variable monetary amount and will rise and fall based on the success of the calls.
We are currently up 215.27% collectively since we began recording Talking Bull on the 30th October 2019.
News
Hawkish ECB rhetoric
ECB council member Holzmann stated that he favours multiple rate hikes of 50 basis points at least in the first half of 2023 and that it could take 2-3 years or even longer to bring inflation down to target.
Council member Knot stated that there should be further 50 basis-point hikes in February and March with further hikes in May and June.
Slight hint from Fed's Waller
Fed Governor Waller stated that some progress had been made on inflation, but there is a considerable way to go towards the 2% target. He added that he favoured a 25 basis-point rate hike at the February meeting followed by additional tightening. He added that he sees encouraging signs of wages moderation, but more evidence of slowing is needed.
He also stated that the Fed will need to keep rates high for longer rather than cut them by the end of the year. He warned that the Fed will need to do a lot more if financial conditions loosen and inflation takes off again, but if the Fed is wrong it will be much easier to cut rates.
Fed in silent period
Fed Reserve officials will now be in a silent period ahead of next week's policy decision. Markets will, however, be on alert for any unofficial briefings through the Wall Street journal.
Equities strengthen
Although the rhetoric was hawkish, Waller's comments that there would be a shift in stance if inflation declined more than expected helped underpin risk sentiment. Equities moved higher.
Dollar loses ground
The dollar lost ground after Waller's comments, especially with gains in equity markets undermining potential defensive dollar demand.
The Euro also gained support from hawkish ECB rhetoric and EUR/USD posted fresh 9-month highs above the 1.0900 level.
Decline in yen shorts
CFTC data recorded a decline in short, non-commercial yen contracts to 23,000 contracts in the latest week from over 35,000 previously and the smallest short position since March 2021, limiting scope for further short covering.
SNB's Jordan backs further tightening
National Bank Chair Jordan stated that the absolute priority should be to bring inflation down and that the second-round effects of inflation should not be under-estimated.
Chinese markets closed
Chinese markets will be closed all week for the lunar new-year holidays.
Data Today
17.45: ECB President Lagarde speech
Key events over the next week
January 24th: Global PMI data
January 25th: Canada interest rate decision
Gun to head challenge – Update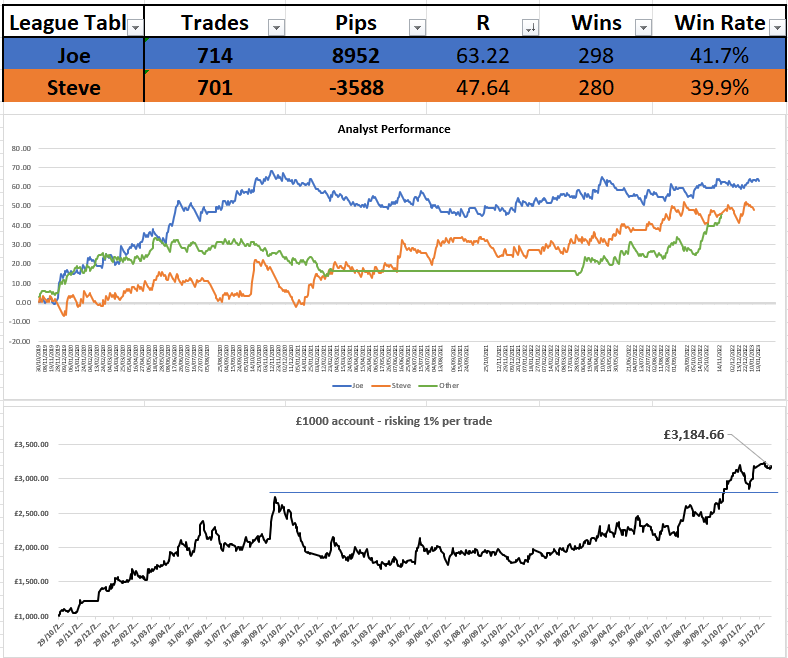 Today's trade idea
Selling: USDJPY @ 129.91
Stop: 130.70
Target: 127.51
Risk/Reward: 3R
Have a great week everyone.
Get award-winning FCA regulated signals and levels on over 30 markets, as well as education resources so you never trade alone.