Good morning and welcome to episode 761 of 'Talking Bull'. Here are the latest headlines today, Euro-Zone confidence improves further, Hawkish Fed rhetoric, Yields edge lower, Dollar still losses further ground, BoE's Pill frets over stubborn inflation, & Mixed Norwegian inflation data.
We take a technical look at key markets that are likely to be impacted by today's events. Also, we participate in a 'Gun to the head' challenge where each of us calls a live trade. These will expire at 9pm tonight and we will keep track of the progress over time.
We hope you enjoy it!
For a selection of free educational content, join our Discord server at – https://discord.gg/Db4UWVFvF6
Show notes:
Joe was 0.51R on AUDCAD, Steve was onside 0.25R on Natural Gas.
We have included an illustration based on a £1000 account. This will follow the combined return of our morning trades by risking 1% of the trading capital per trade. The 1% risk is a variable monetary amount and will rise and fall based on the success of the calls.
We are currently up 224.73% collectively since we began recording Talking Bull on the 30th October 2019.
News
Euro-Zone confidence improves further  
The Euro-Zone Sentix investor confidence index improved to -17.5 for January from -21.0 the previous month and slightly stronger than consensus forecasts of -18.0. Sentix noted that there had been very little change in the current assessment while there was a significant net improvement in the expectations components.  
Sentix added, that the end of the restrictive Corona measures in China is generating hopes of better times ahead. 
Hawkish Fed rhetoric  
San Francisco Fed President Daly stated that there had been no evidence that core inflation outside housing had shown signs of coming down and that it is too soon to declare victory and stop rate hikes. She added that it was reasonable for rate to increase to 5.25-5.50% and that a hike of 25 or 50 basis points was realistic for the February meeting. 
Atlanta head Bostic added that it is likely that services-sector inflation will be stickier than the Fed would want. 
Yields edge lower  
Despite relatively hawkish Fed rhetoric, US yields drifted lower with the 10-year yield edging below 3.55% while markets are pricing in over a 75% chance that the February rate increase will be held to 0.25%.  
Dollar still losses further ground  
The dollar recovered slightly from intra-day lows after the Fed commentary, but still posted further net losses on the day as yields edged lower and there was a lack of defensive demand for the US currency amid solid risk appetite.  
The dollar index dipped to 7-month lows amid expectations that slower inflation would trigger a Fed pivot. 
BoE's Pill frets over stubborn inflation  
Bank of England chief economist Pill stated that domestic factors could make UK inflation more persistent with risks from high natural gas prices, adverse labour supply developments and bottlenecks in the goods sector.  
He added that the risk of second-round inflation effects remain, although he also noted that supply disruptions appear to have eased. 
Mixed Norwegian inflation data  
The headline Norwegian inflation rate retreated to 5.9% from 6.5% and below expectations of 6.1%, but the core rate edged higher to 5.8% from 5.7%.  
Data Today
14.00: Fed Chair Powell speech  
00.30 (Wed): Australia monthly consumer prices  
Key events over the next week 
January 12th: US consumer prices 
Gun to head challenge – Update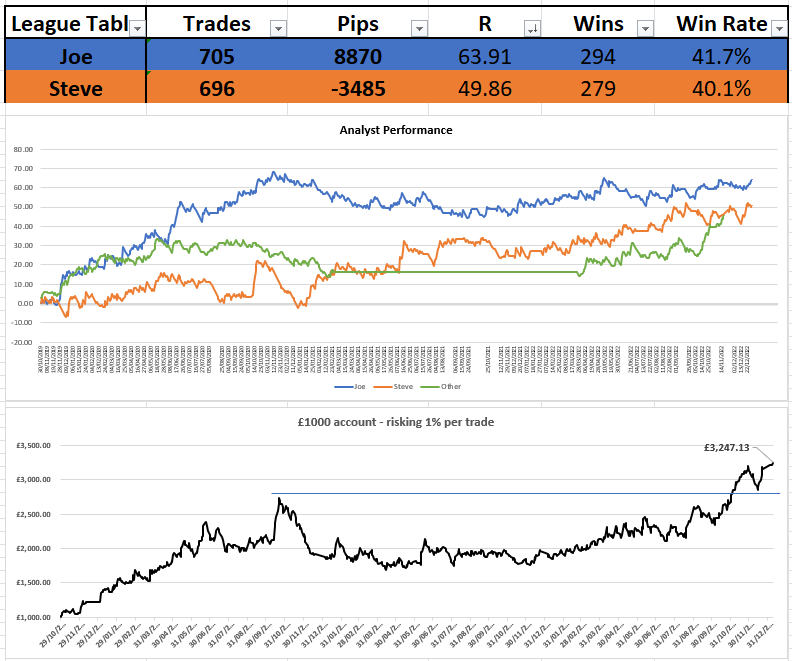 Today's trade idea
Have a great week everyone.
Get award-winning FCA regulated signals and levels on over 30 markets, as well as education resources so you never trade alone.