Good morning and welcome to episode 416 of 'Talking Bull'. In this video/podcast we cover the main headlines and what to expect from the day ahead. 
We take a technical look at key markets that are likely to be impacted by today's events. Also, we participate in a 'Gun to the head' challenge where each of us calls a live trade. These will expire at 9pm tonight and we will keep track of the progress over time.
We hope you enjoy it!
Join us on Telegram for more content – https://t.me/SCFree
Show notes:
Joe made 1.54R on EURJPY, while Steve was offside 0.07R on DAX.
We have included an illustration based on a £1000 account. This will follow the combined return of our morning trades by risking 1% of the trading capital per trade. The 1% risk is a variable monetary amount and will rise and fall based on the success of the calls.
We are currently up 98.90% collectively since we began recording Talking Bull on the 30th October 2019.
News
Infection rates are on the rise across Europe as restrictions are eased and the coronavirus's delta variant becomes the dominant strain. The French government attributed more than 60% of new infections to the variant on Tuesday. The Netherlands logged a six-fold increase in cases during the week ended yesterday, a day after Prime Minister Mark Rutte apologized for an "error in judgement" in easing restrictions too early. Meanwhile, the U.K. government remains on course to ease remaining restrictions in England next Monday.
European Central Bank officials meet today to decide whether to move ahead with the creation of a digital euro. The next step would be an exploratory phase that ECB President Christine Lagarde says could take about two years, resulting in a virtual currency in euro-area citizens' figurative hands by the middle of the decade. Research and official remarks portray a payment system that is fast, easy to use, secure — and, crucially for Lagarde, who has lambasted private crypto-assets — not Bitcoin.
The European Union is set to transform every corner of its economy — from how people heat their homes to the cars they drive — as the bloc uses a massive overhaul of rules to position itself as a global leader on climate change. Every industry would be forced to accelerate its shift away from fossil fuels in order to cut pollution by at least 55% from 1990 levels by 2030, according to proposals to be unveiled today, putting the EU on a path to eliminate greenhouse gas emissions by mid-century.
European stocks are set to follow Asian equities lower after the surprise jump in U.S. inflation. It's the turn of the U.K. to report inflation data today. The Bank of Canada is expected to announce another round of bond tapering at its rate decision, following the move by New Zealand's central bank to end QE. There's lots going on in the corporate world too, with trading updates from Tullow Oil, developer Barratt and asset manager Ashmore, while in earnings Bank of America, Citigroup and Wells Fargo all report in a bumper day for U.S. banks.
U.S. stocks greeted the start of second-quarter earnings season with a whimper, not only thanks to higher-than-expected inflation data but also because of mixed results from financial heavyweights JPMorgan and Goldman Sachs. Both firms beat analyst profit estimates only to watch their stocks slide Tuesday.
Asian markets have largely been on the back foot overnight, with the Chinese CSI 300 leading those declines ahead of tonight's GDP reading.
The one outlier came from Australia, with the collapse in AUD/NZD helping to lift Australian stocks. That came off the back of a surprise decision from the RBNZ to halt asset purchases by 23 July, seemingly paving the way for a rate hike in the near future.
In Europe, the latest inflation data out of the UK has brought the highest rate of CPI since late 2018, with the headline figure of 2.5% moving further away from the 2% target. Much of that was driven by the transport, restaurants, and food and drink prices. Looking ahead, keep an eye out for the latest US PPI, and crude inventories data.
Meanwhile, on the central bank front, the latest Bank of Canada rate decision looks set to dominate while Powell testifies ahead of the House Financial Services Committee.
Data Today
1.30pm – US PPI (June): factory-gate prices to rise 0.6% MoM from 0.8%. Markets to watch: USD crosses
3pm – Bank of Canada decision: no change in rates from 0.25%. Markets to watch: CAD crosses
3.30pm – US EIA crude oil inventories (w/e 9 July): previous week saw a fall of 6.9 million barrels in stockpiles. Markets to watch: Brent, WTI
Gun to head challenge – Update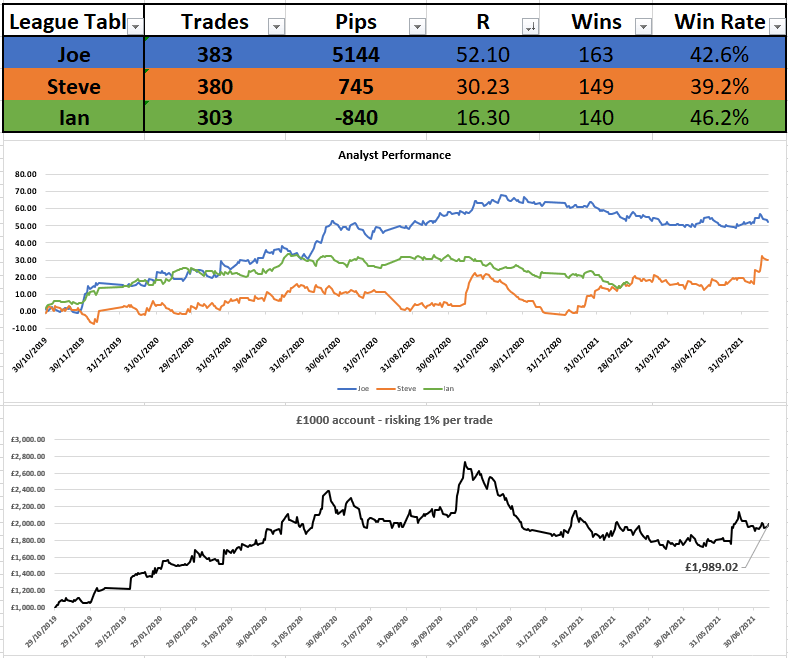 Today's trade idea

Have a great week everyone.
Get award-winning FCA regulated signals and levels on over 30 markets, as well as education resources so you never trade alone.