Good morning and welcome to episode 712 of 'Talking Bull'. In this video/podcast we cover the main headlines and what to expect from the day ahead. 
We take a technical look at key markets that are likely to be impacted by today's events. Also, we participate in a 'Gun to the head' challenge where each of us calls a live trade. These will expire at 9pm tonight and we will keep track of the progress over time.
We hope you enjoy it!
For a selection of free educational content, join our Discord server at – https://discord.gg/Db4UWVFvF6
Show notes:
Joe and Steve were stopped out on GBPUSD and Oil. Taf made 2.34R on Gold.
We have included an illustration based on a £1000 account. This will follow the combined return of our morning trades by risking 1% of the trading capital per trade. The 1% risk is a variable monetary amount and will rise and fall based on the success of the calls.
We are currently up 164.31% collectively since we began recording Talking Bull on the 30th October 2019.
News
Fed hints over a pivot
The latest reports from the Wall Street journal suggested that the Federal Reserve was aiming for a 75 basis-point rate hike at the November policy meeting. According to reports, there are also divisions within the central bank whether to signal a smaller rate hike at the December policy meeting. Some are concerned over the potential impact on the economy while others are concerned that inflation isn't falling.
San Francisco Fed President Daly stated that she wants to avoid an unforced tightening by over-tightening and that the central bank is now at the stage where it needs to be thoughtful. She added that the Fed also needs to take account of synchronised global central bank tightening.
The overall commentary increased market hopes for a switch to a less aggressive Fed stance.
US bond yields retreat
The US 10-year yield peaked at 4.33% on Friday before a sharp correction to 4.22% after the Fed rhetoric.
There was a further retreat to 4.15% on Monday amid hopes for a Fed pivot.
Bank of Japan intervenes
Just after the European close on Friday the Bank of Japan intervened to support the Japanese yen and acted again in Asia on Monday which helped trigger a bid for Treasuries.
Wild dollar ride
The dollar posted sharp losses after the Bank of Japan intervention with USD/JPY sliding to lows below 147.00 from 32-highs near 152.00.
The bank intervened again in Asia on Monday with USD/JPY diving to below 146.00 before a strong recovery to 148.85.
Limited Chinese data relief
The latest Chinese data was stronger than expected with third-quarter GDP growth at 3.9% from 0.4% previously and above consensus forecasts of 3.3%. Production data was also stronger than expected, but retail sales were subdued.
The trade data also sparked fresh reservations over the demand outlook.
Sunak poised for victory 
Just after Monday's Asian open, former Prime Minister Johnson announced that he would not be standing to be the next Prime Minster despite claiming that he has enough backers to run.
This puts former Chancellor Sunak in an extremely strong position and he could well be confirmed as the next Prime Minister later on Monday.
Sterling relief rally 
Sterling rallied on the Johnson announcement on hopes for an early resolution and easing of uncertainty. A rebound in risk appetite also helped underpin the UK currency.
Data Today
08.30: German PMI index (flash reading)
09.30: UK PMI index (flash reading)
14.45: US PMI index (flash reading)
Key events over the next week
October 26th: Bank of Canada policy decision
October 27th: ECB policy decision
October 28th: Bank of Japan policy decision
Gun to head challenge – Update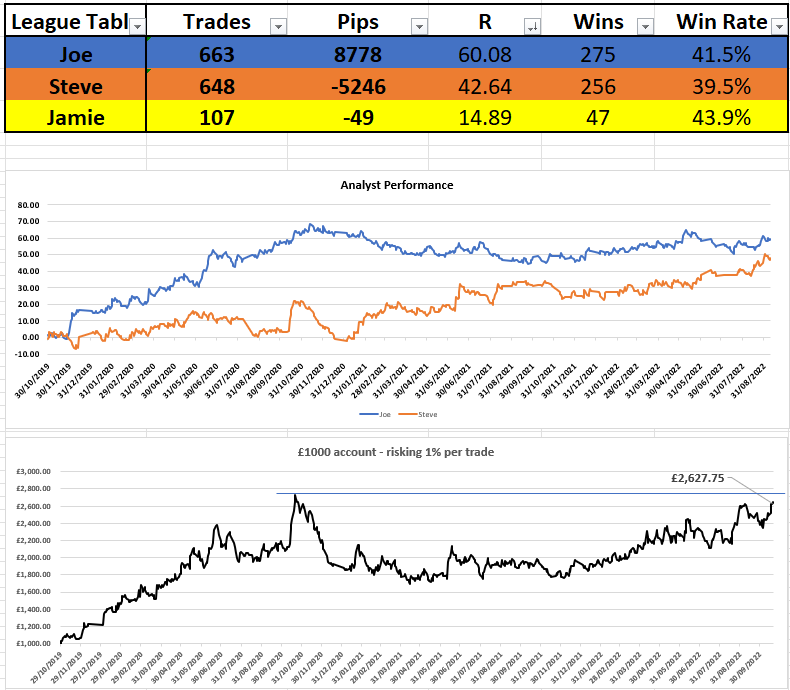 Today's trade idea
Have a great week everyone.
Get award-winning FCA regulated signals and levels on over 30 markets, as well as education resources so you never trade alone.