Good morning and welcome to episode 802 of 'Talking Bull'. Here are the latest headlines today, ADP reports stronger US payrolls growth, Marginal shift in Powell's emphasis, Markets still expect 50 basis-point hike in March, Dollar holds most of the gains, BoE's Dhingra stays dovish, Bank of Canada on hold & Bank of Japan decision Friday.
We take a technical look at key markets that are likely to be impacted by today's events. Also, we participate in a 'Gun to the head' challenge where each of us calls a live trade. These will expire at 9pm tonight and we will keep track of the progress over time.
We hope you enjoy it!
For a selection of free educational content, join our Discord server at – https://discord.gg/Db4UWVFvF6
Show notes:
Joe was offside 0.29R on EURNZD. Steve was stopped out on S&P 500.
We have included an illustration based on a £1000 account. This will follow the combined return of our morning trades by risking 1% of the trading capital per trade. The 1% risk is a variable monetary amount and will rise and fall based on the success of the calls.
We are currently up 191 .18% collectively since we began recording Talking Bull on the 30th October 2019.
News
ADP reports stronger US payrolls growth
US ADP data recorded an increase in private-sector payrolls of 242,000 for February and above consensus forecasts of 200,000, but there was only a small upward revision to the January increase to 119,000 from the flash reading of 106,000. There was a notable decline in jobs in small companies.
The data overall was very solid, but did not replicate the BLS non-farm payrolls data for January.
The annual increase in wages slowed slightly to a 12-month low of 7.2% from 7.3% the previous month.
Marginal shift in Powell's emphasis
The prepared text of Powell's testimony was the same as on Tuesday which is the normal practice. Powell did, however, comment that no decision has been made on a potential 50 basis-point rate hike for the March policy meeting.
He insisted that the March decision is data dependent and will be guided by incoming data. In this context, he notes that jobs and CPI data will be important.
Markets still expect 50 basis-point hike in March
Despite a dip after Powell's comments, markets still put the chances of a 50 basis-point rate hike for March at above 70%.
Dollar holds most of the gains
The dollar corrected slightly on the day, but still held the bulk of the gains seen on Tuesday amid expectations of a hawkish Fed with vulnerability in equities also tending to underpin the US currency.
BoE's Dhingra stays dovish
Bank of England Monetary Policy Committee member Dhingra stated that many tightening effects are still to take hold and overtightening poses a more material risk at this point.
In this context, she stated that a prudent policy would be to hold policy steady. The stance was not surprising given that she has voted against rate increases at the last two monetary policy meetings.
Bank of Canada on hold
The Bank of Canada held interest rates at 4.50% at the latest policy meeting, in line with consensus forecasts.
According to the bank, economic developments have been broadly in line with expectations with inflation expected to decline to 3% around 3% by the middle of the year.
The bank, however, stated that it was ready to increase rates further if needed.
Bank of Japan decision Friday
The Bank of Japan will announce its latest monetary policy decision on Friday.
Consensus forecasts are for no change, but this is the last meeting for Bank Governor Kuroda, maintaining some concerns over a surprise decision.
Data Today
13.30: US jobless claims
03.00 (Fri approx.): Bank of Japan policy decision
Key events over the next week
March 10th: US employment report
March 10th: Canada employment report
Gun to head challenge – Update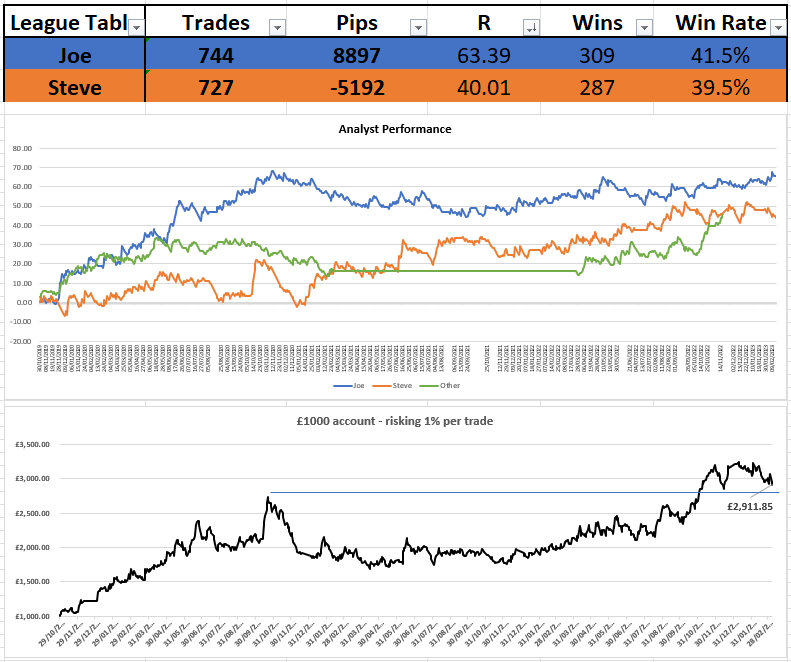 Today's trade idea
Have a great week everyone.
Get award-winning FCA regulated signals and levels on over 30 markets, as well as education resources so you never trade alone.