Good morning and welcome to episode 726 of 'Talking Bull'. In this video/podcast we cover the main headlines and what to expect from the day ahead. 
We take a technical look at key markets that are likely to be impacted by today's events. Also, we participate in a 'Gun to the head' challenge where each of us calls a live trade. These will expire at 9pm tonight and we will keep track of the progress over time.
We hope you enjoy it!
For a selection of free educational content, join our Discord server at – https://discord.gg/Db4UWVFvF6
Show notes:
Steve was stopped on Silver. Joe was offside 0.06R on GBPAUD. Taf was onside 0.71R on Bitcoin. Guest Sanhadeed was offside 0.62R on Gold.
We have included an illustration based on a £1000 account. This will follow the combined return of our morning trades by risking 1% of the trading capital per trade. The 1% risk is a variable monetary amount and will rise and fall based on the success of the calls.
We are currently up 194.00% collectively since we began recording Talking Bull on the 30th October 2019.
News
China eases coronavirus restrictions
The Beijing authorities announced on Friday that there would be a targeted and precise approach to zero covid cases amid a further strong increase in daily cases.
There will be a relaxation in quarantine and travel restrictions which boosted optimism over a rebound in the Chinese economy which underpinned risk appetite and also boosted Euro demand, although Chinese case numbers continued to increase.
China also announced a plan to support the property sector.
Dollar slumped again on Friday
The dollar continued to lose ground on Friday with the currency index sliding to 12-week lows amid major losses against all majors and EUR/USD, for example, surged to highs around 1.0360.
US consumer confidence dips
The University of Michigan consumer confidence index dipped to a 4-month low of 54.7 for November from 59.9 the previous month and significantly below consensus forecasts of 59.5. There was a sharp retreat in the current conditions index with the expectations component also posting significant losses on the month.
The 1-year inflation expectations index edged higher to 5.1% from 5.0% with the 5-year index at 3.00% from 2.9%.
Fed's Waller punctures euphoria
In comments on Sunday, Fed Governor Waller stated that the central bank November statement was designed to signal a step-down to 50 basis-point rate hikes, but added that the CPI report was just one data point and that markets are way out in front. He added that the Fed still has a lot of work to do and that rates will stay high for a while.
US yields and dollar recover
US Treasury futures lost ground following Waller's comment with a recovery in the 10-year yield to near 3.90%.
The dollar also pared losses following Waller's comments with a recovery from 12-week lows.
Dovish BoE rhetoric
Bank of England MPC member Tenreyro, however, maintained a dovish stance as monetary policy has already been tightened significantly, but the effects on demand have yet to be seen.  She also stated that interest rates should not be increased to above 3.0% in 2023 and should then cut rates in 2024 as rates at this level would further reduce output below potential and there was a risk of over-tightening.
Hawkish SNB rhetoric 
Swiss National Bank Chair Jordan stated that monetary policy is not sufficiently restrictive to lower inflation and the bank is prepared to take all measures necessary to restore price stability. Futures markets indicated a 65% chance that the central bank would raise rates by 50 basis points at the December policy meeting.
Cryptocurrency sentiment very vulnerable 
Overall sentiment surrounding cryptocurrencies remained extremely fragile as the FTX collapse continued to undermine confidence and triggered a further wave of withdrawals and bitcoin traded close to 2-year lows on Monday.
Data Today
16.30: Fed Governor Brainard speech
07.00 (Tues): UK employment report
Key events over the next week
November 16th: UK consumer prices
November 16th: US retail sales
Gun to head challenge – Update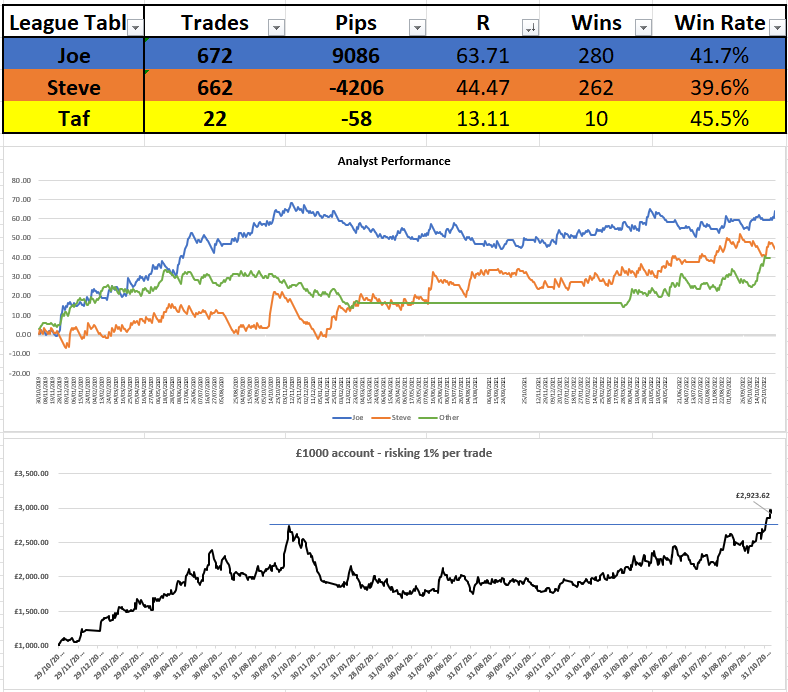 Today's trade idea

Have a great week everyone.
Get award-winning FCA regulated signals and levels on over 30 markets, as well as education resources so you never trade alone.