Good morning and welcome to episode 531 of 'Talking Bull'. In this video/podcast we cover the main headlines and what to expect from the day ahead. 
We take a technical look at key markets that are likely to be impacted by today's events. Also, we participate in a 'Gun to the head' challenge where each of us calls a live trade. These will expire at 9pm tonight and we will keep track of the progress over time.
We hope you enjoy it!
Show notes:
Joe was stopped out of GBPUSD yesterday.
We have included an illustration based on a £1000 account. This will follow the combined return of our morning trades by risking 1% of the trading capital per trade. The 1% risk is a variable monetary amount and will rise and fall based on the success of the calls.
We are currently up 89.62% collectively since we began recording Talking Bull on the 30th October 2019.
News
President Joe Biden said Russia will "pay a heavy price" if any of its forces move across the border into Ukraine after earlier suggesting Western allies might struggle to react to a small-scale attack. A day before the top U.S. diplomat meets Russia's foreign minister in Geneva, Biden said Thursday he has issued clear warnings to Russia's President Vladimir Putin, who has amassed about 100,000 troops at the border with Ukraine despite denying any plans to attack.
Netflix expects to add just 2.5 million subscribers this quarter, a number that falls short of Wall Street's estimates and would mark the slowest start to a new year for the company in at least a decade. Shares of Netflix fell as much as 20% to $404.50 in after-hours trading, erasing about $45 billion in market value as investors braced for the prospect that the streaming giant is entering a new phase of slower growth. Walt Disney and Roku also slumped.
Stocks are slumping globally after a late-day reversal on Wall Street on Thursday. Shaky earnings from Netflix and Peloton, the prospect of tighter Federal Reserve monetary policy, and tensions between the U.S. and Russia are all weighing on sentiment across the globe. Oil also declined alongside other financial assets and commodities as crude's sizzling rally ran out of steam after hitting a seven-year high.
The selloff hasn't spared cryptocurrencies either, which are sinking on Friday. Bitcoin dropped to the lowest level in more than five months as risk aversion again swept across global markets. The largest cryptocurrency dropped as much as 7.4% to $38,261, while second-ranked Ether slid below $3,000. Digital tokens overall have shed some $1 trillion in value since a November peak.
Yet again worries about inflation and poor earnings have combined to drive markets lower, halting a small bounce in US markets yesterday and turning it into a dramatic reversal. US Treasury Secretary Janet Yellen said that the administration would look to fight inflation, something that will put pressure on the Fed to stay hawkish. Netflix and Peloton, two big winners from the pandemic's lockdowns, both fell sharply as the former's earnings revealed a sharp slowdown in subscriber growth while the latter was forced to cut its full-year outlook and concede that it was halting production. Asian markets suffered further losses overnight and European futures are sharply lower as well. It looks like markets have not finished declining just yet, and with earnings season only just beginning and a Fed meeting yet to come, the volatility seems set to continue.
Data Today
None
Gun to head challenge – Update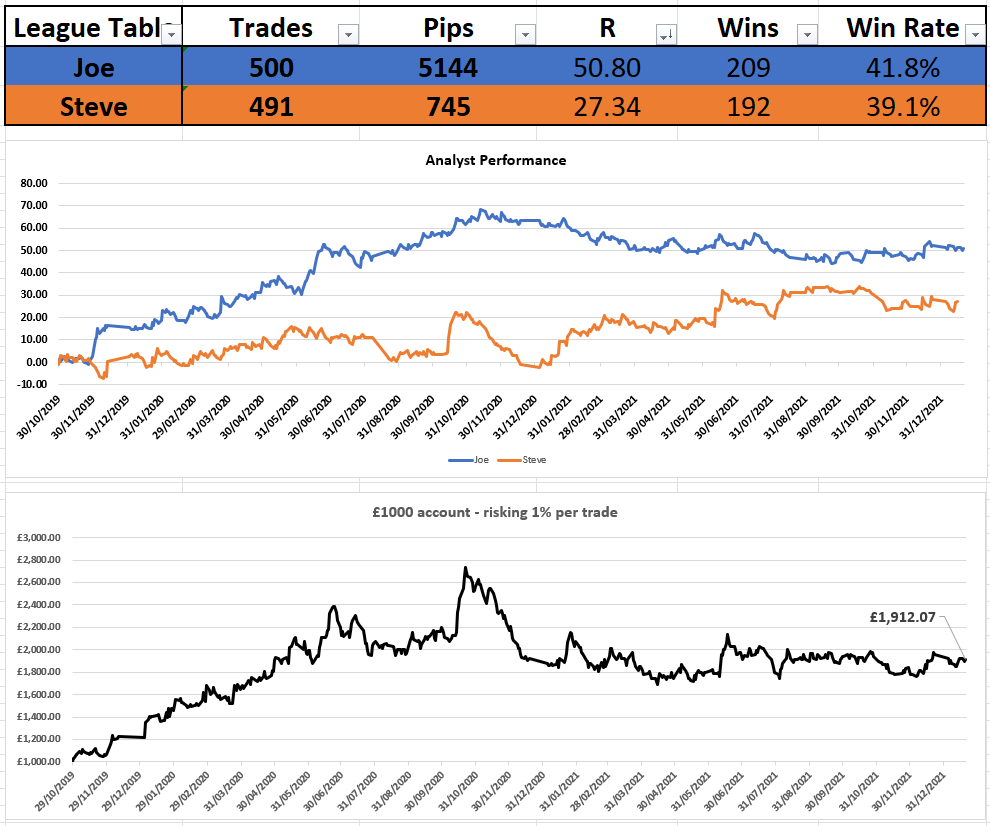 Today's trade idea

Have a great week everyone.
Get award-winning FCA regulated signals and levels on over 30 markets, as well as education resources so you never trade alone.