Good morning and welcome to episode 759 of 'Talking Bull'. Here are the latest headlines today, Strong ADP jobs data, Jobless claims decline, Fed expectations revised higher, Dollar posts significant gains, Weak German data & US Payrolls data Friday.
We take a technical look at key markets that are likely to be impacted by today's events. Also, we participate in a 'Gun to the head' challenge where each of us calls a live trade. These will expire at 9pm tonight and we will keep track of the progress over time.
We hope you enjoy it!
For a selection of free educational content, join our Discord server at – https://discord.gg/Db4UWVFvF6
Show notes:
Joe was onside 0.24R on EURGBP, Steve was offside 0.19R on DAX.
We have included an illustration based on a £1000 account. This will follow the combined return of our morning trades by risking 1% of the trading capital per trade. The 1% risk is a variable monetary amount and will rise and fall based on the success of the calls.
We are currently up 221.10% collectively since we began recording Talking Bull on the 30th October 2019.
News
Strong ADP jobs data
US ADP data recorded an increase in private-sector payrolls of 235,000 for December, well above consensus forecasts of around 150,000 and the November increase was also revised higher to 182,000 from the original estimate of 127,000.
There were notable differences between sectors with a dip in manufacturing and trade and financial services jobs. There was also a net cut in employment within large companies with firm growth in smaller companies.
There was a slowdown in wages growth to 7.3% from 7.6% previously and the slowest increase since March 2022.
Jobless claims decline
Initial jobless claims decline to 204,000 in the latest week from a revised 223,000 previously and below consensus forecasts of 225,000. Continuing claims also declined to 1.69mn from 1.72mn the previous week.
Fed expectations revised higher
Following the stronger than expected US employment data, there was a net shift in Fed futures with markets raising the estimate of the terminal rate to 4.07% from around 2.95% at the beginning of the week.
US yields also moved higher
Dollar posts significant gains
The stronger than expected data and higher yields triggered renewed US dollar support with the US currency also gaining net support on defensive grounds as equities moved lower.
The yen was also subjected to renewed selling pressure after the US data.
Weak German data
German industrial orders declined 5.3% for November after a 0.6% increase for October and well below expectations of a 0.5% decline.
US Payrolls data Friday
The latest employment report will be released on Friday with expectations of an increase in non-farm payrolls of close to 200,000 with the unemployment rate holding at 3.7%. The data on wages will also be important for underlying inflation and Fed policy expectations.
The data overall will be important for Fed expectations and dollar confidence.
Data Today
10.00: Euro-Zone consumer prices
13.30: US employment report.
13.30: Canada employment report
15.00: US ISM services index
Key events over the next week
January 12th: US consumer prices
Gun to head challenge – Update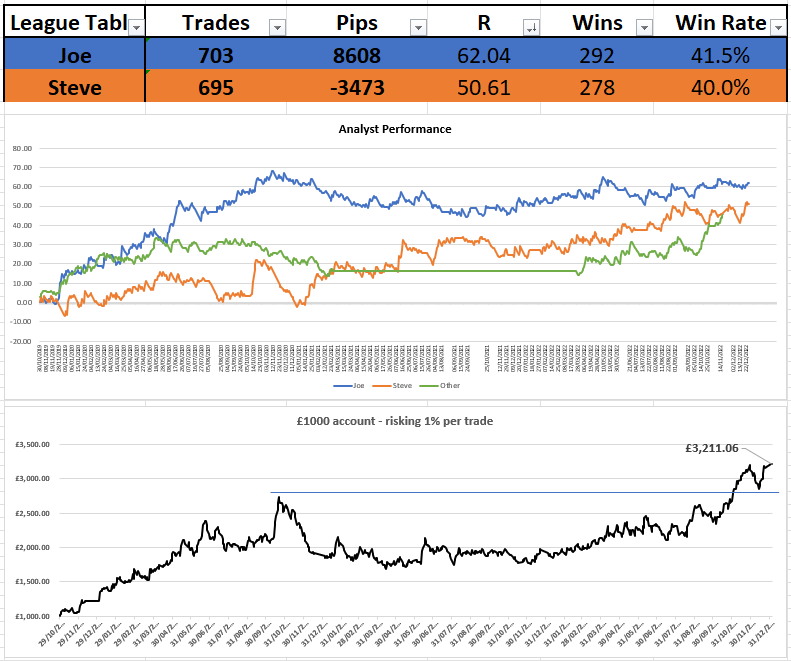 Today's trade idea

Have a great week everyone.
Get award-winning FCA regulated signals and levels on over 30 markets, as well as education resources so you never trade alone.