Good morning and welcome to episode 468 of 'Talking Bull'. In this video/podcast we cover the main headlines and what to expect from the day ahead. 
We take a technical look at key markets that are likely to be impacted by today's events. Also, we participate in a 'Gun to the head' challenge where each of us calls a live trade. These will expire at 9pm tonight and we will keep track of the progress over time.
We hope you enjoy it!
Show notes:
Joe made 0.05R on AUDJPY. Steve was 0.53R offside on EURGBP at 9pm on Friday.
We have included an illustration based on a £1000 account. This will follow the combined return of our morning trades by risking 1% of the trading capital per trade. The 1% risk is a variable monetary amount and will rise and fall based on the success of the calls.
We are currently up 88.40% collectively since we began recording Talking Bull on the 30th October 2019.
News
Olaf Scholz of the Social Democrats inched ahead of Chancellor Angela Merkel's conservatives in an unprecedentedly tight German election which is still to decide who will lead Europe's biggest economy. The SPD leader said it's clear that voters want him as chancellor, but he still faces months of negotiation and uncertainty before he can make that a reality. The Christian Democrats' Armin Laschet insisted that he too will try to form a coalition though his party has suffered its worst result ever, plunging below 30%.
Prime Minister Boris Johnson is under increasing pressure to do more to ease a supply chain crisis in Britain. BP said it ran out of the main grades at almost a third of its stations following intense demand and a shortage of truck drivers. The U.K. government said it will issue 5,000 short-term visas to lorry drivers and 5,500 to poultry workers in a significant U-turn on one of the key red lines of Brexit. The government will also temporarily drop competition rules and allow haulers, producers, suppliers and retailers to work together.
China may be diving head first into a power supply shock that could hit Asia's largest economy hard just as the Evergrande crisis sends shockwaves through its financial system. Economists are warning of lower economic growth in China as electricity shortages worsen, forcing businesses to cut back on production. The crisis is also beginning to hit people where they live, adding the risk of social instability on top of potential global supply chain disruptions.
Two of the world's largest Bitcoin exchanges have halted new registrations for Chinese users and one will retire current accounts, taking actions to comply with Beijing's latest crypto ban. Exchange operators Huobi and Binance have stopped letting traders use mainland China mobile numbers to register new accounts, after the People's Bank of China said Friday all crypto-related transactions will be considered illicit financial activity.
A largely positive affair overnight has seen indices in China, Hong Kong, and Australia all gaining ground. Japanese markets have proven to be the laggard, with moderate losses for the Topix and Nikkei. The gains seen in China come despite ongoing fears around Evergrande, with the firm missing a payment on offshore bonds last week.
Energy prices look set to kick off the week on the front-foot once again, with surging demand and disruptions to supply driving inventories down. The weekend has seen the German election resolve with a lack of any clear victor, with discussions over a potential coalition likely to rumble on for some time.
Meanwhile, the proposed $1 trillion US infrastructure bill comes in front of the House of Representatives this week, with a vote bringing the topic of fiscal stimulus back into focus. Looking ahead, watch out for the latest US core durable goods alongside appearances from central bankers across the ECB, Fed, and BoE.
Data Today
1.30pm – US durable goods orders (August): orders to rise 0.6% overall, and 0.4% excluding transportation orders. Markets to watch: USD crosses
Gun to head challenge – Update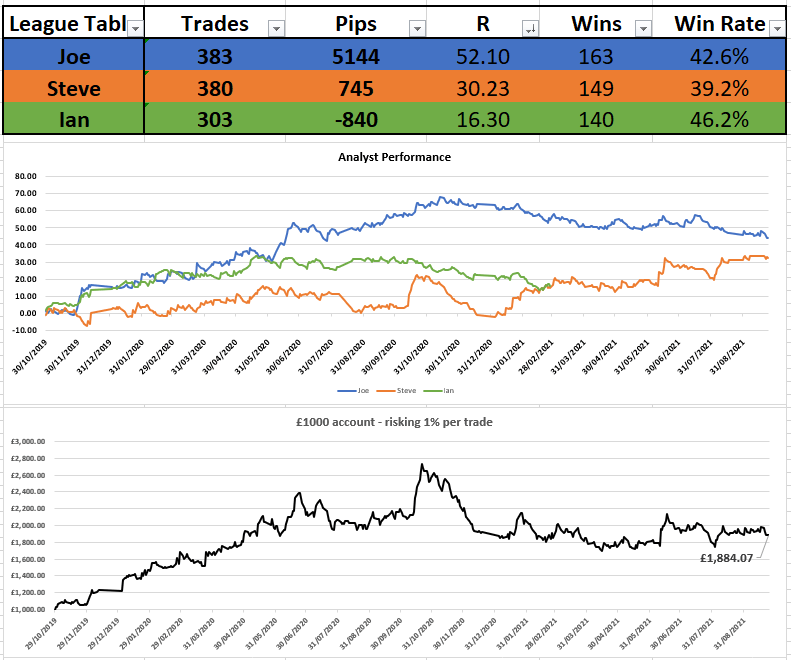 Today's trade idea

Have a great week everyone.
Get award-winning FCA regulated signals and levels on over 30 markets, as well as education resources so you never trade alone.