Good morning and welcome to episode 739 of 'Talking Bull'. In this video/podcast we cover the main headlines and what to expect from the day ahead. 
We take a technical look at key markets that are likely to be impacted by today's events. Also, we participate in a 'Gun to the head' challenge where each of us calls a live trade. These will expire at 9pm tonight and we will keep track of the progress over time.
We hope you enjoy it!
For a selection of free educational content, join our Discord server at – https://discord.gg/Db4UWVFvF6
Show notes:
Joe hit target on GBPCAD for a 2.17R win. Steve was stopped on Bitcoin.
We have included an illustration based on a £1000 account. This will follow the combined return of our morning trades by risking 1% of the trading capital per trade. The 1% risk is a variable monetary amount and will rise and fall based on the success of the calls.
We are currently up 215.83% collectively since we began recording Talking Bull on the 30th October 2019.
News
German inflation declines
German consumer prices declined 0.5% for November compared with expectations of a 0.2% decline with the year-on-year inflation rate slowing more than expected to 10.0% from 10.4%.
The lower inflation rate triggered some speculation that the ECB would be able to take a less aggressive stance at the December meeting
US consumer confidence edges lower
US consumer confidence dipped to 100.2 for November from a revised 102.2 previously and marginally above market expectations with declines for both the current conditions and expectations components.
According to the Conference Board, the level of the expectations index suggests that the likelihood of recession remains elevated, although there was a slight improvement in labour-market confidence.
BoE's Mann watching inflation expectations
Bank of England Monetary Policy Committee member Mann stated that she wanted to keep an eye on medium-term inflation expectations to assess what the appropriate interest rate decision might be appropriate at the next policy meeting.
She also expressed concerns over the increased inflation pressures within the services sector.
The latest survey on inflation expectations is due on December 9th ahead of the December 15th policy decision.
Weak Chinese data
China's PMI manufacturing index dipped to 48.0 for November from 49.2 previously and below consensus forecasts of 49.0. The non-manufacturing index was also below expectations at 46.7 from 48.7, maintaining reservations over the near-term outlook.
Markets continued to monitor Chinese coronavirus policy developments.
Australian inflation declines
The monthly Australian inflation data recorded a decline in the annual rate to 6.9% from 7.3% and below expectations of 7.6%.
Choppy month-end trading
There was volatile trading on Monday with month-end positioning having a significant impact and the dollar gaining support from corporate dollar buying.
There will be further choppy trading on Tuesday, especially around the London fix  as position adjustment continues.
Powell due to speak
Fed Chair Powell is due to make a speech after the European close with the comments on the economy and monetary policy watched very closely for any policy hints.
Data Today
10.00: Euro-Zone consumer prices
13.15: US ADP jobs report
15.00: US JOLTS job openings
15.30: US crude oil inventories
18.30: Federal Reserve Chair Powell speech
Key events over the next week
December 1st: US ISM manufacturing index
December 2nd: US employment report
December 2nd: Canada employment report
Gun to head challenge – Update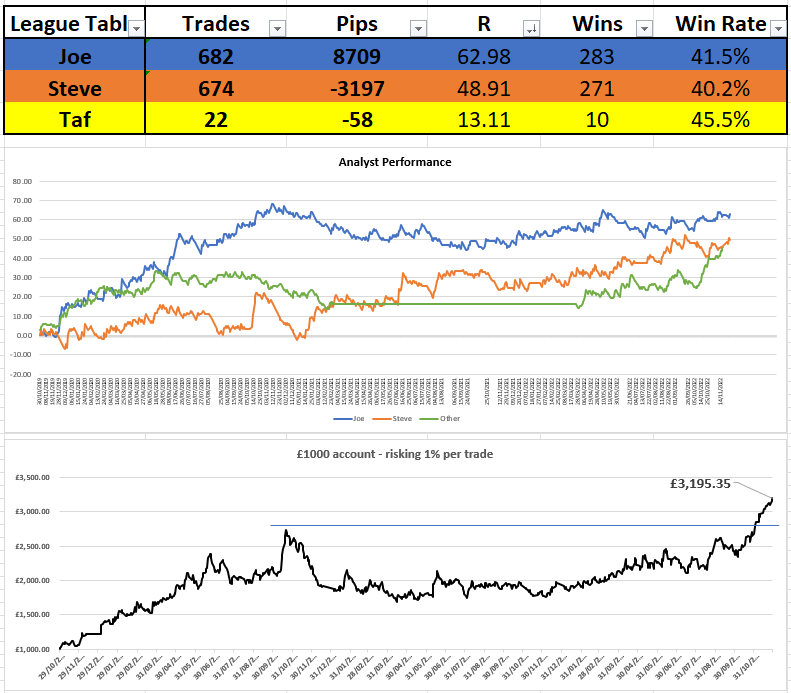 Today's trade idea

Have a great week everyone.
Get award-winning FCA regulated signals and levels on over 30 markets, as well as education resources so you never trade alone.