Good morning and welcome to episode 529 of 'Talking Bull'. In this video/podcast we cover the main headlines and what to expect from the day ahead. 
We take a technical look at key markets that are likely to be impacted by today's events. Also, we participate in a 'Gun to the head' challenge where each of us calls a live trade. These will expire at 9pm tonight and we will keep track of the progress over time.
We hope you enjoy it!
Show notes:
Joe was offside 0.35R on Oil yesterday.
We have included an illustration based on a £1000 account. This will follow the combined return of our morning trades by risking 1% of the trading capital per trade. The 1% risk is a variable monetary amount and will rise and fall based on the success of the calls.
We are currently up 91.42% collectively since we began recording Talking Bull on the 30th October 2019.
News
Benchmark Treasury yields look poised to surge past 2% as traders lay bets that the Federal Reserve could opt for a super-sized rate hike in March. The 10-year yield has climbed 37 basis points so far in January to 1.88% on Wednesday — set for its fastest monthly increase since November 2016. Rising yields and anxiety earnings growth is poised to slow dealt another gut punch to tech stocks, pushing the Nasdaq Composite Index to the brink of a correction.
Goldman Sachs shares tumbled the most in more than 18 months after the firm's stock traders posted a lackluster fourth quarter, another sign that the frenzied market activity spurred by the pandemic is cooling. Despite rounding off their best year ever for both revenue and earnings, Goldman executives will need to address investor concerns that the trading business is on a downward trajectory. Moreover, the firm was the latest industry giant to report record-high annual expenses fueled by soaring compensation and benefits costs.
The purchase of Activision Blizzard for $68.7 billion will give Microsoft some of the biggest video games in consoles and smartphones and a beachhead in a possible next phase of computing, the metaverse. But first, Microsoft will need to deal with allegations that Activision underpaid women and allowed sexism and harassment to go unpunished. Failing to do so could make Microsoft a less hospitable environment for women and people from underrepresented groups and a less attractive place to work.
Germany joined countries like the U.K., France and Italy in recording more than 100,000 new Covid-19 infections on one day, adding to evidence that the highly contagious omicron variant is spreading fast across Europe's largest economy. Still, omicron's grip on the U.K. economy is weakening, with falling Covid-19 case numbers mirrored by a drop in worker absences during the second week of January.
Rising US bond yields continue to put pressure on markets, with Wall Street the most heavily-affected. US stocks returned to trading yesterday, but atmosphere remained as negative as it had been last week. Further losses took place, and investors remain in intolerant mood when it comes to earnings as well. Goldman Sachs became the latest name to feel the wrath of investors, falling sharply following its results. The negative tone spilled over into Asian markets and looks likely to hit European markets again too. Adding to the focus on inflation, UK prices rose 5.4% in December, the highest rate in almost 30 years. US housing data, Canadian CPI and Morgan Stanley earnings are on the ticket for the day.
Data Today
1.30pm – Canada CPI (December): prices rose 4.7% in November. Markets to watch: CAD crosses
1.30pm – US housing starts & building permits (December): starts to fall 2% and permits to increase 0.4% MoM. Markets to watch: USD crosses
Gun to head challenge – Update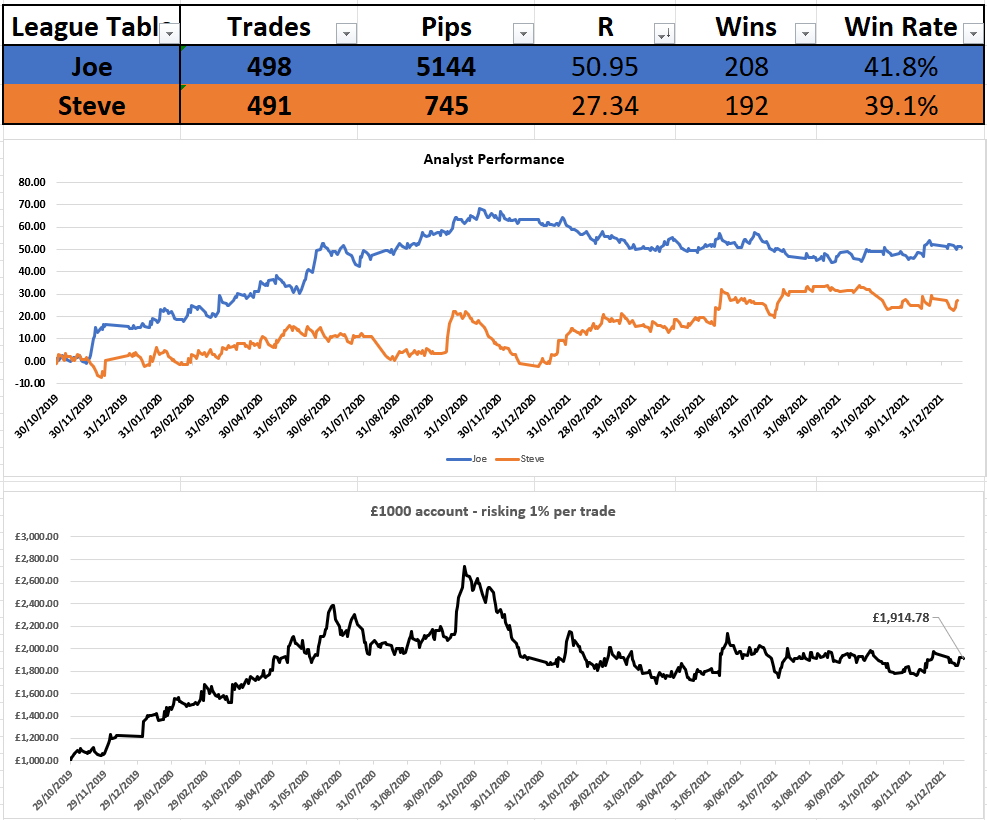 Today's trade idea

Have a great week everyone.
Get award-winning FCA regulated signals and levels on over 30 markets, as well as education resources so you never trade alone.