Good morning and welcome to episode 606 of 'Talking Bull'. In this video/podcast we cover the main headlines and what to expect from the day ahead. 
We take a technical look at key markets that are likely to be impacted by today's events. Also, we participate in a 'Gun to the head' challenge where each of us calls a live trade. These will expire at 9pm tonight and we will keep track of the progress over time.
We hope you enjoy it!
For a selection of free educational content, join our Discord server at – https://discord.gg/Db4UWVFvF6
Show notes:
Jamie was onside 1.66R on EURUSD, Steve was up 1.54R on Ethereum. Joe was offside 0.36R on US10Y.
We have included an illustration based on a £1000 account. This will follow the combined return of our morning trades by risking 1% of the trading capital per trade. The 1% risk is a variable monetary amount and will rise and fall based on the success of the calls.
We are currently up 130.87% collectively since we began recording Talking Bull on the 30th October 2019.
News
Producer prices moderate slightly
US producer prices increased 0.5% for April, in line with consensus forecasts, while the year-on-year rate declined slightly to 11.0% from 11.5% and slightly above market expectations. Core prices increased 0.4% on the month with the year-on-year increase at 8.8% from 9.6% previously and marginally below expectations of 8.9%.
Initial jobless claims increased slightly to 203,000 in the latest week from a revised 202,000 the previous week and above forecasts of 195,000 while continuing claims declined to 1.34mn from 1.39mn previously.
Fed's Powell backs 50 basis-point hikes
Fed Chair Powell was confirmed by the Senate for a second term and reiterated that he was firmly committed to bringing inflation back under control. He added that it was still appropriate at this stage to increase rates by 50 basis-points at the next two meetings, although the central bank will be adaptive. He did warn over the risk of a hard landing, especially with factors outside the Fed's control.
Wall Street volatility continues
US equities were again subjected to very choppy trading on Thursday with frequent changes in direction as fears and bargain hunting clashed.
The main indices did rebound in the final hour of trading which prevented the S&P 500 index technically entering bear-market territory and futures were able to make limited headway on Friday.
Risk appetite attempts to recover
US bond yields moved lower again on Thursday with an element of defensive demand for Treasuries as risk appetite dipped again.
The 10-year yield retreated to 2.85% before a recovery to 2.88% with the easing of upward pressure triggering a slight recovery in risk appetite, especially with Wall Street recovering slightly.
Cryptocurrencies attempted to recover ground after sharp losses with bitcoin back above $30,000.
China concerns persist
There were further concerns over the outlook for the Chinese economy with the authorities mandating Beijing residents to stay at home for three days for testing. There are also further difficulties in Shanghai as lockdowns continue with key manufacturers having to suspend production.
USD/CHF above parity
USD/CHF broke above the parity level on Thursday for the first time since December 2019 and held above this level on Friday with a three-year high.
Ramsden says UK rates have not peaked
Bank of England Deputy Governor Ramsden stated that the bank had not gone far enough yet in terms of tightening monetary policy. He also considered that there are upside inflation risks over the medium term with stronger than expected pressures from rising wages. He did, however, consider that the rate hikes seen already were having an impact.
Data Today
15.00: US University of Michigan consumer confidence
Key events over the next week
May 16th: Bank of England Treasury Select Committee testimony
May 17th: US retail sales
May 17th: Fed Chair Powell speaks
May 18th: UK consumer prices
May 19th: Australia labour-market report
Gun to head challenge – Update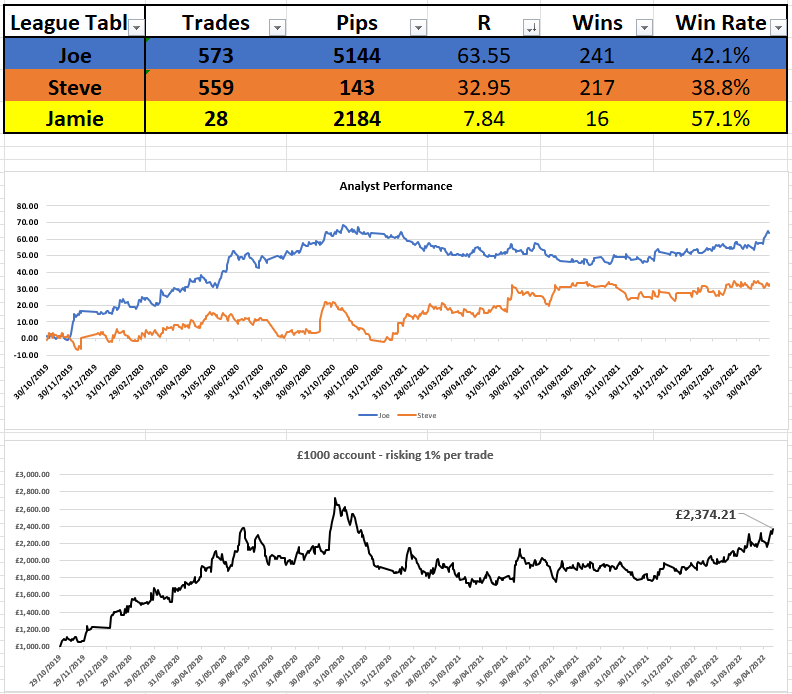 Today's trade idea

Have a great week everyone.
Get award-winning FCA regulated signals and levels on over 30 markets, as well as education resources so you never trade alone.