Good morning and welcome to episode 422 of 'Talking Bull'. In this video/podcast we cover the main headlines and what to expect from the day ahead. 
We take a technical look at key markets that are likely to be impacted by today's events. Also, we participate in a 'Gun to the head' challenge where each of us calls a live trade. These will expire at 9pm tonight and we will keep track of the progress over time.
We hope you enjoy it!
Join us on Telegram for more content – https://t.me/SCFree
Show notes:
Joe made 0.05R on DAX Yesterday.
We have included an illustration based on a £1000 account. This will follow the combined return of our morning trades by risking 1% of the trading capital per trade. The 1% risk is a variable monetary amount and will rise and fall based on the success of the calls.
We are currently up 101.05% collectively since we began recording Talking Bull on the 30th October 2019.
News
Netflix reckons customers are watching less TV than they did a year ago, reporting its worst first-half subscriber growth since 2013. The company has suffered a slowdown after pandemic lockdowns sent its membership soaring in 2020. The service has had fewer big shows to offer in the first half of this year, due in part to production delays in the early months of the pandemic. The audience for two of its most popular shows, the caper drama "Lupin" and the reality dating program "Too Hot to Handle," fell from previous seasons. The stock recovered in post market trading after initially falling about 7%.
European stocks saw small gains Tuesday following their worst day in seven months as investors considered whether the spread of Covid-19 mutations could derail a rebound in economic growth and corporate earnings. As for today, Asian stocks pared gains and European and U.S. equity futures wavered. The rally in Treasuries has paused after bond yields dipped this week as delta mutation fears sent traders rushing to pare back bets on Federal Reserve rate hikes. One bull's 1% yield forecast is looking more realistic.
It was a blockbuster night from former top U.K. government aide Dominic Cummings, who made a series of revelations about the running of Downing Street to the BBC, while also elaborating on his Barnard Castle eye test and admitting he has doubts about Brexit. In latest pandemic news in Britain, the government has insisted it's crucial people isolate when told to do so by the National Health Service mobile app, after a minister suggested that people could choose to ignore the advice. The U.K.'s great unlocking isn't going quite as smoothly as planned.
Asian markets have trailed their Western counterparts, with a somewhat less impressive rebound overnight. Nevertheless, aside from the Hang Seng, the session did provide a rebound for stocks in the region. That comes off the back of a sharp recovery in US stocks, with the Dow achieving an impressive 550 point increase over the course of the session.
Overnight data saw Australian retail sales post the worst figure in eleven-months, with the monthly contraction of 1.8% highlighting the impact of regional Covid lockdowns. Meanwhile, the BoJ committed to add further easing down the line if circumstances required it. This is in stark contrast to the recent central bank theme of preparing for tapering if inflation continues to rise.
The UK comes into focus following news that the government seeks to renegotiate a host of terms agreed under the Brexit deal. Under their proposed "wholesale change of approach", Lord Frost hopes to eliminate the Irish Sea border checks due to come into place in January. Looking ahead, US crude inventories data provides the main event of note.
It's a busy earnings day on both sides of the Atlantic. In Europe, carmaker Daimler, drug firm Novartis, tech group SAP and Dulux paint company Akzo Nobel are among the big names reporting, while in the U.S., consumer and pharmaceuticals group Johnson & Johnson, drinks-maker Coca-Cola and communications giant Verizon all report.
Elsewhere, Tesla boss Elon Musk, investor Cathie Wood and Twitter's Jack Dorsey will all be discussing Bitcoin at an event called "The B Word," with the cryptocurrency languishing around $30,000.
Data Today
3.30pm – US EIA crude oil inventories (w/e 16 July): stockpiles rose by 1 million barrels in the previous week. Markets to watch: Brent, WTI
Gun to head challenge – Update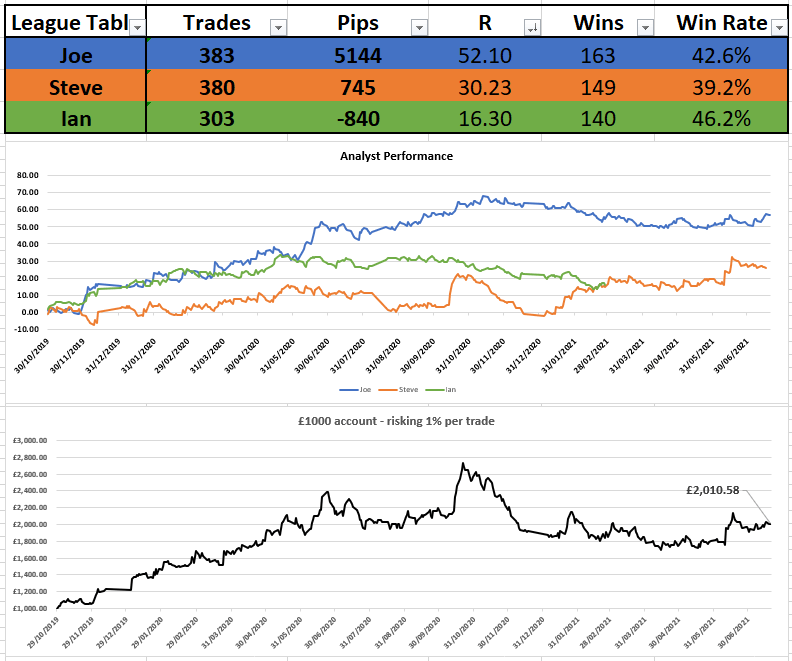 Today's trade idea

Have a great week everyone.
Get award-winning FCA regulated signals and levels on over 30 markets, as well as education resources so you never trade alone.