We are delighted to announce that Signal Centre's own Steve O'Hare has been awarded 'Best Multi-Asset Research' recognition from The Technical Analyst.
The Technical Analyst (TA) Awards are the financial market's most comprehensive and highly-respected awards designed exclusively for banks, research houses, and vendors in the global finance tech community. They celebrate the best in research, data, software and artificial intelligence for financial service markets, and this year they are celebrating Signal Centre Senior Analyst, Steve O'Hare.
Steve O'Hare is proud to be named a joint recipient of TA's 2022 'Best Multi-Asset Research Award.' He shares his win with RBC Capital Market's Chief Technical Strategist, George Davis. They were selected above world-class finalists including Futurestechs, Go-TechniKAL Insight, Paradigm Capital, RW Advisory, and Trading Central.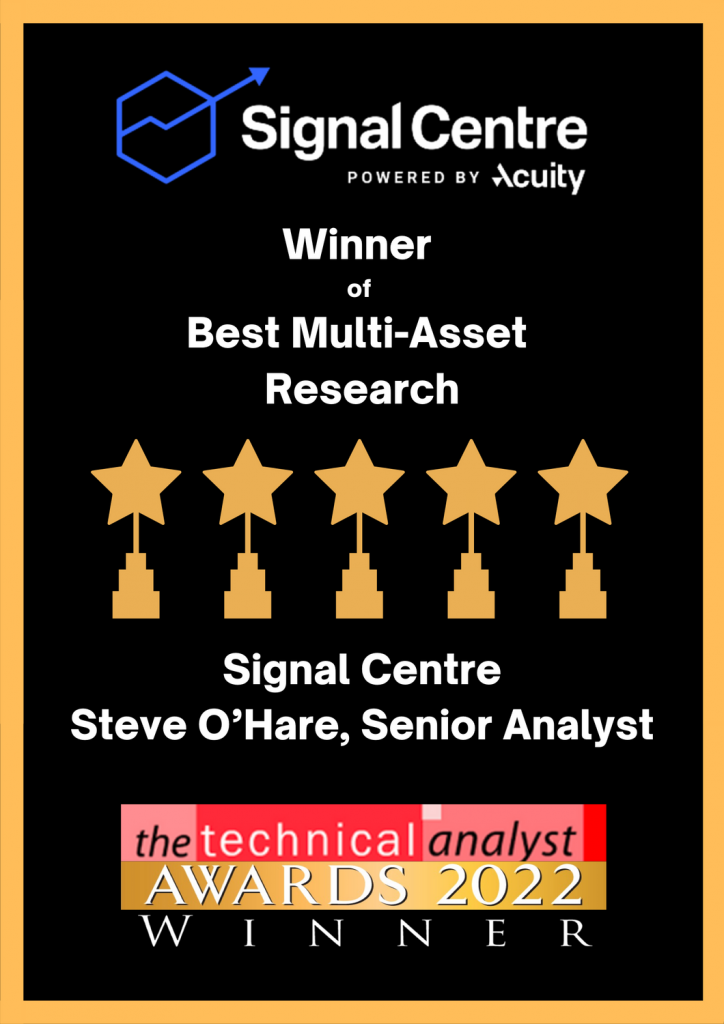 Along with this win, Signal Centre had the honour of being shortlisted as a finalist for TA awards in 'Best FX Research,' 'Best Commodities Research,' 'Best Cryptocurrency Research,' and 'Best Technical Analysis Platform.'
2022 has marked the 14th year of the Technical Analyst awards, which continue to attract participation from hundreds of banks, research houses and software companies across the globe. An independent panel of financial services and software experts form the TA judging panel. This year's judges included Alex Spiroglou, Robin Griffiths, Urban Jaekle, Rashpal Sohan, Markus Wachter, Charles Morris, Shawn Keel, Guido Riolo, John J. Letizia, Lawrence Sharpe, and Giovanni Trombetta.
Steve O'Hare is no stranger to industry recognition for his leading-edge research work in commodities and equity indices. He has previously been awarded a distinction by the Society of Technical Analysts which he holds along with recognition in Global Financial Compliance from the Chartered Institute for Securities and Investments. This award marks Signal Centre's ongoing regard as a global leader and central place for trading analysis & trade idea provision.