Good morning and welcome to episode 420 of 'Talking Bull'. In this video/podcast we cover the main headlines and what to expect from the day ahead. 
We take a technical look at key markets that are likely to be impacted by today's events. Also, we participate in a 'Gun to the head' challenge where each of us calls a live trade. These will expire at 9pm tonight and we will keep track of the progress over time.
We hope you enjoy it!
Join us on Telegram for more content – https://t.me/SCFree
Show notes:
Joe was stopped out on EURGBP.
We have included an illustration based on a £1000 account. This will follow the combined return of our morning trades by risking 1% of the trading capital per trade. The 1% risk is a variable monetary amount and will rise and fall based on the success of the calls.
We are currently up 100.90% collectively since we began recording Talking Bull on the 30th October 2019.
News
Just as England celebrated the lifting of nearly all pandemic-related restrictions, U.S. authorities warned Americans against visiting the U.K., citing a surge in cases that puts even fully vaccinated travelers at risk for contracting and spreading coronavirus variants. With a travel alert of "very high,'' the U.S. Centers for Disease Control and Prevention advise any travelers to the U.K. should wear masks and observe social distancing. The Biden administration has been deliberating the lifting of a ban on travel from Europe — in light of the overnight decision on the U.K., don't hold your breath.
Investment strategists are starting to consider a new bearish scenario: the economy has already hit its speed limit. With the ferocious spread of Covid-19's delta variant and central banks already talking about tighter monetary policy to bring inflation under control, there's a sense of worry that financial markets have become too optimistic. The shift in narrative is evident across assets: the S&P 500 sank the most since May on Monday and benchmark Treasury yields tumbled to the lowest level since February. Stocks slipped again in Asia Tuesday but the fall was orderly.
As the first major European bank to post results this mid-year earnings season, UBS just announced better-than-expected second quarter profit. It added $25 billion in new fee-generating assets in wealth management, taking advantage of rising client activity and soaring markets. In the current quarter, the bank expects its revenue to be influenced by seasonal factors including lower client activity. Nine months into his tenure, Chief Executive Officer Ralph Hamers is benefiting from bouyant markets and client demand after the lender's pivot away from investment banking to the more stable business of wealth management.
A selloff in Bitcoin accelerated Tuesday, pushing it below $30,000 for the first time in about a month. Other virtual currencies also retreated, including Ether and meme token Dogecoin. The Bloomberg Galaxy Crypto Index was down about 4%. The retreat comes amid a broader risk-off environment that's also seen global equities fall due to fears of slowing economic growth and the relentless spread of the delta variant of Covid-19. Some traders had viewed $30,000 as a key support that, if breached, could open the way to more losses.
European stock futures are pointing up as the drop in global stocks, prompted by the spread of the delta variant, moderated in Asian trading. There's a busy day of potential catalysts in the corporate world, with earnings from Electrolux and Volvo in Europe, along with trading updates from EasyJet, CVS, Anglo American, Remy Cointreau and Ubisoft. In the U.S., Netflix's second-quarter earnings are the highlight. And Amazon founder Jeff Bezos is heading to space, as he blasts off today onboard his Blue Origin spacecraft.
Asian markets have maintained the pessimistic tone exhibited throughout the European and US sessions yesterday, with fears around the spread of the Delta variant dampening hopes that vaccination efforts will do enough to stave off another lockdown. The volatility index rose to a two-month high off the back of that selloff, with the US 10-year yield tumbling back below 1.2% for the first time since February.
Havens understandably have found support, with the dollar and yen enjoying gains throughout the FX market. Overnight minutes from the RBA showed a cautious approach, with the committee committing to a flexible approach in the face of continued uncertainty. Meanwhile, Japanese inflation saw core CPI rise to 0.2% in comparison to a hear ago.
The economic calendar looks thin on the ground, with things only really picking up on Thursday with the ECB monetary policy decision.
Data Today
1.30pm – US housing starts & building permits (June): starts to fall 1% and permits to rise 0.5% MoM. Markets to watch: USD crosses
Gun to head challenge – Update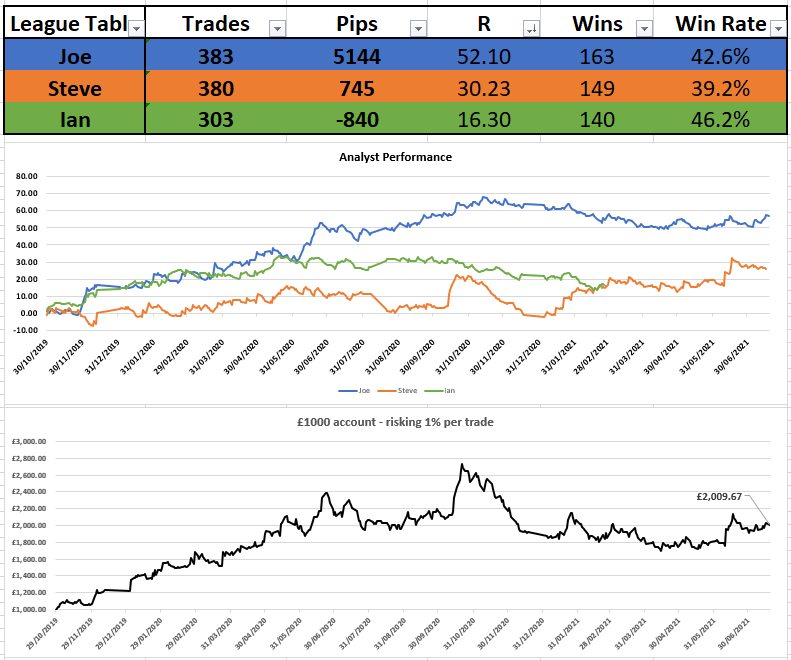 Today's trade idea

Have a great week everyone.
Get award-winning FCA regulated signals and levels on over 30 markets, as well as education resources so you never trade alone.