Sterling dipped sharply
Posted: 13th March 2019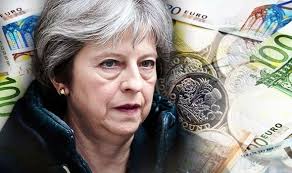 Daily market report March 13th 2019
Market highlights
Sterling dipped sharply after the UK Attorney General failed to change his legal verdict on the Brexit deal. The government lost the key vote, intensifying political uncertainty.
US CPI inflation data was benign which curbed potential dollar demand and US yields declined with expectations of a dovish Fed policy.
EUR/USD made net headway despite European political concerns.
The US inflation data also underpinned global risk appetite, although the mood was more cautious in Asia on Wednesday as global growth concerns and trade uncertainty persisted.
Oil prices were supported by supply factors and an unexpected API inventory draw.
Precious metals made headway, especially with a softer US dollar tone as gold regained $1,300 per ounce.
EUR/USD
ECB sources suggested that the central bank was unlikely to decide on the final TLTRO structure before June. German yields moved lower during the day which limited currency support. Political considerations were also significant with the Euro dipping lower as Sterling retreated sharply on increased expectations that the Withdrawal Agreement would be rejected, although there was buying support on dips and EUR/USD held above 1.1250 into the New York open.
US consumer prices increased 0.2% for February which was in line with consensus forecasts while the year-on-year increase of 1.5% was slightly below market expectations of 1.6% and the lowest reading for over two years. Core prices increased 0.1% compared with expectations of 0.2% with the year-on-year rate at 2.1% from 2.2%. The benign data reinforced expectations that the Federal Reserve could be patient on monetary policy and leave interest rates on hold in the short term.
The dollar edged lower following the data and gradually lost ground against commodity currencies as global risk appetite held firm as US yields declined. EUR/USD moved to highs just above 1.1300, although it was unable to hold above this level as the US currency secured a tentative recovery on Wednesday as European political stresses persisted.
USD/JPY
US Treasuries regained ground following the US CPI data which limited potential dollar support with an initial USDJPY retreat to the 111.10 area from earlier highs above 111.40, although overall dollar selling was limited.
Overall risk appetite held firm during New York session, however, which curbed potential yen support on the crosses and the dollar regained ground as the Euro secured a significant advance against the Japanese currency despite political concerns.
In this environment, the US currency was resilient despite a decline in the 10-year bond yield to 2-month lows near 2.60%.
Japanese machinery orders data recorded a core decline of 5.4% for January compared with market expectations of a 1.5% decline, reinforcing concerns over the domestic and regional manufacturing outlook with wider growth concerns.
Overall risk conditions were more fragile during Asian trading on Wednesday with a retreat in regional equities, although the yen was unable to make significant headway as USD/JPY held around 111.30.
Sterling
Firm UK data had very little impact as political events dominated. Manufacturing output registered a 0.8% January increase after a 0.7% December slide while January GDP recovered 0.5% for a year-on-year increase of 1.4% from 1.0% previously.
Sterling initially corrected after sharp gains and losses accelerated rapidly following publication of the Attorney General's legal advice. Cox stated that the overall legal risks of being trapped in a backstop had declined, but still existed. The statement increased expectations that the House of Commons would not back the government's deal and GBP/USD declined sharply to lows near 1.3000 with EUR/GBP near 0.8650. There was, however, a notable rally early in the New York session in very volatile conditions.
Prime Minister May lost the Brexit deal vote by a margin of 149 as the Northern Irish DUP and over 70 Conservative MPs again voted against the deal. Sterling registered net losses, although the impact was lessened by expectations that a 'no-deal' outcome would be rejected in Wednesday's vote. GBP/USD consolidated around 1.3100 with EUR/GBP around 0.8615 with markets braced for further very choppy trading given extremely high political uncertainty.
Swiss franc
The Swiss currency was able to resist further selling pressure on political grounds during Tuesday as optimism over Brexit developments faded quickly once again.
The franc, however, failed to gain significant support from lower bond yields while underlying risk appetite held firm.
USD/CHF retreated to the 1.0065 area while EUR/CHF rallied to the 1.1375 area. The Swiss currency drew an element of support from a rejection of the Brexit deal, although there were no major moves with USD/CHF consolidating around 1.0075.
AUD/USD + USD/CAD
The Australian dollar was little changed ahead of the New York open before gaining some ground during the New York session as the benign US inflation data and a softer dollar was compounded by firm risk appetite with AUD/USD strengthening to around 0.7090.
Domestic data recorded a sharp decline in consumer confidence and risk conditions were more fragile during Asian trading which hampered the Australian currency with AUD/USD retreating to near 0.7050.
The Canadian dollar was also underpinned by firm risk conditions during Tuesday with gains in oil prices also supportive and USD/CAD retreated to the 1.3350 area.
There was little change on Wednesday as firm oil prices limited a USD/CAD recovery.
NOK+ SEK
Swedish consumer prices increased 0.7% for February with the year-on-year rate unchanged at 1.9% compared with consensus forecasts of 2.0%. The core rate declined slightly to 1.9% from 2.0% and below expectations of 2.0%.
The data dampened expectations of further Riksbank tightening this year, although the impact was limited given that a dovish central bank policy has already been priced in.
EUR/SEK consolidated around 10.57 with USD/SEK above 9.35.
The Norwegian krone gained support from higher oil prices and there was also residual support from Monday's firm inflation data. The latest manufacturing survey data was also robust, although the krone gained only limited ground with EUR/NOK settling around 9.74.
There was little change on Wednesday with USD/NOK holding above 8.60.
Equities
Euro-zone equities opened higher, but drifted lower later in the session as political concerns triggered increased caution and global momentum also faded.
The Eurostoxx 50 index registered marginal losses with only the French CAC index able to secure slight gains on the day.
The FTSE 100 index secured notable protection from sharp Sterling losses, although underlying gains were still limited as political uncertainty sapped sentiment with a 0.3% daily gain.
US equities were boosted by the benign inflation data and a decline in yields, although growth uncertainty curbed buying support. The S&P 500 index gained 0.3%, although Boeing again dragged the Dow index lower.
There was a more cautious tone in Asia on Wednesday as markets had already moved to price in a more optimistic outlook. Trade uncertainty also persisted and risk conditions were slightly more fragile.
Japan's Nikkei 225 index declined 1.0% while the Australian ASX index retreated 0.2%.
China's Shanghai index closed 1.1% lower with a 0.5% decline for the Hong Kong Hang Seng index in late trading.
Commodities
Oil prices continued to draw support from positive rhetoric by Saudi Arabian officials on the need to maintain production cuts with on-going disruption in Venezuela a positive factor.
Positive risk appetite also underpinned crude, especially with a weaker US dollar. WTI pushed above $57.0 p/b with a peak near $57.50, although there was selling interest on rallies.
API data registered a 2.6mn barrel decline in inventories which underpinned crude, especially with a big draw in gasoline.
WTI was able to hold above $57.0 p/b on Wednesday around $57.25 p/b with Brent trading around $66.95 p/b after hitting resistance above $67.0.
Although gold was hampered by firm risk conditions, the impact was more than offset by a softer dollar and there was a move to test the $1,300 per ounce level.
Gold traded above this level on Wednesday amid a more fragile risk tone. Silver was able to secure limited net gains to the $15.45 per ounce area.
Cryptocurrencies
Bitcoin moved higher in early Europe on Tuesday with support on approach to the $3800 level and move to around $3880 while helped underpin wider cryptocurrency sentiment.
There was, however, no move to test the $3900 area with markets unable to break technical levels and narrow ranges then prevailed with consolidation just above $3850.
Gold was more successful in attracting defensive support and bitcoin under-performed slightly against smaller coins.
Ether peaked below $140 and consolidated near $135 on Wednesday.
Calendar
Major events for the day ahead: (times in GMT)
12.30: US durable goods orders
12.30: US Producer prices
19.00: UK Brexit vote