Good morning and welcome to episode 740 of 'Talking Bull'. Here are the latest headlines today, Euro-Zone inflation declines, US job growth slows, Powell confirms slower pace of rate hikes, US yields decline and Hints of BoJ shift.
We take a technical look at key markets that are likely to be impacted by today's events. Also, we participate in a 'Gun to the head' challenge where each of us calls a live trade. These will expire at 9pm tonight and we will keep track of the progress over time.
We hope you enjoy it!
For a selection of free educational content, join our Discord server at – https://discord.gg/Db4UWVFvF6
Show notes:
Joe was stopped out on GBPNZD and Steve was stopped out on FTSE.
We have included an illustration based on a £1000 account. This will follow the combined return of our morning trades by risking 1% of the trading capital per trade. The 1% risk is a variable monetary amount and will rise and fall based on the success of the calls.
We are currently up 213.14% collectively since we began recording Talking Bull on the 30th October 2019.
News
Euro-Zone inflation declines
The headline Euro-Zone CPI inflation rate declined to 10.0% for November from 10.6% previously and below consensus forecasts of 10.4%.
The underlying rate held at 5.0% which was in line with market expectations.
US job growth slows
US ADP data recorded an increase in private-sector payrolls of 127,000 for November after a 239,000 increase the previous month and below consensus forecasts of 190,000. Wages increased 7.6% in the year, a slight slowdown from 7.7% the previous month.
Powell confirms slower pace of rate hikes
Fed Chair Powell stated that it makes sense to moderate the pace of rate hikes and that this could be as soon as the December meeting. He did add that it was likely that the terminal rate would be somewhat higher than expected in September, but this element had already been priced in.
According to Powell, the October inflation data was a welcome surprise, but it will require much more evidence to give reassurance.
He added that a slowing of the economy is a good way to balance risks and restrictive policy will be needed for a considerable period. Powell added that he did not want to over-tighten, but cutting rates is not something he intends to do anytime soon
US yields decline
Powell's comments overall were seen as relatively dovish with no major hawkish elements or push-back against market expectations. US yields declined following the comments with the 10-year yield retreating to 8-week lows near 3.60%.
Surge in risk appetite
Global risk appetite also surged following Powell's comments with strong gains on Wall Street. In this context, there were strong gains for risk assets.
Slide in Chicago PMI index
The Chicago PMI manufacturing index declined sharply to 37.2 for November from 45.2 previously which was below consensus forecasts of 47.0 and the lowest reading since June 2020. Orders declined sharply on the month, reinforcing reservations over the manufacturing outlook.
Hints of BoJ shift
Bank of Japan member Noguchi stated that monetary easing must be maintained, but the timing of an exit could be brought forward depending on data.
Dollar dips sharply
The dovish interpretation of Powell's comments and lower yields were important in pushing the dollar lower and there was further selling in Asia with USD/JPY sliding to 3-month lows and the overall dollar index just above 15-week lows.
Data Today
13.30: US PCE prices index
13.30: US jobless claims
15.00: US ISM manufacturing index
Key events over the next week
December 2nd: US employment report
December 2nd: Canada employment report
Gun to head challenge – Update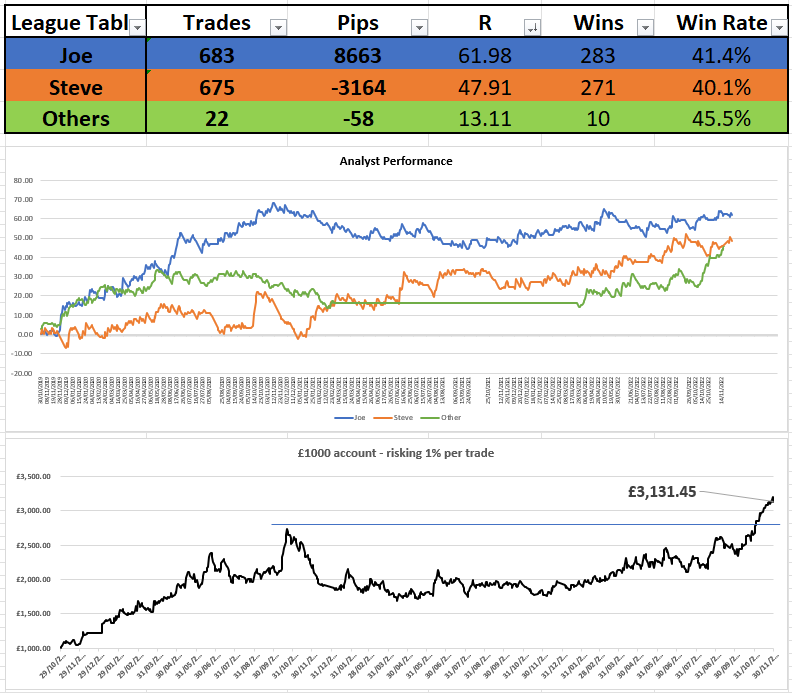 Today's trade idea

Have a great week everyone.
Get award-winning FCA regulated signals and levels on over 30 markets, as well as education resources so you never trade alone.