Good morning and welcome to episode 460 of 'Talking Bull'. In this video/podcast we cover the main headlines and what to expect from the day ahead. 
We take a technical look at key markets that are likely to be impacted by today's events. Also, we participate in a 'Gun to the head' challenge where each of us calls a live trade. These will expire at 9pm tonight and we will keep track of the progress over time.
We hope you enjoy it!
Join us on Telegram for more content – https://t.me/SCFree
Show notes:
Joe made 1.22R on S&P 500 yesterday.
We have included an illustration based on a £1000 account. This will follow the combined return of our morning trades by risking 1% of the trading capital per trade. The 1% risk is a variable monetary amount and will rise and fall based on the success of the calls.
We are currently up 95.64% collectively since we began recording Talking Bull on the 30th October 2019.
News
Surging energy prices are gripping Europe, leading to two energy suppliers that service more than half a million customers in the U.K. going out of business. Utility Point and People's Energy announced Tuesday it would stop operating — the latest of recent failures at challenger suppliers as power and gas prices climb to record highs. In Italy, the government is planning to use public funds to tackle soaring energy prices, adding to government measures across Europe.
The U.K. government is facing calls for a looser immigration policy as a labor shortage is threatening the post-pandemic recovery. Nine out of 10 members of the Recruitment & Employment Confederation list the shortage of workers as one of their biggest concerns for this year, with the government so far resisting the easing of rules for blue-collar hires. It comes as parliament voted through a hike to taxes paid by workers and their employers to finance health care.
Infections from animals carrying coronaviruses may infect hundreds of thousands of people a year, according to a study focusing on the ongoing threat of pandemics. Most infections, which can amount to about 400,000 each year, go unrecognized but each spillover can cause the next pandemic, based on researchers with the EcoHealth Alliance and Singapore's Duke-NUS Medical School. Meanwhile, the effects of the current Covid-19 pandemic are far from over, with China's economy weakening further in August after virus controls curbed consumer spending and travel.
The pace of consumer price rises in the U.S. cooled in August as inflation prints come in lower than expected Thursday. The figures are key for Federal Reserve policy makers who will debate next week on how and when to begin tapering asset purchases, with a potential decision bound to affect markets globally. The number was initially seen as taking pressure off the central bank to act, with bond traders pushing off bets on the start of asset-purchase tapering.
European stocks look set to defy the selloff in the U.S. and Asia, where investors were rattled by weak Chinese economic data and the second North Korean missile test in less than a week.
Overnight data from China continues to hang over markets, after retail sales and industrial production both grew at a slower than expected pace. US markets retraced their gains from yesterday, while in Asia the Nikkei fell sharply, but both the Shanghai Composite and the ASX 200 both made headway.
In the UK inflation rose to 3.2% YoY in August, the highest level since 1997, as food prices caused a sharp rise in the overall price index.
Questions over whether these price increases are temporary will dominate the day, after US CPI recorded an increase of 0.3% month-on-month yesterday. Overall September continues to be a mixed period for markets; Friday's options expiry continues to loom large, with volatility expected to continue until then.
Data Today
1.30pm – Canada CPI (August): prices rose 3.7% in July. Markets to watch: CAD crosses
1.30pm – US Empire State mfg index (September): index rose to 18.3 in August. Markets to watch: USD crosses
3.30pm – US EIA crude oil inventories (w/e 10 September): coming off the back of a higher than expected -1.529M reading last week. Markets to watch: crude oil, CAD crosses.
Gun to head challenge – Update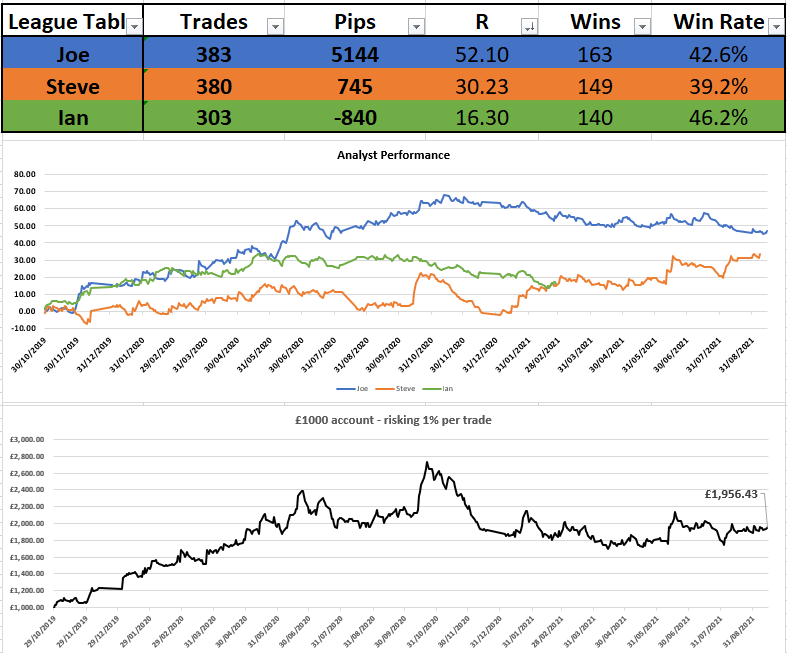 Today's trade idea

Have a great week everyone.
Get award-winning FCA regulated signals and levels on over 30 markets, as well as education resources so you never trade alone.