Good morning and welcome to episode 803 of 'Talking Bull'. Here are the latest headlines today, Strong US payrolls, US unemployment rate edges higher, SVB collapse dominates markets, Fed and Treasury ride to the rescue, SVB UK also saved, Big shift in Fed Expectations, Dollar dips sharply, Canadian jobs increase, Fed meeting Monday & US inflation data Tuesday.
We take a technical look at key markets that are likely to be impacted by today's events. Also, we participate in a 'Gun to the head' challenge where each of us calls a live trade. These will expire at 9pm tonight and we will keep track of the progress over time.
We hope you enjoy it!
For a selection of free educational content, join our Discord server at – https://discord.gg/Db4UWVFvF6
Show notes:
Joe was stopped out on USDCHF. Steve hit target on Gold for a 2.17R win.
We have included an illustration based on a £1000 account. This will follow the combined return of our morning trades by risking 1% of the trading capital per trade. The 1% risk is a variable monetary amount and will rise and fall based on the success of the calls.
We are currently up 194.72% collectively since we began recording Talking Bull on the 30th October 2019.
News
Strong US payrolls, US unemployment rate edges higher
US non-farm payrolls increased 311,000 for February compared with consensus forecasts of around 200,000 and there was only a small downward revision for January to 504,000 from the original reading of 517,000. There was a small decline in manufacturing jobs for the month and a net decline in transport and warehousing employment, but there were further strong gains in retail and leisure. The government sector also posted a further 46,000 increase.
According to the household survey, the unemployment rate increased to 3.6% from 3.4% and above expectations of 3.4% with the increase in employment held to 144,000 amid a slight increase in the participation rate.
Average hourly earnings increased 0.2% compared with expectations of 0.3%, although the annual increase was 4.6% from 4.4% previously.
SVB collapse dominates markets
The Silicon Valley Bank (SVB) developments remained a key element with California regulators shutting the bank down on Friday.
New York Signature Bank was also shut down over the weekend.
The collapse increased fears over contagion in the financial sector and triggered a sharp decline in risk appetite with heavy losses in equities, especially given the high value of uninsured deposits.
Fed and Treasury ride to the rescue
Over the weekend, the US Treasury and Federal Reserve announced that all deposits in SVB would be protected. The move triggered a strong rebound in risk appetite with a recovery in equities.
SVB UK also saved
At Monday's European open, the government also announced that SVB UK would be sold to HSBC which eased the UK contagion risks.
Big shift in Fed Expectations
Given increased fears over the financial sector, there were fresh doubts that Federal Reserve would be able to raise interest rates more aggressively.
The chances of a 50 basis-point rate hike this month were cut to just below 30% on Friday and were then priced out completely on Monday.
The US 2-year Treasury yields also collapsed to below 4.40% from 5.00% last week.
Dollar dips sharply
The slide in bond yields, shift in Fed expectations and a rebound in risk appetite triggered sharp dollar losses.
The dollar index overall dipped to 2-week lows on Monday.
Canadian jobs increase
Canadian employment increased 21,800 for February after a 150,000 increase the previous month and above expectations of 10,000.
Unemployment held at 5.0% and below expectations of 5.1%.
Fed meeting Monday
The Federal Reserve will hold a closed-door meeting on Monday to discuss the banking situation.
US inflation data Tuesday
The US consumer prices data will be released on Tuesday and the data will also be important for underlying expectations surrounding Federal Reserve policies.
Data Today
07.00 (Tues): UK labour market report
Key events over the next week
March 14th: US consumer prices
March 15th: UK budget statement
March 16th: ECB policy decision
Gun to head challenge – Update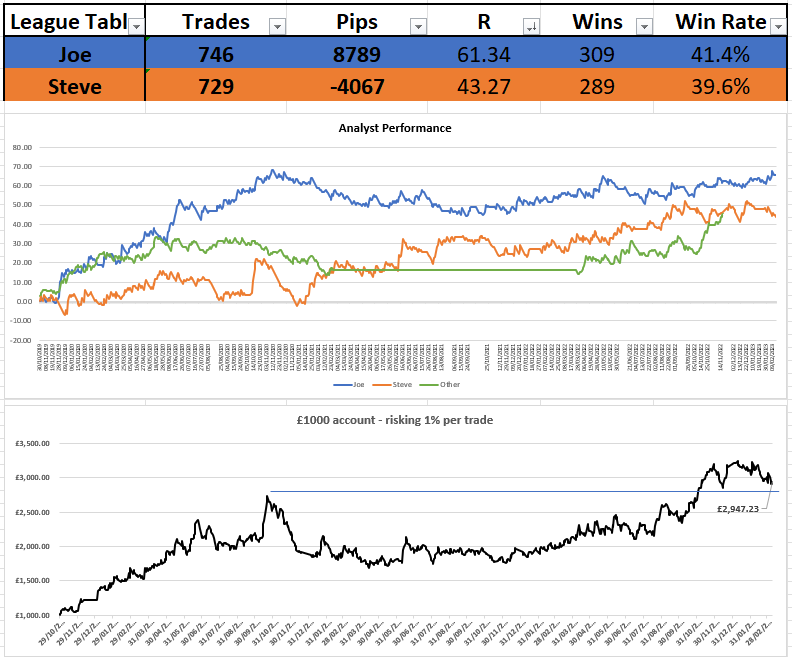 Today's trade idea
Have a great week everyone.
Get award-winning FCA regulated signals and levels on over 30 markets, as well as education resources so you never trade alone.