Video – Talking Bull – Big wins on precious metals!
Posted: 29th July 2020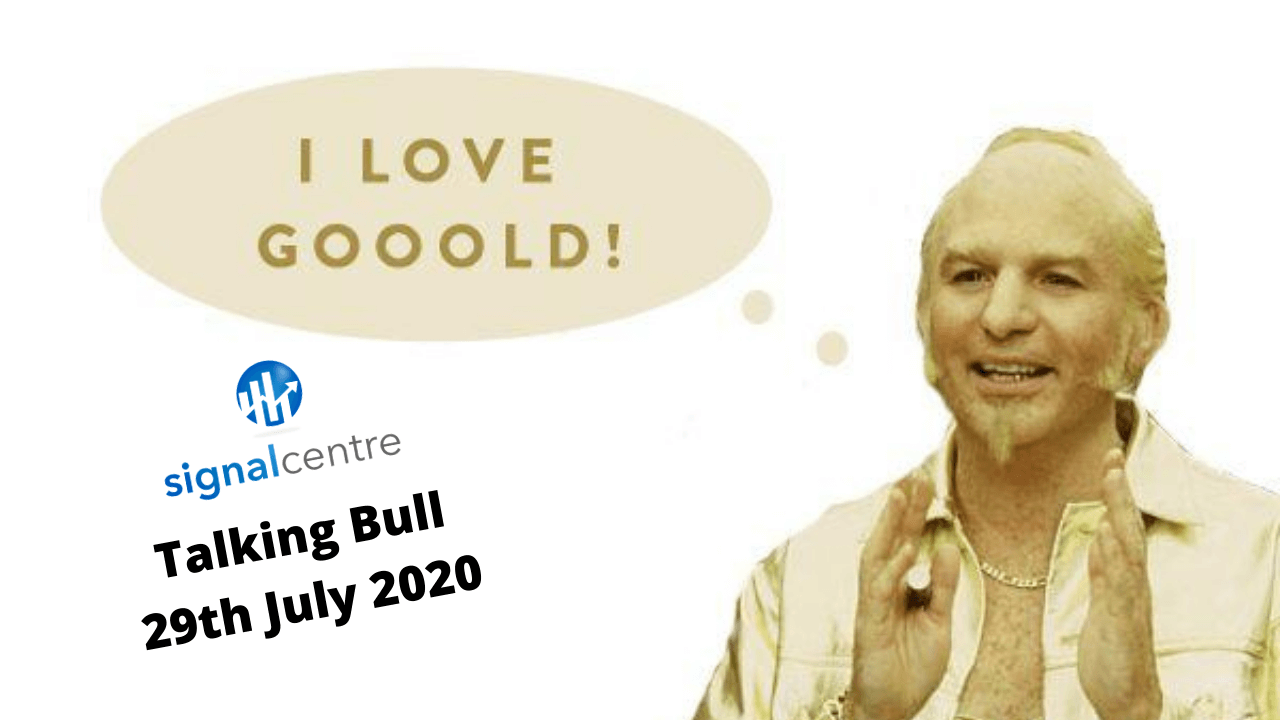 Good morning and welcome to episode 179 of 'Talking Bull'. In this video/podcast we cover the main headlines and what to expect from the day ahead.
We had big wins on our premium intraday analysis yesterday on Gold and Silver. Joe also bought Gold on the 'gun to head challenge', resulting in a great day all round.
We take a technical look at key markets that are likely to be impacted by today's events. Also, we participate in a 'Gun to the head' challenge where each of us calls a live trade. These will expire at 9pm tonight and we will keep track of the progress over time.
We hope you enjoy it!
Join us on Telegram for more content – https://t.me/SCFree
Show notes:
Joe ended his 10 trade losing streak with a much needed 4.42R win on Gold. Steve managed a 0.58R win on FTSE, while Ian has a small 0.32R loss on Dollar Index.
We have included an illustration based on a £1000 account. This will follow the combined return of our morning trades by risking 1% of the trading capital per trade. The 1% risk is a variable monetary amount and will rise and fall based on the success of the calls.
We are currently up 104.00% collectively since we began recording Talking Bull on the 30th October 2019. 
News
Another mixed affair for overnight markets saw Chinese stocks lead the gainers, while the Japanese Nikkei and Topix both lost over 1%. Australian stocks lost ground over the session, following a sharp decline in CPI inflation for Q2 (-1.9% from 0.3%). Much of today will be focused on the US, with traders continuing to hope they can reach an agreement over the potential coronavirus relief package that will keep the country on a steady course. Meanwhile, the FOMC meeting comes to a conclusion, with markets widely expecting them to lay the groundwork for future action as forward guidance takes precedence over tangible action.
With the dollar having seen intense selling of late, the dollar index has finally started to consolidate over the past 24-hours, with the FOMC likely to spark the next move. Gold and silver have seen significant volatility of late, yet we are seeing some consolidation take hold as we await the next move. Meanwhile, the earnings continue to come thick and fast, with the likes of Apple, Alphabet, Ford, and Mastercard amongst a whole plethora of names reporting, while big-tech CEOs will also appear in Washington to answer questions from lawmakers, providing further potential for volatility.
Data – Day ahead
3.30pm – US EIA crude inventories (w/e 24 July): previous week saw stockpiles rise by 4.9 million barrels. Markets to watch: Brent, WTI
7.00pm – FOMC rate decision: markets expecting no change, with focus on forward guidance likely to be the centre of a now accommodative stance. However, with Fed already firing on all cylinder, there will be a focus on looming risks and the need for further fiscal stimulus. Markets to watch: US indices, USD crosses
Today's trade ideas

Have a great week everyone.
Get award-winning FCA regulated signals and levels on over 30 markets, as well as education resources so you never trade alone.