Signal Centre – Talking Bull – 23rd June 2020
Posted: 23rd June 2020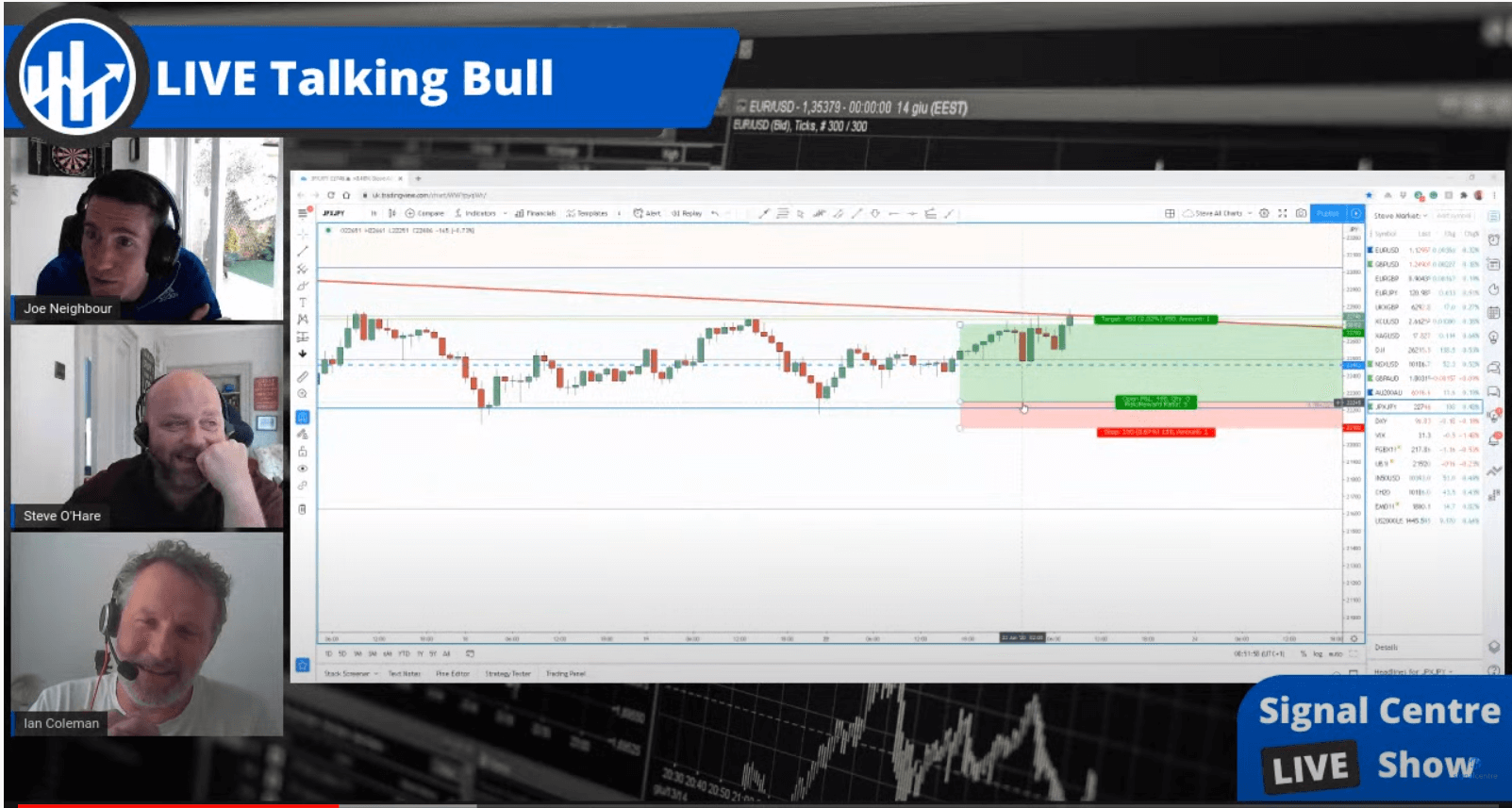 Good morning and welcome to episode 153 of 'Talking Bull'. In this video/podcast we cover the main headlines and what to expect from the day ahead.
We take a technical look at key markets that are likely to be impacted by today's events. Also, we participate in a 'Gun to the head' challenge where each of us calls a live trade. These will expire at 9pm tonight and we will keep track of the progress over time.
We hope you enjoy it!
Join us on Telegram for more content – https://t.me/SCFree
Show notes:
Wins across the board yeterday. Steve led the way with a 1.60R win on EURJPY, Joe was behind with a 0.5R win on Gold and Ian managed to close in positive territory at 9pm with a 0.01R win.
We have included an illustration based on a £1000 account. This will follow the combined return of our morning trades by risking 1% of the trading capital per trade. The 1% risk is a variable monetary amount and will rise and fall based on the success of the calls.
We are currently up 137.1% collectively since we began recording Talking Bull on the 30th October 2019. 
News
Asian markets managed to follow their US counterparts higher despite a bout of volatility overnight which brought major question marks over the US-China trade deal.
In the end it took Trump to clarify that the trade deal remained intact, following a sharp market decline that came after Trump's trade advisor Peter Navarro claimed that the US-China trade deal was 'over'.
Overnight data saw a sharp rebound in Australian PMI data for June, with services actually well back into growth territory at 53.2. A similar rebound for Japanese data saw their manufacturing PMI surge to 49.8, from 44.0.
Looking ahead, PMI data remains key, with figures released throughout the eurozone, UK, and US.
Data – Day ahead
8.15am – 9am – French, German, eurozone services & mfg PMI (June, flash): these are expected to continue their rebound from the weak readings earlier in the year. The eurozone figure is expected to see mfg rise to 48 from 39.4 and services to 41 from 30.5. Markets to watch: eurozone indices, EUR crosses
9.30am – UK mfg & services PMI (June, flash): mfg to rise to 48 from 40.7 and services to recover to 42 from 29. Markets to watch: GBP crosses
2.45pm – US mfg & services PMI (June, flash): mfg to rise to 49 from 39.8 and services to increase to 44 from 37.5. Markets to watch: US indices, USD crosses
3pm – US new home sales (May): sales to rise 3.5% MoM. Markets to watch: USD crosses
Gun to head trade ideas – Update
Today's trade ideas

Have a great week everyone.
Get award-winning FCA regulated signals and levels on over 30 markets, as well as education resources so you never trade alone.