Signal Centre – Talking Bull – 29th June 2020
Posted: 29th June 2020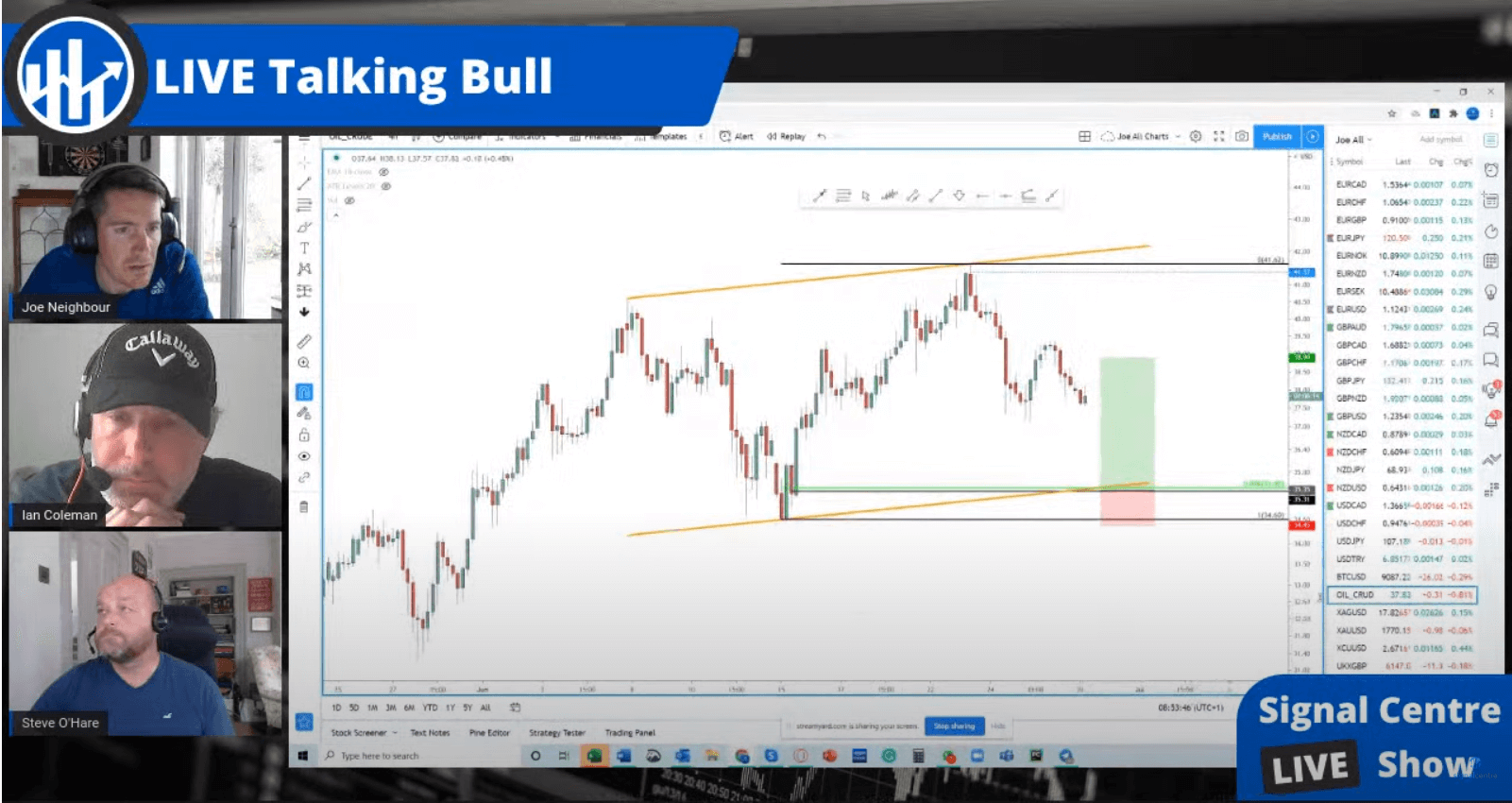 Good morning and welcome to episode 157 of 'Talking Bull'. In this video/podcast we cover the main headlines and what to expect from the day ahead.
We take a technical look at key markets that are likely to be impacted by today's events. Also, we participate in a 'Gun to the head' challenge where each of us calls a live trade. These will expire at 9pm tonight and we will keep track of the progress over time.
We hope you enjoy it!
Join us on Telegram for more content – https://t.me/SCFree
Show notes:
Stop outs across the board yesterday as we were all caught out by the choppy price action to end the week.
We have included an illustration based on a £1000 account. This will follow the combined return of our morning trades by risking 1% of the trading capital per trade. The 1% risk is a variable monetary amount and will rise and fall based on the success of the calls.
We are currently up 126.3% collectively since we began recording Talking Bull on the 30th October 2019. 
News
Asian markets have started the new week in predictably pessimistic fashion, with stocks in China and Hong Kong making up ground after Thursday and Friday's bank holidays.
Fears over a US-centric surge in coronavirus cases remains at the forefront of the collective investor mindset, with cases in the southern states surging given their early end of lockdown restrictions.
The big questions is how much can we actually open any economy before the virus spreads to a severe enough degree to once again limit economic activity. A busy week ahead brings plenty of economic action to sink our teeth into.
However, with the fears that this current easing of restrictions could only be temporary, will traders take any positive momentum with a pinch of salt?
Overnight data came in the form of Japanese retail sales, which marginally rose to -12.3% (from -13.9%) year-on-year. Looking ahead, an appearance from BoE governor Bailey, and US pending home sales are the most notable events to watch.
Data – Day ahead
10am – eurozone business confidence (June): forecast to rise to -2 from -2.4. Markets to watch: EUR crosses
1pm – German CPI (June, preliminary): prices to be flat YoY. Markets to watch: EUR crosses
3pm – US pending home sales (May): forecast to fall 16.2% YoY, an improvement over April's 33.8% drop. Markets to watch: USD crosses
Gun to head trade ideas – Update
Today's trade ideas

Have a great week everyone.
Get award-winning FCA regulated signals and levels on over 30 markets, as well as education resources so you never trade alone.