Video – Talking Bull – Printers go BRRRR….
Posted: 27th July 2020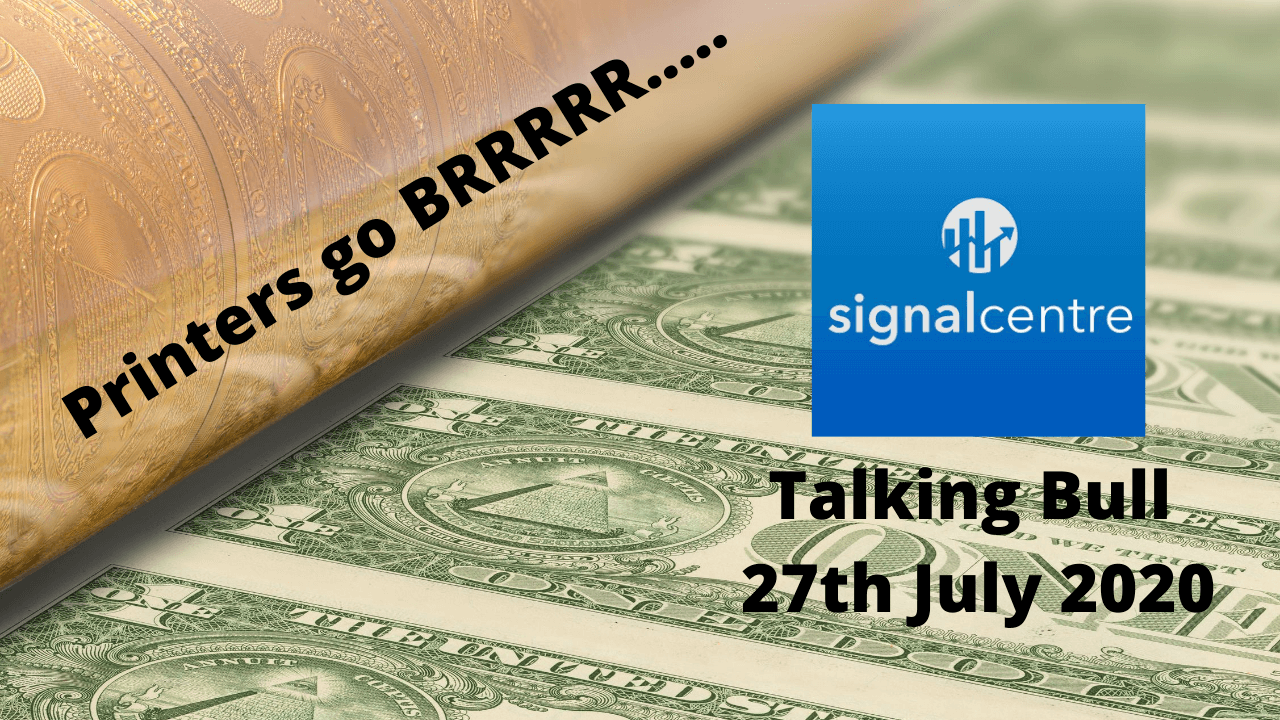 Good morning and welcome to episode 177 of 'Talking Bull'. In this video/podcast we cover the main headlines and what to expect from the day ahead.
We take a technical look at key markets that are likely to be impacted by today's events. Also, we participate in a 'Gun to the head' challenge where each of us calls a live trade. These will expire at 9pm tonight and we will keep track of the progress over time.
We hope you enjoy it!
Join us on Telegram for more content – https://t.me/SCFree
Show notes:
Stop outs for Joe and Ian on Oil and DAX. Steve managed to hold on to a win on Copper of 0.39R.
We have included an illustration based on a £1000 account. This will follow the combined return of our morning trades by risking 1% of the trading capital per trade. The 1% risk is a variable monetary amount and will rise and fall based on the success of the calls.
We are currently up 96.18% collectively since we began recording Talking Bull on the 30th October 2019. 
News
Asian markets reversed earlier gains, with China's CSI 300 down 0.3% and Hong Kong dropping 0.5%.
The main focus has been on the strength in gold, which has hit a new record high as inflows and a weaker dollar drive the price higher.
USD weakness comes as the market looks towards this week's FOMC meeting, although expectations of a fresh policy move are relatively low. Investors will also be watching for new stimulus proposals from House Republicans, with suggestions of $1200 cheques being given to workers that face the impending expiry of current financial assistance.
Looking to the rest of the day we have US durable goods orders for June, with no major US earnings expected today.
Data – Day ahead
1.30pm – US durable goods orders (June):orders expected to rise 5% MoM overall, and gain 4% excluding transportation. Markets to watch: US indices, USD crosses
Gun to head trade ideas – Update
Today's trade ideas

Have a great week everyone.
Get award-winning FCA regulated signals and levels on over 30 markets, as well as education resources so you never trade alone.