Video – Talking Bull – Can Joe end the 10 in a row?
Posted: 28th July 2020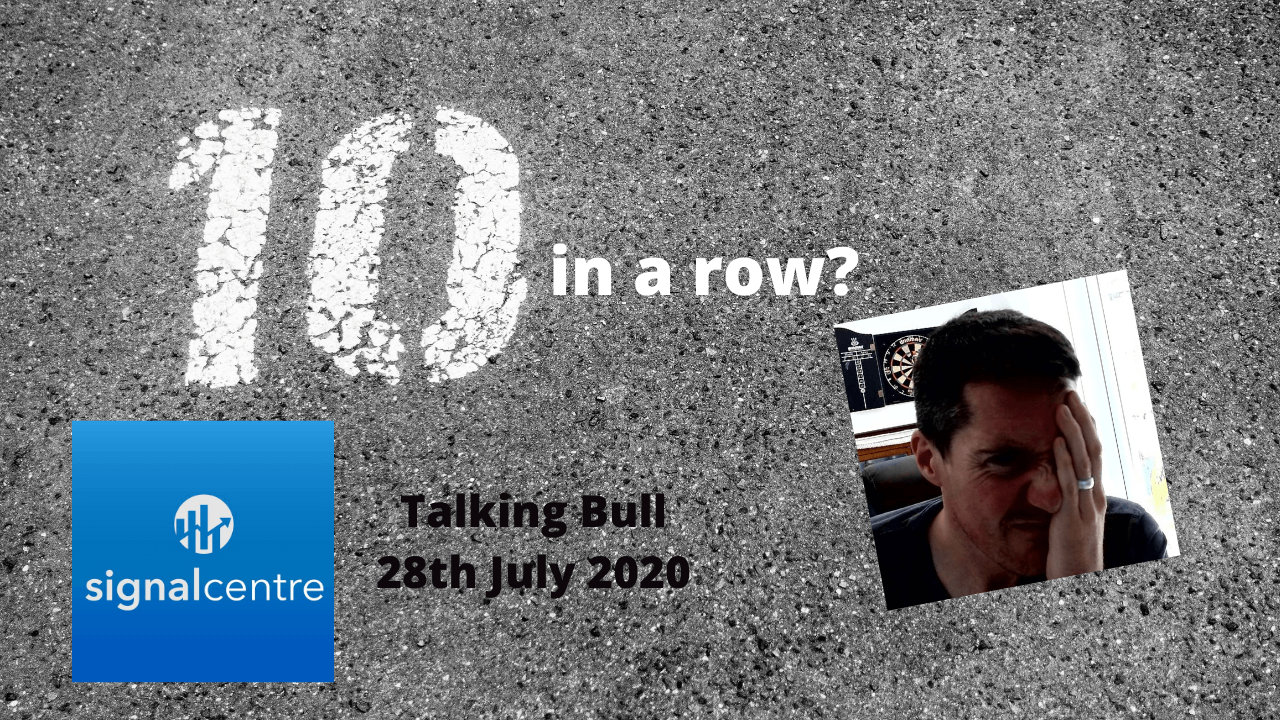 Good morning and welcome to episode 178 of 'Talking Bull'. In this video/podcast we cover the main headlines and what to expect from the day ahead.
We take a technical look at key markets that are likely to be impacted by today's events. Also, we participate in a 'Gun to the head' challenge where each of us calls a live trade. These will expire at 9pm tonight and we will keep track of the progress over time.
We hope you enjoy it!
Join us on Telegram for more content – https://t.me/SCFree
Show notes:
Small wins for Steve and Ian. 0.20R for Steve on his Nikkei trade and 0.14R for Ian on his NZDJPY trade. Joe was stopped out on EURGBP.
We have included an illustration based on a £1000 account. This will follow the combined return of our morning trades by risking 1% of the trading capital per trade. The 1% risk is a variable monetary amount and will rise and fall based on the success of the calls.
We are currently up 94.90% collectively since we began recording Talking Bull on the 30th October 2019. 
News
A mixed session overnight saw moderate gains in Hong Kong and China counteracted by declines in Australia and Japan. Once again, we are seeing major volatility in precious metals, although this time it has come in the form of sharp declines into support overnight. Bitcoin has also provided traders with significant volatility of late, hitting $11,200 for the first time in almost a year. Market sentiment continues to straddle a whole host of factors, although we are seeing some optimism today as Moderna reaches the third and final stage of their vaccine trial, allowing traders to shift their gaze from the now simmering US-China tensions.
A quiet economic calendar today sees US consumer confidence provide the only release of note. However, things really pick up from an earnings perspective, with the likes of AMD, eBay, Pfizer, Raytheon Tech, McDonald's, Starbucks, and Visa all announcing their latest figures.
Data – Day ahead
3.00pm – US consumer confidence (July): forecast to fall from 95.8 98.1. Markets to watch: USD crosses
Today's trade ideas

Have a great week everyone.
Get award-winning FCA regulated signals and levels on over 30 markets, as well as education resources so you never trade alone.