Video – Talking Bull – Prime Minister Boris Johnson facing heavy criticism
Posted: 10th September 2020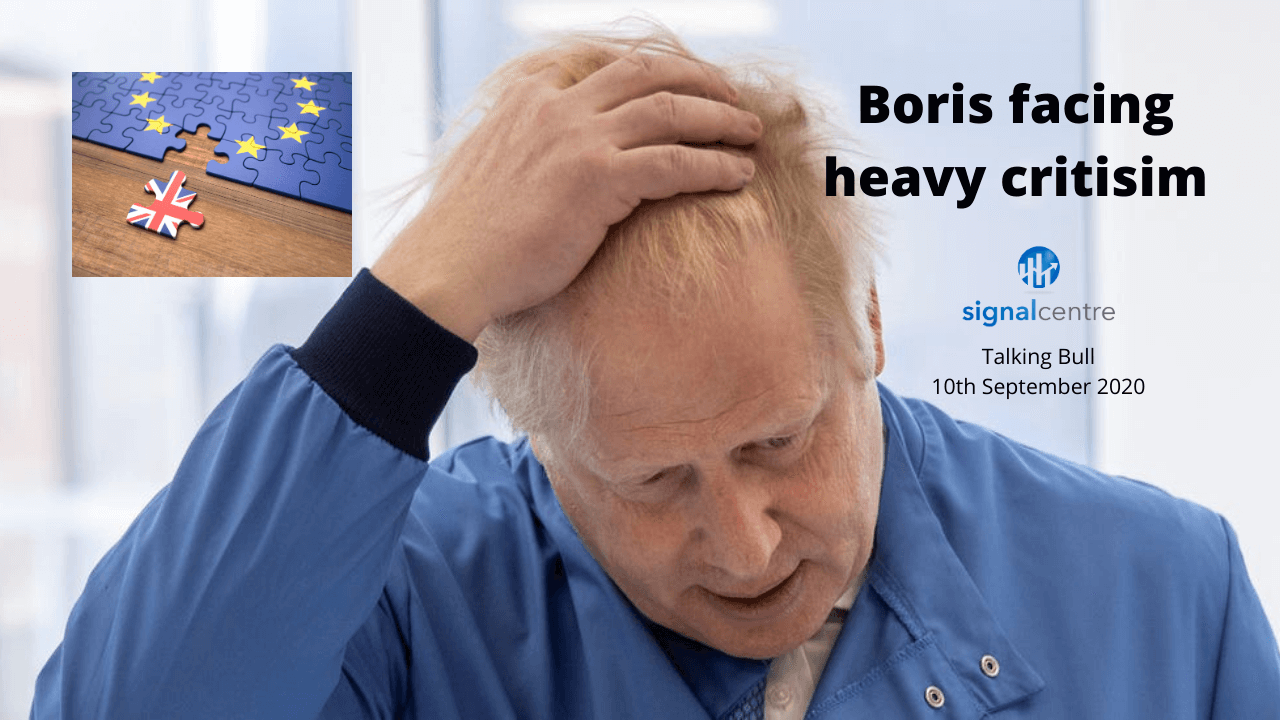 Good morning and welcome to episode 209 of 'Talking Bull'. In this video/podcast we cover the main headlines and what to expect from the day ahead.
We take a technical look at key markets that are likely to be impacted by today's events. Also, we participate in a 'Gun to the head' challenge where each of us calls a live trade. These will expire at 9pm tonight and we will keep track of the progress over time.
We hope you enjoy it!
Join us on Telegram for more content – https://t.me/SCFree
Show notes:
Stop outs for Joe and Steve yesterday. Ian secured a 1.61R win on GBPJPY to soften the blow.
We have included an illustration based on a £1000 account. This will follow the combined return of our morning trades by risking 1% of the trading capital per trade. The 1% risk is a variable monetary amount and will rise and fall based on the success of the calls.
We are currently up 107.46% collectively since we began recording Talking Bull on the 30th October 2019. 
News
The U.K. published its Internal Market Bill on Wednesday, which it has already conceded breaks international law.
That may mean it is somewhat unsurprising that the European Union considers that it has grounds to take legal action against the U.K. over those plans to breach the withdrawal agreement the two sides previously sealed.
U.S. House Speaker Nancy Pelosi also said the U.K. can forget a trade deal if Brexit imperils peace in Northern Ireland. U.K. Prime Minister Boris Johnson is already facing heavy criticism, including from his own party.
The European Central Bank's latest policy decision is coming on Thursday with the focus on any clues on how the bank intends to shift its strategy. Some of the ECB's policy makers are said to have become more confident in their forecasts for a recovery in the region's economy, which could reduce the need for more monetary stimulus later in the year.
The halt to AstraZeneca Plc's vaccine trial provided a reality check on the safety risks involved in clinical development, particularly in testing a medicine where the stakes are so high. The head of the U.S. National Institutes for Health, Francis Collins, said there is no way to know if a safe vaccine will be available before the U.S. election this year, contradicting President Donald Trump.
President Trump, fresh from being nominated for the Nobel Peace Prize by a right-wing Norwegian lawmaker, told journalist Bob Woodward that he deliberately downplayed the seriousness of the coronavirus in a series of interviews conducted in March. Trump defended the move, saying he didn't want to cause panic.
Asian markets were on the rise overnight, with the recent tech-led selloff in US stocks starting to reverse yesterday.
How long that rebound will last remains to be seen, with US futures pointing towards another positive session today.
From a data perspective, the focus looks to shift towards the ECB following a quiet overnight session.
Their latest monetary policy decision is unlikely to result in any additional easing, yet the recent euro appreciation may have provided a reason to begin laying the ground for further action down the line.
Elsewhere, watch out for US unemployment claims, NIESR UK GDP, and crude inventories data.
Data – Day ahead
12.45pm – ECB rate decision: no major changes in policy expected, but given recent EUR/USD strength some comment on FX markets may create volatility. Markets to watch: eurozone indices, EUR crosses
1.30pm – US initial jobless claims (w/e 5 September): claims to fall to 810,000. Markets to watch: USD crosses
4pm – US EIA crude inventories (w/e 4 September): stockpiles fell by 4.3 million barrels in the previous week. Markets to watch: EUR crosses
Gun to head trade ideas – Update
Today's trade ideas

Have a great week everyone.
Get award-winning FCA regulated signals and levels on over 30 markets, as well as education resources so you never trade alone.