Talking Bull – U.S. stocks slumped, led by the Nasdaq 100's biggest drop since October
Posted: 26th February 2021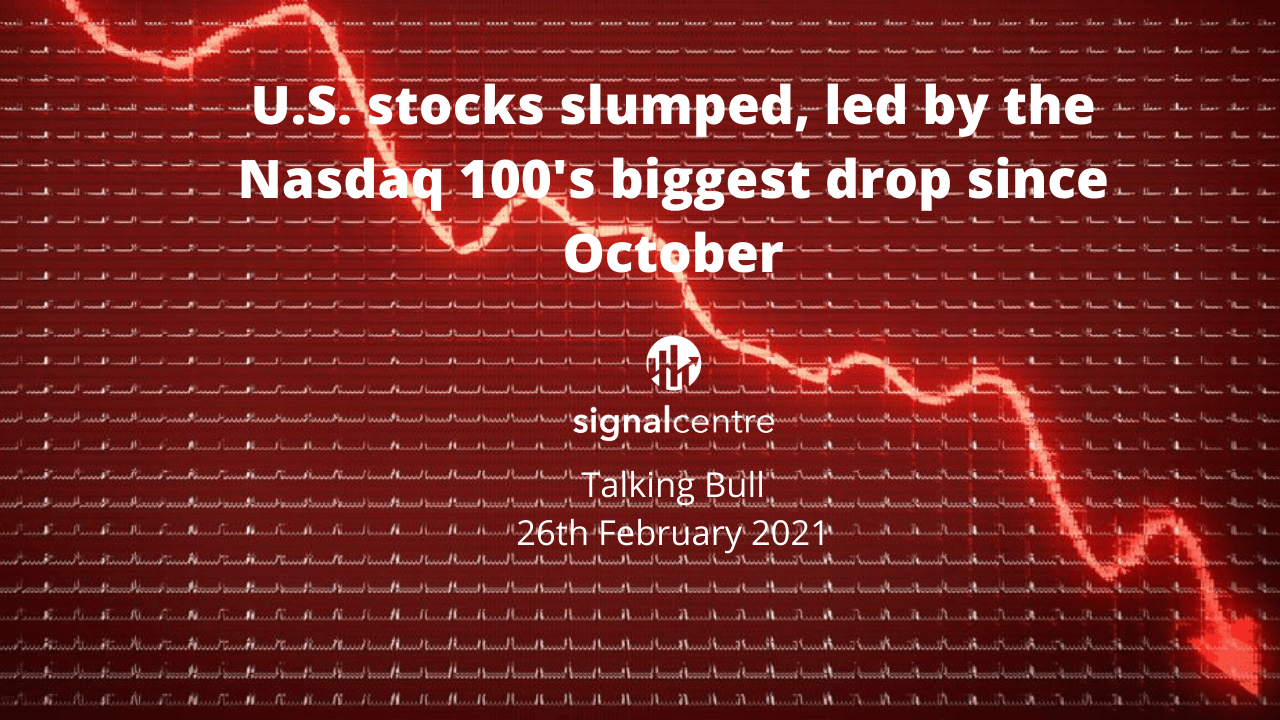 Good morning and welcome to episode 320 of 'Talking Bull'. In this video/podcast we cover the main headlines and what to expect from the day ahead. 
We take a technical look at key markets that are likely to be impacted by today's events. Also, we participate in a 'Gun to the head' challenge where each of us calls a live trade. These will expire at 9pm tonight and we will keep track of the progress over time.
We hope you enjoy it!
Join us on Telegram for more content – https://t.me/SCFree
Show notes:
3 winners yesterday. Joe hit target on EURGBP for a 2.71R win. Steve made 0.84R on China A50, while Ian made 0.15R on THETAUSDT.
We have included an illustration based on a £1000 account. This will follow the combined return of our morning trades by risking 1% of the trading capital per trade. The 1% risk is a variable monetary amount and will rise and fall based on the success of the calls.
We are currently up 90.96% collectively since we began recording Talking Bull on the 30th October 2019. 
News
A swift reversal yesterday across global markets signals that the wave of selling from earlier in the week is not yet done. U.S. stocks slumped, led by the Nasdaq 100's biggest drop since October, as investors rotated away from lockdown winners and as the benchmark U.S. Treasury yield spiked to a one-year high. The selloff in bonds came as traders pull forward views on how soon the Federal Reserve will be forced to tighten policy as the recovery accelerates, though the fixed income slide eased over night.
GameStop won't go away, with the shares continuing their resurgence Thursday, and at one point doubling for a second day straight before retreating with the broader market. Weirdly, the latest move may have been triggered by an activist investor tweeting a picture of a McDonald's cone, with some reading it as indication that he'll attempt to repair the retailer in the same way the fast food chain fixed its dessert machines.
The U.S. carried out airstrikes in eastern Syria on sites connected to Iran-backed groups believed to be involved in recent attacks in Iraq, the first overt use of military force under President Joe Biden. An F-15 jet fired at a cluster of buildings at a location believed to be a transit point for smuggling militia members, according to a U.S. official.
The European Union is inching toward establishing bloc-wide vaccine certificates to enable countries to reopen to travel. While there was broad support for certificates of some sort on a video call between leaders Thursday, they didn't agree on the type of privileges they would grant. Meanwhile, Paris is among 20 French regions potentially facing tougher virus restrictions from next week, with the government asking health authorities to closely monitor the situation in the capital and districts including parts of northern France as it seeks to avoid a third nationwide lockdown.
In Asia overnight markets fell once more, with both equities and bonds in retreat, although bond yields, which were strong in the early part of the session, stabilised in the second half.
Inflationary pressures, or at least fears of them, continue to stalk markets, with stock markets in particular vulnerable to further losses after the strong gains made in recent months.
It had looked like the fears about inflation had been calmed by Jerome Powell's appearance and testimony earlier in the week but the revival of selling on Thursday has pushed stocks back to the lows seen in the first part of the week and leaves them poised for further losses as February ends and March begins.
Looking ahead to the rest of the day, the only major events of note are US personal income and spending figures and the Chicago PMI.
Data Today
1.30pm – US personal income & spending (January): income expected to rise 8% MoM and spending 0.5% MoM. Markets to watch: USD crosses
2.45pm – US Chicago PMI (February): January reading 63.8. Markets to watch: USD crosses
Gun to head trade ideas – Update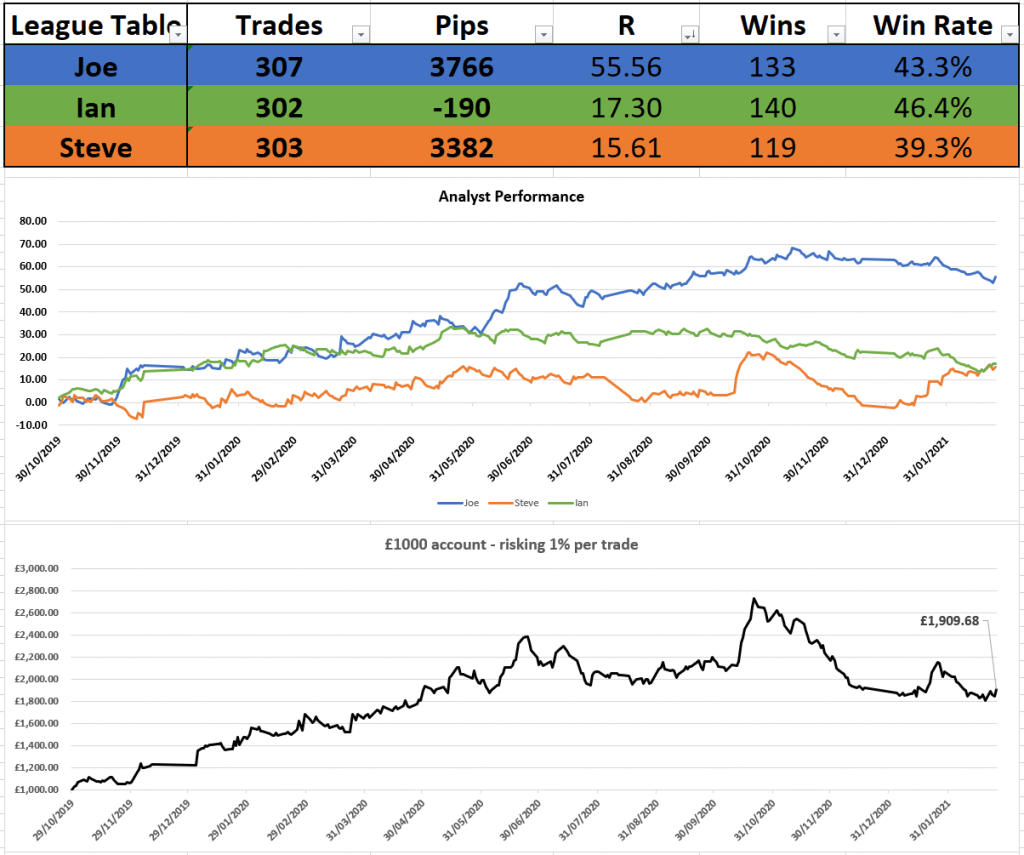 Today's trade ideas

Have a great week everyone.
Get award-winning FCA regulated signals and levels on over 30 markets, as well as education resources so you never trade alone.