Talking Bull – China's top banking regulator "very worried" about bubble risks
Posted: 2nd March 2021
Good morning and welcome to episode 322 of 'Talking Bull'. In this video/podcast we cover the main headlines and what to expect from the day ahead. 
We take a technical look at key markets that are likely to be impacted by today's events. Also, we participate in a 'Gun to the head' challenge where each of us calls a live trade. These will expire at 9pm tonight and we will keep track of the progress over time.
We hope you enjoy it!
Join us on Telegram for more content – https://t.me/SCFree
Show notes:
2 winners yesterday totalling 4.79R. Joe hit target on Oil for 2.66R, and Steve came close to target on Gold with a 2.13R return.
We have included an illustration based on a £1000 account. This will follow the combined return of our morning trades by risking 1% of the trading capital per trade. The 1% risk is a variable monetary amount and will rise and fall based on the success of the calls.
We are currently up 94.13% collectively since we began recording Talking Bull on the 30th October 2019. 
News
Asia stocks and futures elsewhere slipped after China's top banking regulator sparked fresh concerns about further tightening in the world's second-biggest economy, saying he's "very worried" about bubble risks. The S&P 500 had just seen its biggest daily advance in almost nine months as investors jumped back into riskier assets following a recent rout triggered by concern the global economy could possibly overheat.
About 735 cases of a coronavirus variant that emerged in New York City in November have now been identified in the U.S., including 585 in the last two weeks, a federal health official said. The mutation has traveled extensively through the metropolitan New York region, and cases have also been found in 14 other states. It is one of five concerning variants now being tracked nationally by health officials.
Elsewhere, U.K. Prime Minister Boris Johnson attempted to reassure the public over the emergence of a Brazilian variant in Britain, saying there is no reason to think vaccines will be ineffective against it.
The Biden administration is preparing to impose sanctions against Russia over the poisoning and jailing of opposition leader Alexey Navalny, according to three congressional aides briefed on the plans. The sanctions could be unveiled as early as Tuesday, though the aides offered no specifics.
The rally in global equities, particularly in Asia, stalled after the Chinese banking regulator warned about a bubble in some markets.
The comments were enough to push the Hang Seng and CSI 300 lower after early gains, while Japan also struggled in the wake of some poorer economic data that pointed to a drop in capital expenditure in Q4.
Monday saw an exuberant performance across global equity markets, which in some cases enjoyed their best day since November, but it is now up to the stock market bulls to keep this momentum going.
While global vaccine programmes are continuing to make headway, news that the Brazil variant of Covid-19 is much more transmissible reminds investors that the situation is still highly fluid.
On the calendar for today is German unemployment, followed by eurozone CPI and Canadian GDP and speeches from Fed policymakers later this evening.
Data Today
8.55am – German unemployment (February): rate to hold at 6%. Markets to watch: EUR crosses
10am – eurozone CPI (February): CPI to rise 1% YoY and core CPI to rise 1.4% YoY. Markets to watch: EUR crosses
1.30pm – Canada GDP (Q4): Q3 reading +8.9%. Markets to watch: CAD crosses
Gun to head trade ideas – Update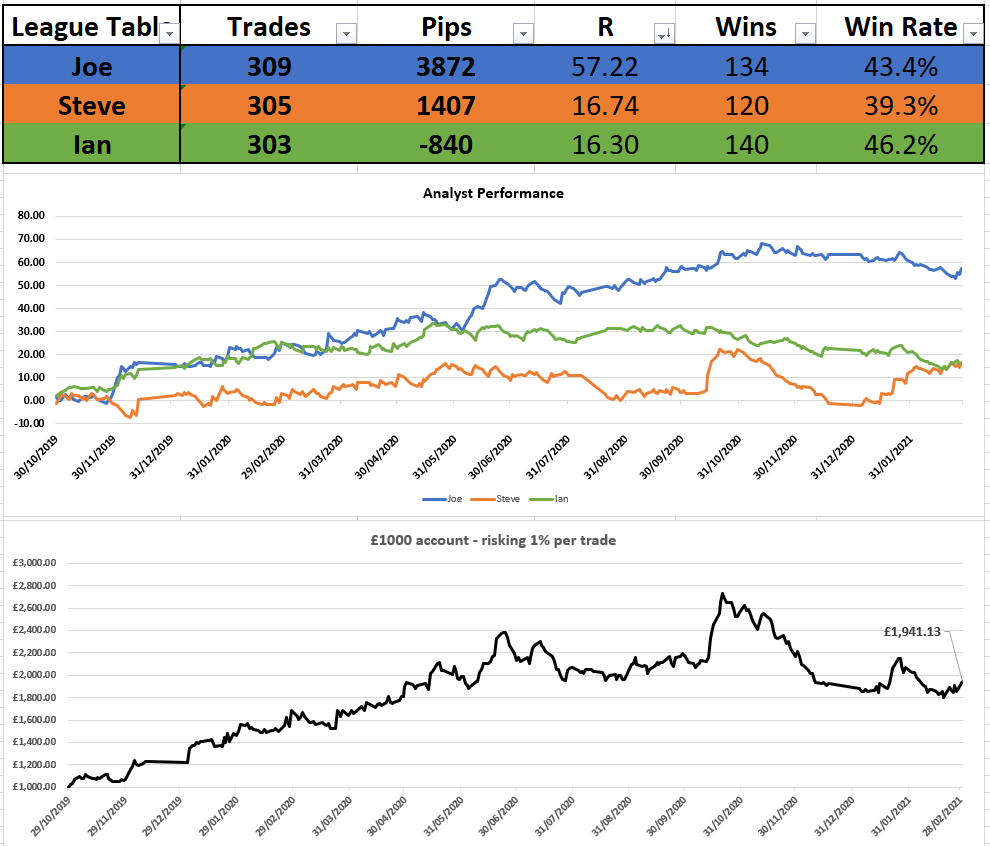 Today's trade idea

Have a great week everyone.
Get award-winning FCA regulated signals and levels on over 30 markets, as well as education resources so you never trade alone.