Fed view the recent rise in yields as a reflection of the improving economic outlook
Posted: 8th April 2021
Good morning and welcome to episode 347 of 'Talking Bull'. In this video/podcast we cover the main headlines and what to expect from the day ahead. 
We take a technical look at key markets that are likely to be impacted by today's events. Also, we participate in a 'Gun to the head' challenge where each of us calls a live trade. These will expire at 9pm tonight and we will keep track of the progress over time.
We hope you enjoy it!
Join us on Telegram for more content – https://t.me/SCFree
Show notes:
2 Small wins yesterday with 0.57R on AUDUSD and 0.42R on USDJPY.
We have included an illustration based on a £1000 account. This will follow the combined return of our morning trades by risking 1% of the trading capital per trade. The 1% risk is a variable monetary amount and will rise and fall based on the success of the calls.
We are currently up 80.60% collectively since we began recording Talking Bull on the 30th October 2019.
News
Investors are mostly shrugging off a warning from the European Medicines Agency that there's a possible link between AstraZeneca's Covid-19 vaccine and a rare type of blood clot in the brain, despite some concern the update could undermine inoculation efforts. Among more than 20 million who have received the shot in Britain, 79 have suffered blood clots, with 19 dying. Still, the U.K. recommended not using Astra's vaccine on those under 30, while Italy followed Germany and France by recommending it only for people over 60. The European Union says ministers have "different interpretations" of the safety report, indicating what may be deep divisions on the way forward.
Traders overnight were mostly focused on minutes from the U.S. Federal Reserve, which suggested no imminent change to economic stimulus. It will likely be "some time" until substantial further progress toward the maximum-employment and price-stability goals will be realized, according to the record of the March gathering, where officials left their asset purchase program of $120 billion per month unaltered. The committee deliberately presented a "united front," according to one commentator, though there is a sense among some officials that vaccines and fiscal and monetary support could lead to a stronger-than-expected rebound.
Twitter held talks in recent months to acquire Clubhouse, the audio-based social network, Bloomberg reports, while adding that discussions are no longer ongoing and it's unclear why they stalled. Clubhouse lets users host their own online radio shows, with listeners able to tune in to hear interviews or panel discussions and ask to participate in live chats. The companies discussed a potential valuation of roughly $4 billion, people familiar with the matter said. Twitter boss Jack Dorsey is bullish on the potential for audio as a new way for people to interact on his platform.
The second largest block trade on record just took place, after Prosus priced its placement of Chinese internet giant Tencent Holdings' stock to raise HK$114.2 billion ($14.7 billion). It's smaller only than the U.S. Treasury Department's $20.7 billion sale of insurer American International Group shares in 2012. The fundraising may give internet investor Prosus another shot at securing a mega-deal after losing an $8 billion battle to buy U.K. food group Just Eat at the start of last year.
The Hang Seng and ASX 200 led overnight gains, in what has proven to be a somewhat mixed session. Weakness in Japanese markets provided the less optimistic side to the story, despite a welcome rise in consumer confidence which hit a 13-month high. FOMC minutes struck a dovish tone yesterday, with the bank viewing inflation as transitory rather than any reason to tighten in the near future.
Meanwhile, the Fed view the recent rise in yields as a reflection of the improving economic outlook rather than something to be combatted.
Looking ahead, UK construction PMI, ECB minutes, and US unemployment claims dominate, with few earnings of note.
Data Today
9.30am – UK construction PMI (March): index forecast to rise to 54.1 from 53.3. Markets to watch: GBP crosses
1.30pm – US weekly jobless claims: Forecast to decline to 675K, following last week's reading of 719K. Markets to watch: US indices, USD crosses
Gun to head trade ideas – Update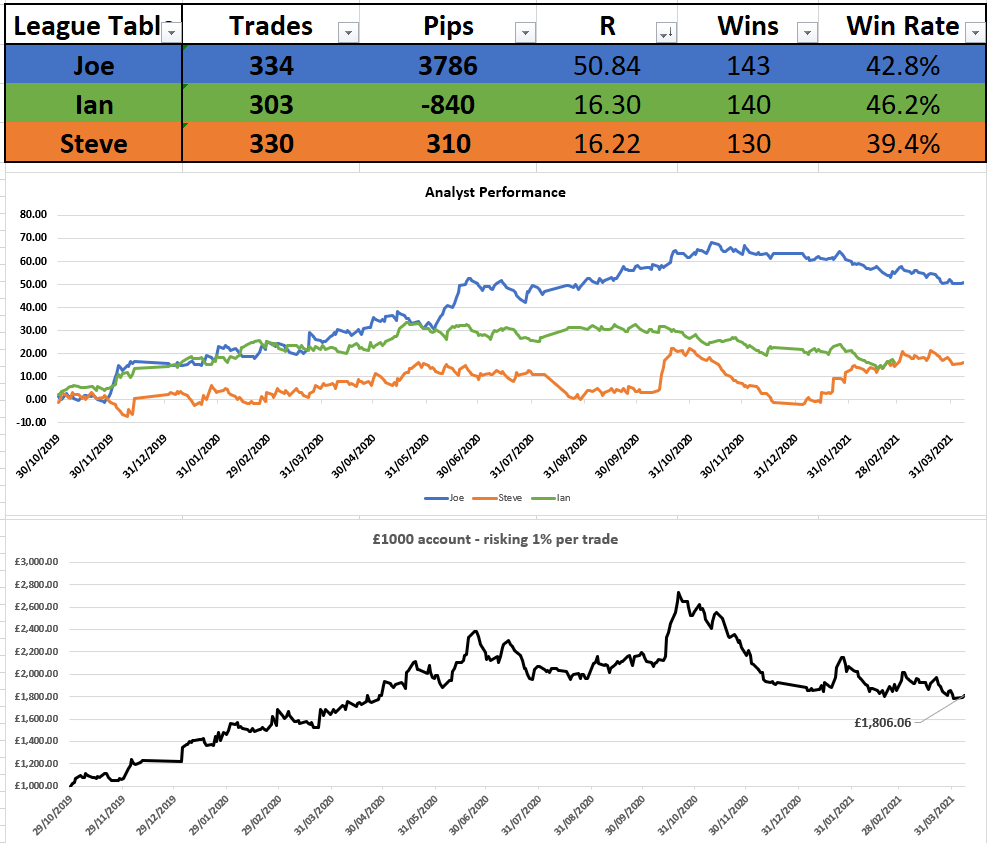 Today's trade idea

Have a great week everyone.
Get award-winning FCA regulated signals and levels on over 30 markets, as well as education resources so you never trade alone.