Good morning and welcome to episode 365 of 'Talking Bull'. In this video/podcast we cover the main headlines and what to expect from the day ahead. 
We take a technical look at key markets that are likely to be impacted by today's events. Also, we participate in a 'Gun to the head' challenge where each of us calls a live trade. These will expire at 9pm tonight and we will keep track of the progress over time.
We hope you enjoy it!
Join us on Telegram for more content – https://t.me/SCFree
Show notes:
Joe made 1.90R on USDJPY. Steve was stopped out on Oil.
We have included an illustration based on a £1000 account. This will follow the combined return of our morning trades by risking 1% of the trading capital per trade. The 1% risk is a variable monetary amount and will rise and fall based on the success of the calls.
We are currently up 76.16% collectively since we began recording Talking Bull on the 30th October 2019.
News
Indian Prime Minister Narendra Modi continues to resist calls from top business figures and world leaders to lock down the country, which is contending with the world's worst Covid-19 outbreak. Its former central bank governor said the new surge in infections shows complacency after the first wave. Other developing nations are also facing a spike in cases. In contrast, Europe is making meaningful steps towards a return to normality, with plans to open its borders after months of pandemic-induced restrictions. Airline and travel groups in the U.S. and the U.K., meanwhile, are pushing for travel restrictions to be lifted between the two countries. The New York region is set to see curbs end too.
The global semiconductor shortage remains at the center of investor concerns, weighing on equities at the start of the week as it ate into U.S. manufacturing growth. The chief executive of Intel said over the weekend the shortage may persist for a few more years. Ford's plants in Germany are facing lengthy outages because of the problem. Supply delays also showed up in European factory data, with a record build-up of uncompleted orders and rising prices. European chip bellwether Infineon Technologies will provide another update on the issue when it reports on Tuesday.
Ties between Europe and China appear to be quickly deteriorating again, with governments increasingly moving into line with the Biden administration's view on the standoff with China. U.S. and U.K. diplomats reaffirmed the two countries' relationship, while hitting out at China and Russia. Elsewhere, President Joe Biden's $4 trillion spending plan is now in the hands of Congress, with Biden said to be open to multiple ways to find a compromise and get his proposals passed. Whether this will make any headway in narrowing the U.S. wealth gap is another question.
U.S. equity futures are marginally lower and European futures mixed following weakness among technology stocks on Wall Street on Monday, while the dollar rallied. Oil prices are holding onto gains, with WTI crude is still above $64 per barrel heading into Tuesday's session on optimism that economic activity getting back underway in the U.S. and Europe will underpin demand. Commodities prices, meanwhile, are mixed after hitting new highs as the same hopes of improving economies spur appetite for metals.
Data Today
| | | | | |
| --- | --- | --- | --- | --- |
| Time | Event | Importance | Forecasts | Previous |
| 08:00 | SECO Consumer Climate | Medium | | -30 |
| 09:30 | GBP Consumer Credit(APR) | Medium | -1.250B | -1.246B |
| 09:30 | GBP PMI Manufacturing(APR 01) | Medium | 57.9 | 60.7 |
| 09:30 | GBP Mortgage Approvals(APR) | Medium | | 87.70K |
| 13:30 | CAD Trade Balance(MAR) | Medium | | 1.04B |
| 13:30 | USD Trade Balance(MAR) | Medium | -70.50B | -71.10B |
| 15:00 | USD Factory Orders(APR) | Medium | -0.50% | -0.80% |
| 23:30 | AiG Construction Index(MAR) | Medium | | 61.8 |
| 23:45 | NZD Unemployment Rate | Medium | 5.60% | 4.90% |
Gun to the head challenge – Update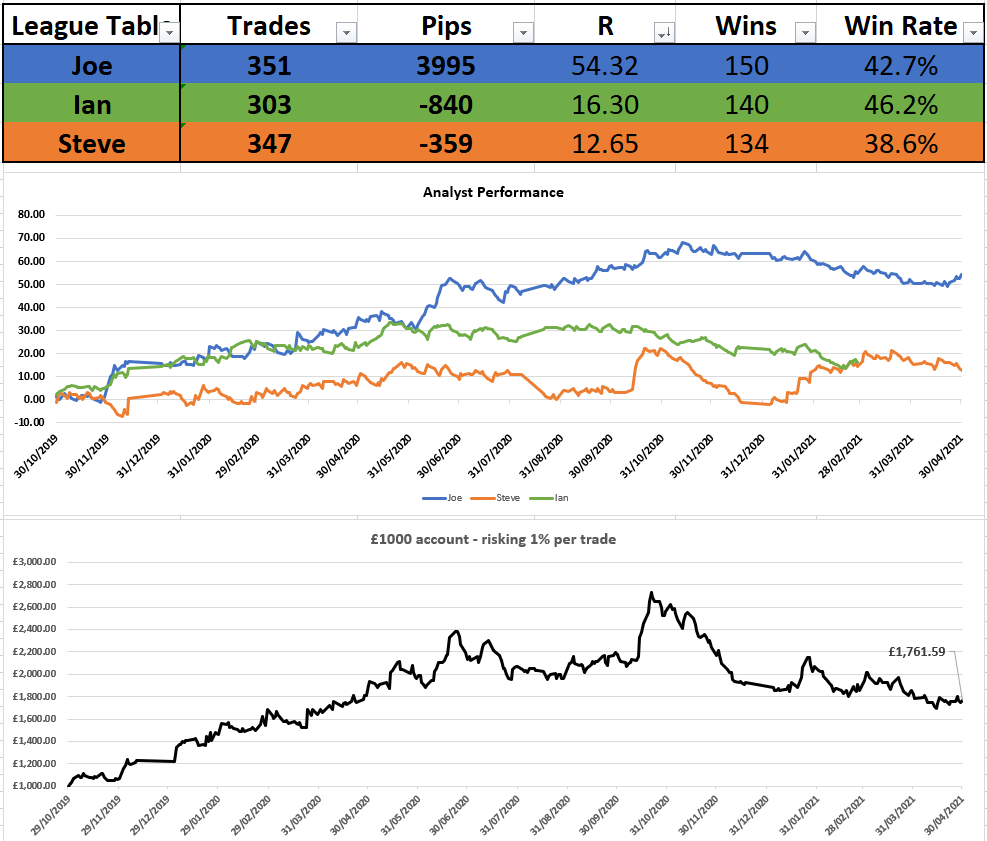 Today's trade idea

Have a great week everyone.
Get award-winning FCA regulated signals and levels on over 30 markets, as well as education resources so you never trade alone.