Signal Centre – Talking Bull – Episode 45
Posted: 17th January 2020
Good morning and welcome to episode 45 of 'Talking Bull'.
In this video/podcast we cover the main headlines and what to expect from the day ahead. We take a technical look at key markets that are likely to be impacted by today's events. Also, we participate in a 'Gun to the head' challenge where each of us calls a live trade. These will expire at 9pm tonight and we will keep track of the progress over time.
We hope you enjoy it!
Join us on Telegram for more content – https://t.me/signalcentre
Show notes:
Ian and Steve were both stopped on thier AUDUSD positions, which ended Ians winning streak. Joe lost 0.38R on GBPUSD. Ian made
We have included an illustration based on a £1000 account. This will follow the combined return of our morning trades by risking 1% of the trading capital per trade. The 1% risk is a variable monetary amount and will rise and fall based on the success of the calls.
We are currently up 37.83% collectively since we began recording Talking Bull on the 30th October 2019.
News
Risk appetite held firm on optimism over US-China trade developments and solid Chinese industrial data.
US equities pushed to fresh record highs with expectations of supportive Fed policies also boosting confidence.
Major UK stocks were hampered by a firmer Sterling tone during the day while the latest earnings reports were also seen as disappointing. The FTSE 100 index declined 0.4% on the day.
US equities drew support from a solid batch of economic data and optimism over the US-China trade deal, together with expectations of an accommodative Fed. The S&P 500 index posted a further 0.8% advance to a fresh record high.
ECB minutes from December's meeting stated there were some indications of higher core inflation with solid upward movement in the rate excluding holiday prices. According to the bank, growth dynamics were also stabilising. The commentary dampened expectations of a very dovish monetary policy and EUR/USD pushed to 1-week highs around 1.1170.
Chinese fourth-quarter GDP data met expectations at 6.0% and equalling 27-year lows. Industrial production growth beat market expectations at 6.9% from 6.2% previously while retail sales growth was unchanged at 8.0%. The data overall offered some reassurance over the Chinese outlook which underpinned risk appetite.
There were no major domestic developments during Thursday with Sterling gaining an element of support from the firm tone in global risk appetite. Hopes for a stabilisation in global trade dynamics also provided net UK currency support. There was a also a slight shift in interest rate futures with traders slightly less confident that interest rates would be cut at the January meeting. GBP/USD edged higher to trade around 1.3070 while EUR/GBP retreated to the 0.8520 area.
Data – Day ahead
9.30am – UK retail sales (December): YoY expected to rise from 1% to 3.8%. Markets to watch: GBP crosses, UK stocks
10am – eurozone final CPI inflation (December): expected to rise from 1% to 1.3%. Markets to watch: EUR crosses
2.15pm – US industrial and manufacturing production (December): industrial production expected to fall from -0.8% from -2%, while manufacturing production is expected to fall from -0.8% to -2.7%. Markets to watch: USD crosses
Gun to head trade ideas – Results so far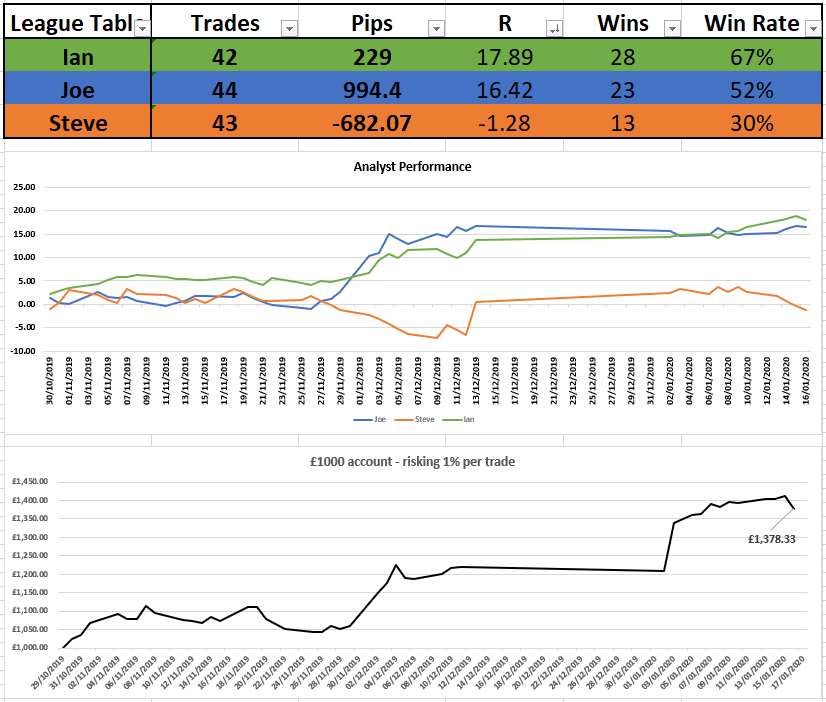 Gun to head trade ideas – Today

Have a great weekend everyone.
Do you want access to trade ideas, signals, education and more all for free? Sign up and deposit with one of our preferred brokers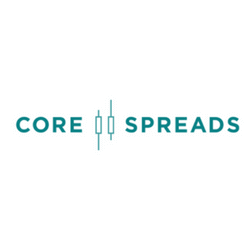 Like our charts? Sign up for free with TradingView.