Signal Centre – Talking Bull – Episode 63
Posted: 12th February 2020
Good morning and welcome to episode 63 of 'Talking Bull'.
In this video/podcast we cover the main headlines and what to expect from the day ahead. We take a technical look at key markets that are likely to be impacted by today's events. Also, we participate in a 'Gun to the head' challenge where each of us calls a live trade. These will expire at 9pm tonight and we will keep track of the progress over time.
We hope you enjoy it!
Join us on Telegram for more content – https://t.me/signalcentre
Show notes:
Steve and Joe both sold DAX yesterday, the reversal candle posted around 9am didn't stop the buyers and therefore they were both stopped. Ian made 0.91R on his EURGBP short.
We have included an illustration based on a £1000 account. This will follow the combined return of our morning trades by risking 1% of the trading capital per trade. The 1% risk is a variable monetary amount and will rise and fall based on the success of the calls.
We are currently up 46.29% collectively since we began recording Talking Bull on the 30th October 2019. 
News
The Euro was unable to make headway in early Europe on Tuesday with a test of 1.0900 support for EUR/USD. ECB President Lagarde again called in fiscal policy to assist monetary policy and reiterated that the inflation rate remains some distance below are medium-term aim. The single currency continued to be undermined by expectations that it would be used as a global funding currency, especially given that volatility remains close to record lows. There were also further concerns that weakness in China due to the coronavirus would have an important negative impact on the Euro-zone.
St Louis Fed President Bullard stated that rate normalisation of previous years will pay dividends as the Fed has scope to react to a downturn. In testimony to the House of Representatives, Fed Chair Powell stated that the current policy stance is likely to remain appropriate as long as incoming information is consistent with the Fed's outlook. He also stated that some uncertainties surrounding trade had diminished. Powell expected the inflation rate to move closer to 2% as the unusually low readings early in 2019 drop out of the calculation.
The rhetoric had little net impact with the dollar correcting slightly lower from 4-month highs as commodity currencies made limited headway. EUR/USD dipped to 4-month lows just below 1.0900 before a marginal recovery.
Chinese President Xi attempted a more positive tone on Tuesday with comments that China will win the battle against the coronavirus and will complete economic goals that have been set. Risk appetite held firm with equities making further significant headway during the day. Treasuries registered limited losses with the 10-year yield close to 1.60% which helped underpin dollar sentiment as the yield curve moved out of inversion. USD/JPY held firm, but was unable to break 110.00.
Ratings agency Standard & Poor's estimated that the coronavirus would cut overall Chinese 2020 GDP growth by 0.7% with the rebound to start in the third quarter while annual global growth would be cut by 0.3%.According to Chinese sources, the number of new coronavirus cases was held to 2,015 on Tuesday, the lowest reading since January 30th which helped underpin risk appetite. Asian equity markets made net headway, but USD/JPY was again held below 110.00.
Bank of England Governor Carney stated that any interest rate increases would be likely to be modest while Monetary Policy Committee member Haskel reiterated that he would prefer to move to cut rates now given the limited room for manoeuvre. Sterling held a slightly firmer tone with GBP/USD just above 1.2950 on Wednesday as global risk appetite held steady.
Euro-zone equities opened significantly higher in response to global gains and maintained a positive tone amid hopes that new coronavirus cases were easing.
The Eurostoxx 600 index posted a fresh record high while the German Dax index posted a 1.0% gain on the day with all major bourses posting gains of over 0.5% on the day.
UK equities secured net gains and there was relief that the GDP data was marginally better than expected. The FTSE 100 index was hampered by a dip in oil prices and tentative Sterling recovery. The FTSE 100 index gained 0.7%
US equities were boosted by expectations that the Federal Reserve would maintain an accommodative stance. Despite pressure for a correction, the S&P 500 index gained 0.2% to a fresh record high.
Oil prices attempted to rally on Tuesday, but gains continued to attract selling interest given underlying fears over weak demand from Asia.
Data – Day ahead
10am – eurozone industrial production (December): forecast to rise 0.1% MoM and fall 0.9% YoY. Markets to watch: EUR crosses
3.30pm – US EIA crude inventories (w/e 7 Feb): last week saw a rise of 3.35 million barrels. Markets to watch: Brent, WTI
Gun to head trade ideas – Results so far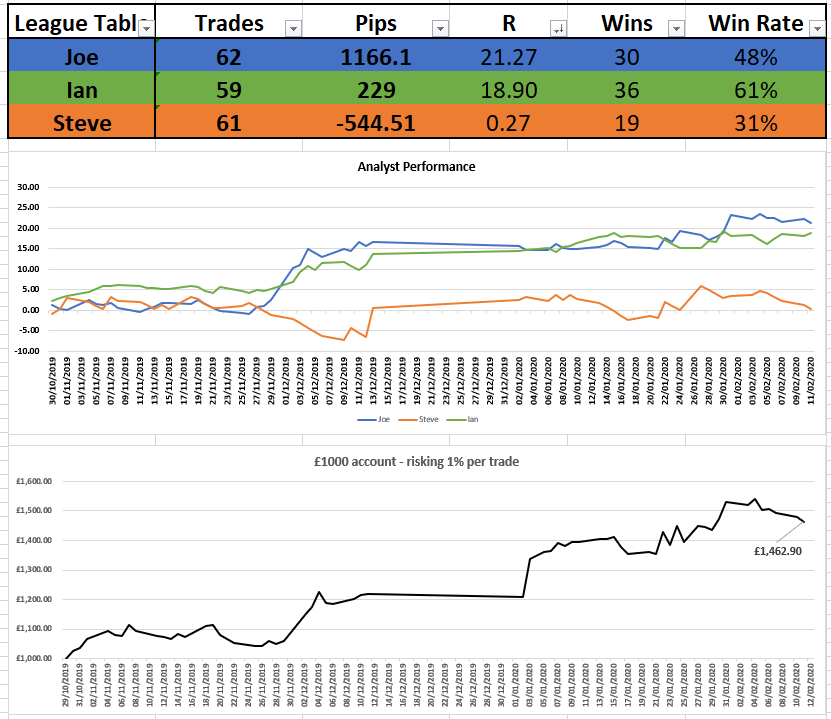 Gun to head trade ideas – Today

Have a great weeke everyone.
Do you want access to trade ideas, signals, education and more all for free? Sign up and deposit with one of our preferred brokers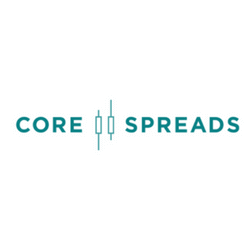 Like our charts? Sign up for free with TradingView.