Good morning and welcome to episode 596 of 'Talking Bull'. In this video/podcast we cover the main headlines and what to expect from the day ahead. 
We take a technical look at key markets that are likely to be impacted by today's events. Also, we participate in a 'Gun to the head' challenge where each of us calls a live trade. These will expire at 9pm tonight and we will keep track of the progress over time.
We hope you enjoy it!
For a selection of free educational content, join our Discord server at – https://discord.gg/Db4UWVFvF6
Show notes:
Steve made 2.3R on Silver, Jamie made 0.43R on Ripple. Joe was stopped out on EURUSD.
We have included an illustration based on a £1000 account. This will follow the combined return of our morning trades by risking 1% of the trading capital per trade. The 1% risk is a variable monetary amount and will rise and fall based on the success of the calls.
We are currently up 123.02% collectively since we began recording Talking Bull on the 30th October 2019.
News
Bank of Japan refuses to bend
The Bank Japan maintained interest rates at -0.1% following the latest policy decision and also pledged to maintain the ceiling of 0.25% for 10-year bond yields. The bank also stated that it will maintain daily operations to cap yields and reiterated that it will ease policy without hesitation if needed. The bank maintained a very dovish stance despite raising the inflation forecast for this fiscal year.
There had been some speculation that the bank would moderate its stance and the very dovish statement triggered heavy yen losses.
Ukraine fears continue
There were further concerns over the Ukraine situation on Wednesday with a particular focus on energy policies.
After cutting off exports to Poland and Bulgaria, Russia warned that it would take lightening action against countries that intervened.
The rhetoric maintained fears over an escalation in the conflict with NATO countries continuing to provide increased military support.
Rhetoric will continue to be watched very closely in the short term with Biden due to make a speech later in the day.
Euro hits fresh 5-year lows
Ukraine concerns were again a significant negative factor for the Euro and the currency remained under pressure amid fears over the Euro-zone outlook.
There was also speculation that the ECB would not be able to respond to inflation pressures and would focus more on the growth outlook.
EUR/USD briefly dipped to 5-year lows below the 1.0500 level before a slight rebound.
Dollar hits 5-year high
The dollar overall surged to a 5-year high as doubts over the US outlook were more than overshadowed by the market assessment that there are no viable alternatives at this stage.
German inflation will keep pressure on ECB
The latest German CPI inflation data will be released on Thursday. Consensus forecasts are for the headline year-on-year rate to edge lower to 7.2% from 7.3%.
A stronger than expected figure for Germany would increase Bundesbank demands for a tighter monetary policy while increasing dilemmas for the ECB.
UK retail sales remain vulnerable
The UK CBI retail sales index slumped to -35 for April from 9 the previous month and below consensus forecasts of -3 and the first negative reading for 13 months. Retailers also expect sales to decline in May, although at a slower rate as overall consumer confidence remained vulnerable.
The survey reinforced concerns over the UK consumer spending outlook
Riksbank policy meeting Thursday
The Swedish Riksbank will announce its latest policy decision on Thursday.
There are no expectations of an interest rate increase at this meeting, but forward guidance from the bank will be very important for the krona.
Data Today
13.00: Germany consumer prices
13.30: US GDP (Q1 advance reading)
13.30: US jobless claims
Gun to head challenge – Update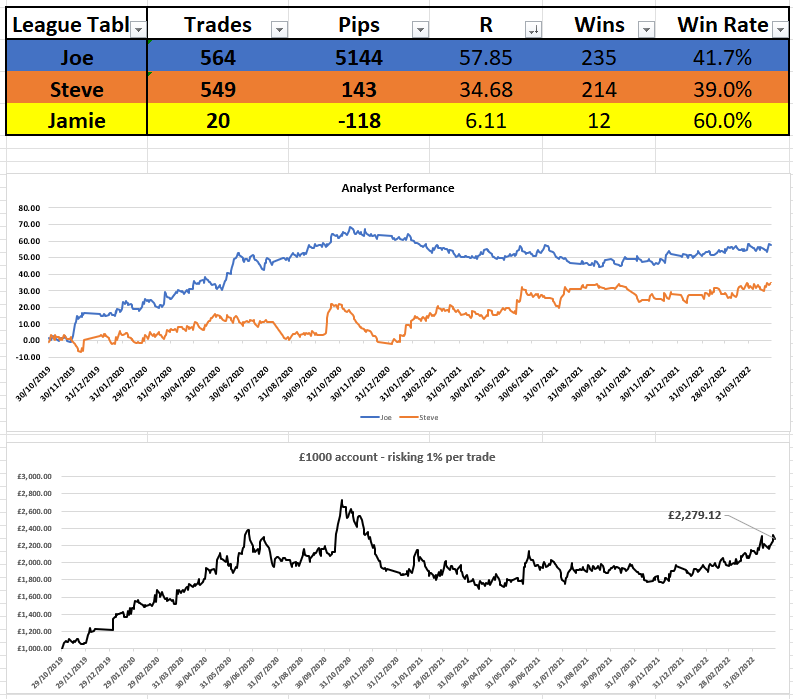 Today's trade idea
Have a great week everyone.
Get award-winning FCA regulated signals and levels on over 30 markets, as well as education resources so you never trade alone.